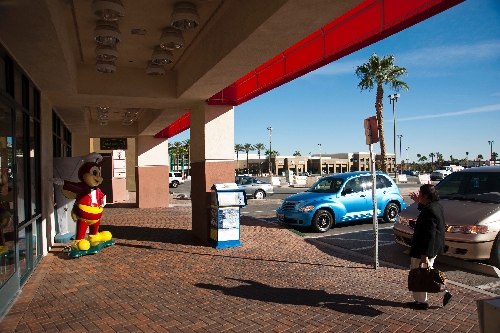 Southern Nevada's retail market continued to "surprise and delight," turning in a stronger third quarter and showing signs of embarking on a course of sustained recovery, Colliers International research director John Stater said this week.
Retail vacancy rate fell to 10.3 percent in the third quarter, down 1.3 percentage points from a year ago, Stater reported in his third-quarter market analysis. He also cited recent job growth in the retail sector and rising taxable sales as positive indicators for the market.
Retail employment grew to 95,200 in July from 93,700 a year ago, while Clark County taxable sales have averaged $2.6 billion a month this year, up from $2.4 billion a month in 2011.
Still, challenges linger in the retail sector of the commercial real estate market, Stater believes.
"Retail is starting to show signs of recovery. At the same time, it shows an increase in the amount of distressed properties," Stater said. "It's nothing I'm worried about as far as the collapse of retail."
Still, the number of commercial properties defaulting on mortgage loans continues to weigh heavily on the market.
In September, Morgan Stanley Mortgage filed a notice of default for $6.8 million against Lone Mountain Village West at 3350-3390 Novat St. . Afton Meadows is in default on a $3.1 million loan from California National Bank for a retail center at 4600 Meadows Lane.
Among the more prominent Las Vegas retail centers to default on loans are The District at Green Valley Ranch, Town Square and Village Square. The District was sold at auction and Village Square went to foreclosure.
Village Square has completed more than a dozen leases in the last year with two more pending, said Colby Durnin, asset manager of Sentinel Development, representing the owner.
"The lease momementum and interest in Village Square has been great," he said. "We've seen massive signs of a comeback. It's very hard to look at the market at the macro level. Real estate is really a micro market. We've got great demographics and great traffic. Our tenant mix is aimed at the local neighborhood with the movie theaters, restaurants and retail."
Distressed sales account for 10 percent of single-tenant owner sales, 32 percent of investment sales and 59 percent of shopping center sales in 2012, Colliers reported.
Sales activity of retail space continued to show weakness compared to 2011, with slightly more than 1 million square feet changing hands, roughly half the amount from a year ago.
"It seems like at this point banks have gotten enough support – whether you're in favor of that or not – so they've been very measured at how much space they release," Stater said. "They're being a little more cautious."
Net absorption, or the amount of retail space taken, increased to 345,831 square feet during the third quarter, compared with about 35,000 in the year-ago period, Colliers reported. Average asking rent decreased to $1.37 a square feet, down four cents from a year ago.
Some developers see enough recovery to move forward on retail projects. The Howard Hughes Corp. announced it would resume construction in fall 2013 on the Summerlin mall to be anchored by Macy's, and IDB Group is continuing work on the 250,000-square-foot expansion of Tivoli Village.
Contact reporter Hubble Smith at hsmith@reviewjournal.com or 702-383-0491.