Gains in key sectors push down jobless rate in Las Vegas
January 26, 2016 - 5:08 pm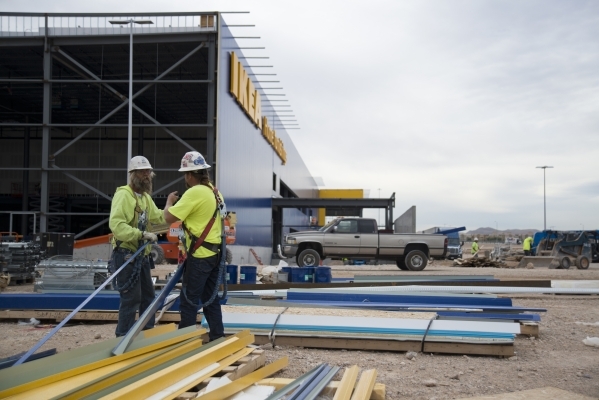 Big gains in several key employment sectors pushed down the Las Vegas Valley's jobless rate in December.
The market posted unemployment of 6.2 percent in the month, down from 6.4 percent in November and 7 percent in December 2014, the state Department of Employment, Training and Rehabilitation reported Tuesday.
Local employers added 18,100 jobs year over year, for a growth rate of about 2.5 percent.
"Businesses continue to show confidence in Nevada's growing economy as payrolls continue to flourish," said Bill Anderson, chief economist of the employment department.
As it has for more than a year, construction led in growth rate among all major sectors. The industry added 5,400 positions year to year, for a job formation rate of 11.2 percent. The sector employed 53,700 locals in December, though that's still less than half of a 2006 peak of about 112,000.
The leisure and hospitality sector showed relatively flat expansion of 1.3 percent. But because of the industry's size — its 284,400 jobs make up more than a quarter of the total local jobs base of 919,000 — the gain still translated into 3,700 new positions.
Other industries with solid growth included education and health services, which grew by 6.8 percent; information, which expanded by 4.9 percent; and professional and business services, which added 2.4 percent.
The healing economy continued to lure new workers into the valley's labor pool. Nearly 17,000 people entered the local labor force, for a total of 1.04 million workers. That was an increase of 16,700 people.
Nevada's December jobless rate was 6.4 percent, though the state rate is seasonally adjusted and can deviate from unadjusted local rates.
The national jobless rate was 5 percent in the month.
Only New Mexico, at 6.7 percent, and Alaska, at 6.5 percent, had higher jobless rates in December. Mississippi tied for third with Nevada.
Contact Jennifer Robison at jrobison@reviewjournal.com. Follow her on Twitter: @_JRobison