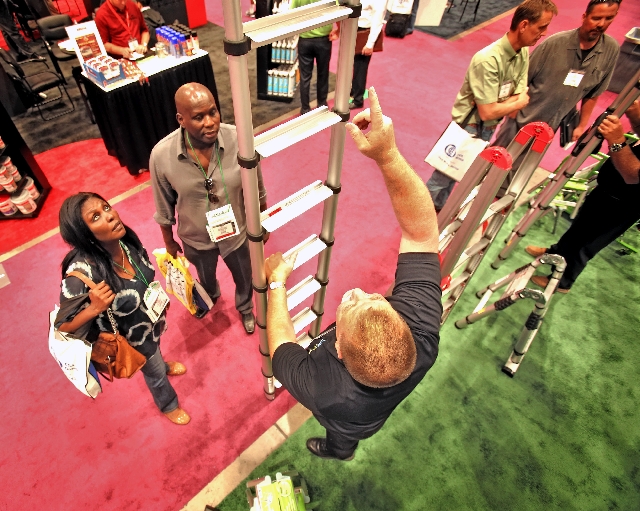 Slices of gourmet pizza flew out of Sandy Shapiro's dish almost as fast as he placed them.
With the Pizza Que tabletop pizza oven, the pies cooked in about five minutes, but demand was high.
Melted cheese and baked mushrooms clung to a fully baked crust, and for $250, the propane-fueled oven can be yours — once it comes out in January at big-box stores throughout the United States.
Down the way, Masterbuilt was preparing to smoke a whole hog while Saber was passing out hot bratwurst.
It's all part of the fun at the 2013 National Hardware Show, in Las Vegas through Thursday. The convention has been coming to the city since 2004, and it is contracted with the Las Vegas Convention and Visitors Authority through 2019, although it has space reserved until 2025.
"We're very committed to Las Vegas," said Sonya Ruff Jarvis, vice president of attendee programs for Reed Exhibitions.
The "busting-at-the-seams" show has taken over all of the North and Central halls at the Las Vegas Convention Center. Preregistrations are tracking double digits ahead of last year's numbers, and 27,000 to 30,000 attendees are expected this year, Ruff Jarvis said.
"The show is definitely in a growth mode," she said.
Among the industry-only attendees are Home Depot, Costco, Sam's Club, True Value, Ace Hardware, Amazon, TJ Maxx, Big Lots and Pro Group, a merchandising and marketing consortium that represents more than $3 billion in annual buying power.
"We hit a lot of different retailers," Ruff Jarvis said.
Of the 2,500 exhibitors, more than 700 are new. This year the trade show floor includes the specialty areas of farm and ranch; building supply; made in the USA; new products; energy-efficient items; lawn, garden and outdoor living; pet products; plumbing and electrical; storage and organization; and outdoors, tailgate and recreation.
Among the new products unveiled to the $343 billion home improvement industry this week is one that might be a small step toward combating one of the most annoying little problems that can plague those working outside.
Mosquitno Bandz has created a waterproof bracelet that helps keep mosquitoes and other bugs away for up to six days. Citronella oil is infused into a silicon wristband, which can be worn for 150 hours, consecutively or not.
The band is available at 1,300 Tractor Supply Co. stores and retails for $3.99, but Libby Dix, who is in charge of key accounts for the company, said she is hoping to secure more accounts while at the show.
"We've never exhibited here before, but there's a wonderful feeling at this show," Dix said. "We think it's a really good fit for us."
Beyond the bugs, Debbie Estis Greenspan was showing off Dr. Doormat, an antimicrobial-treated doormat she invented.
By wiping your shoes on the treated surface of Dr. Doormat, you can trap and remove up to 90 percent of the debris from your kicks.
"I created (this) because I was really concerned and I wanted to keep my home as healthy and safe as possible for my family, especially my children," Greenspan said.
Ten years after conception, the product retails for $25 or $45. It can be washed, it is made in America, and it is making headway in the retail space. Last year, Dr. Doormat secured accounts with Bed Bath & Beyond stores. Since then, Greenspan has became an approved vendor for Ace Hardware and True Value. The doormat also is available at homedepot.com.
As this is her first trade show, Greenspan said she's looking forward to the possibilities that lie ahead. At the National Hardware Show, she is one of thousands looking for that next big opportunity in retail.
Contact reporter Laura Carroll at lcarroll@reviewjournal.com or 702-380-4588. Follow @lscvegas on Twitter.