Foreclosure indicator improves in Nevada — but experts wary of future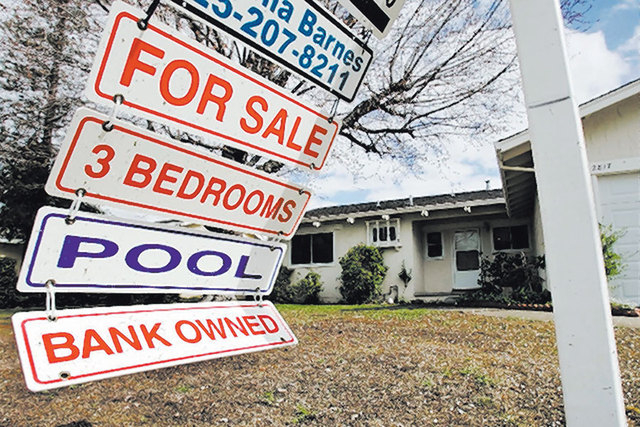 A key foreclosure indicator has improved in Nevada, though experts say the better times likely won't last.
The state had 1,942 owner-vacated foreclosures — or "zombie" foreclosures — in the second quarter, according to Wednesday numbers from California housing research firm RealtyTrac. That was down 45 percent from 3,550 unoccupied foreclosures in the first quarter, and off 48 percent from 3,734 in the second quarter of 2013.
That slide doesn't mean it's time to talk recovery.
"I would characterize Nevada as being in the seventh-inning stretch," said Daren Blomquist, RealtyTrac's vice president. "Things have definitely calmed down, and the end is in sight, but there's still some game to play."
For starters, the only reason zombie foreclosures look better is because the state's Homeowners Bill of Rights dramatically slowed defaults when it took effect in October and put new restrictions on banks looking to foreclose.
"I have to be more cynical about the drop in Nevada than the drops in other markets, because it coincides with recent changes in the law," Blomquist said. "The immediate impact was a sharp drop-off in new foreclosure activity."
Given that decline in defaults, zombie foreclosures could actually be worse than the numbers reflect. The market may have many more vacant homes that simply haven't received official foreclosure filings, Blomquist said.
What's more, Nevada still has one of the highest rates of vacated foreclosures. With 32 percent of homes in foreclosure abandoned, the state ranked No. 6 behind Alabama, Kansas, Missouri, Oregon and West Virginia.
Zombie foreclosures matter more than occupied foreclosures because they have an outsized effect on nearby home values, and even state coffers.
"These are the homes that you know are distressed. They're the obvious eyesores in any neighborhood," Blomquist said. "They're vacant properties that are often in disrepair. They're not being maintained. Nobody's taking responsibility for the upkeep."
Nor is anyone taking responsibility for taxes.
Based on an average of $1,457 in annual property taxes for Nevada homes in default, zombie foreclosures are costing the state $2.83 million in lost property-tax revenue, Blomquist said.
Nevadans shouldn't expect to recoup those missing dollars anytime soon.
Other states that enacted homeowners' rights laws similar to Nevada's, including Maryland and Washington, saw a lag of up to 22 months before foreclosures returned to normal rates. So expect a "boomerang effect" in which defaults eventually trend upward after their current slowdown, Blomquist said.
"In Nevada, unlike for most of the country, I think we're going to see it get worse before it gets better," he said. "We do expect, based on looking at our numbers and talking to people in the market, that there's going to be another surge of foreclosures as banks adjust and figure out this new process."
Contact reporter Jennifer Robison at jrobison@reviewjournal.com. Follow @J_Robison1 on Twitter.