Las Vegas builders start year with fewer home sales but hope emerges
Updated February 28, 2023 - 7:04 pm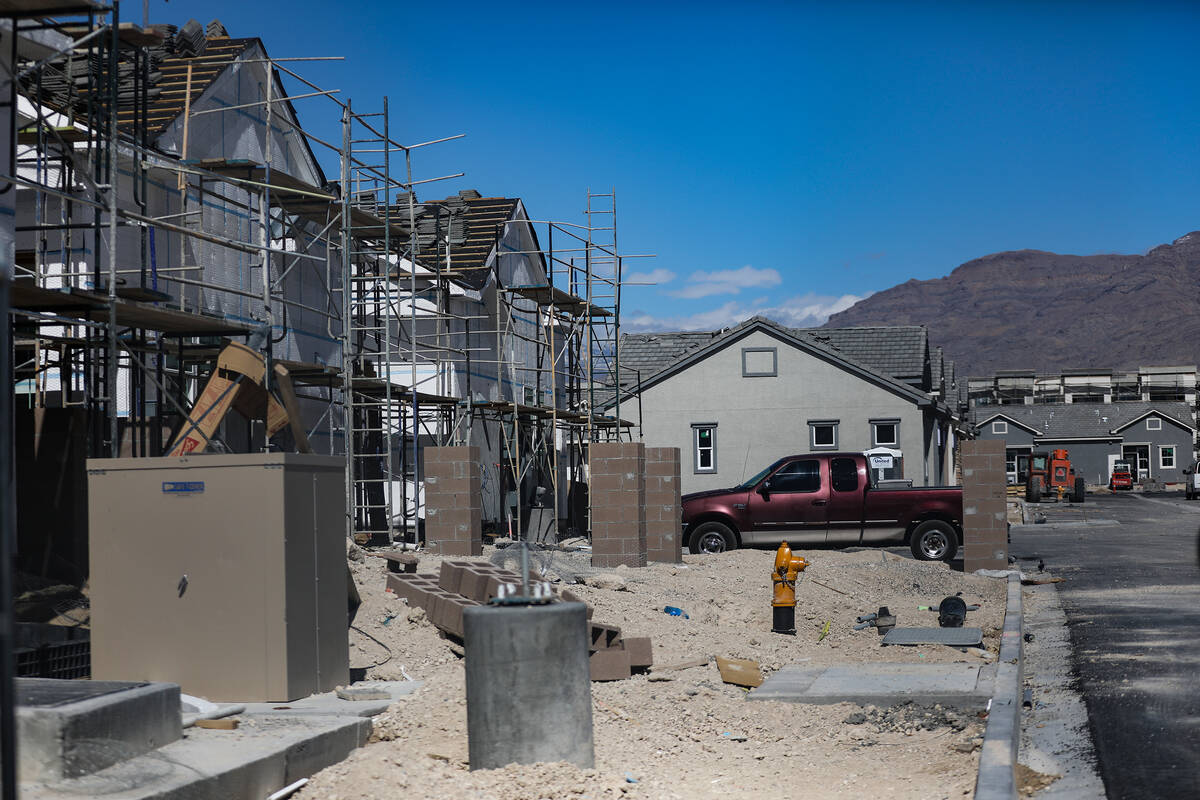 Southern Nevada builders sold far fewer homes and pulled substantially fewer permits last month than they did a year earlier, but the market overall had "a few glimmers of light shining through the fog," says a new report.
Locally, builders landed 661 net sales — newly signed purchase contracts minus cancellations — in January, down 39 percent from the same month last year, according to Las Vegas-based Home Builders Research.
Builders also pulled 503 new-home permits last month, down 64 percent from January of 2022, the firm reported, indicating a sharp drop in construction plans.
Nonetheless, last month's sales tally climbed 59 percent from December, to its highest level since June. Monthly sales cancellations tumbled to their lowest amount in nearly a year, and customer foot traffic is on the rise, according to the research company.
These signs of an uptick follow a year in which homebuyers, locally and nationally, pulled back for months amid a sharp rise in mortgage rates.
"While generally the housing market still leaves much to be desired for many in the industry, 2023 has started with a few glimmers of light shining through the fog," Home Builders Research President Andrew Smith wrote in the report.
'Current market weakness'
Across the U.S. last month, builders' sales incentives and a decline in mortgage rates helped boost buying activity, the National Association of Home Builders said in a news release.
But in a sign of "current market weakness," sales were still well below year-ago levels, according to the association's chairman, Alicia Huey.
Last month, the pace of U.S. builders' sales was up 7.2 percent from December but down 19.4 percent from a year earlier, federal officials reported.
Nicole Bachaud, senior economist with listing site Zillow, said recently that as mortgage rates took "a breather" last month, some buyers came back into the market.
But given that borrowing costs have since pushed higher again, "demand will likely take another hit and push the market back into a slower pace," she said.
Housing slowdown
Las Vegas' housing market hit the brakes hard last year and ended up in something of a logjam, following a frenzied, cheap-money-fueled buying binge in 2021 that sent prices soaring.
Prospective buyers were sidelined last year amid a sharp jump in borrowing costs, and would-be sellers had incentives to stay put, as they likely had a lower mortgage rate on their current home than what they would get on a new purchase.
Overall, sales totals dropped hard in Southern Nevada, sellers increasingly slashed their prices and available inventory soared. Amid the slowdown, builders offered more incentives to buyers and higher commissions to agents who brought them in, real estate sources said.
On the resale side, Las Vegas' market started 2023 on a slow note.
Single-family homes sold for a median price of $425,000 last month, down about 2 percent from a year earlier, according to trade association Las Vegas Realtors.
Southern Nevada's median sales price has now dropped by $57,000 from a record high of $482,000 last May.
A total of 1,325 single-family homes traded hands last month, down about 48 percent from January 2022, and 5,450 houses were on the market without offers at the end of January, up 199 percent from a year earlier, according to the association.
Contact Eli Segall at esegall@reviewjournal.com or 702-383-0342. Follow @eli_segall on Twitter.