Median new-home sales price in Las Vegas edges up to $329,596
December 19, 2016 - 2:47 pm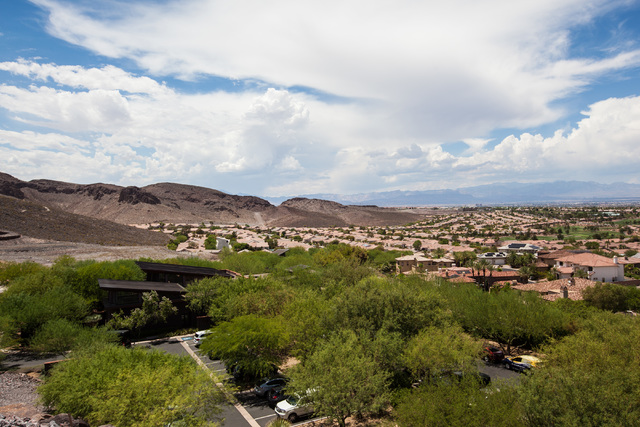 Las Vegas homebuilders' share of the market has climbed this year amid a sliding inventory of resales, though it's still far below what it used to be, a new report shows.
Builders closed 762 new-home sales in Clark County last month, bringing the year's tally through November to 7,035, up 14.5 percent from the same 11-month period in 2015, according to Las Vegas housing tracker Home Builders Research.
The median sales price of November's closings was $329,596, up 2.5 percent year-over-year. Builders also pulled 550 new-home permits last month, putting the year's sum at 6,999, up 13.5 percent from the same period in 2015.
Overall, new-home sales comprised 17.2 percent of all home sales in the county last month, up from 12.3 percent in January, according to Home Builders Research.
Builders' share of the market in 1990, however, was 48 percent. They had 41 percent of the market in 2000; 40 percent in 2005, during the real estate bubble; and then just 11 percent in 2010, during the recession.
Sales totals also remain a fraction of what they were during the go-go years. In 2005 alone, builders closed almost 39,000 sales in Clark County.
One of the "primary" factors boosting sales this year was the "continued tight inventory" of previously owned houses on the market, Home Builders Research founder Dennis Smith said in the report.
The Greater Las Vegas Association of Realtors, which publishes inventory totals and other figures about the resale market, recently changed its methodology and tracking system, so some of its findings now don't match its prior reports. But according to one estimate from the group, there were 11,807 single-family homes for sale by the end of November, down 10.3 percent from a year earlier.
Meanwhile, interest rates have climbed since Donald Trump won the presidential election, pushing up borrowing costs. For the week ending Dec. 15, the average rate nationally on a 30-year mortgage was 4.16 percent. That's up from 3.77 percent for November and 3.47 percent for October, according to mortgage giant Freddie Mac.
Industry observers expected the historically low rates to eventually climb. But since Las Vegas was among the hardest-hit markets in the country during the recession and has trailed many other cities in recovering, could higher rates crimp sales faster here than in other cities?
"When we are supposed to be in a housing recovery, the point where sales get sluggish because of higher payments might be different in Las Vegas than it would be in much of the rest of the country," Smith wrote. "Many of the statistics that suggest the overall national housing market is fully recovered don't apply to Las Vegas because this recovery has had so far to go to get back to a semblance of normalcy."
Still, there is "no doubt" that Las Vegas' housing market has steadily improved the past few years, he wrote.
"But it had to," he added. "It couldn't have gotten much worse for many in the business."
Contact Review-Journal writer Eli Segall at (702) 383-0342. On Twitter at @eli_segall.