Las Vegas-based website trades dollars for dates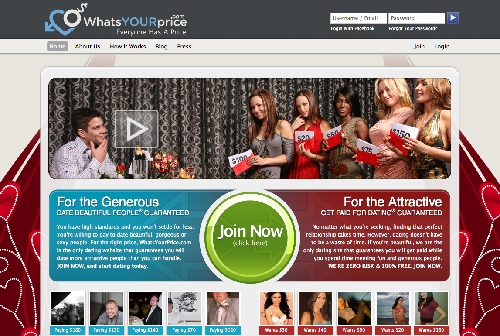 We've heard of people taking odd jobs to make ends meet during hard times.
But as far as odd jobs go, this has to be one of the oddest: Auctioning off your time for a coffee or dinner date.
A new locally based website is patenting a system that lets people bid $100 to $200 or more to nab a first date. The idea? To allow people a shot at good-looking singles who might not otherwise give them a second look.
You're probably thinking it all sounds terribly unseemly, treating people like a piece of meat up for sale to the highest bidder. But the site, called WhatsYourPrice.com, is a fast-growing business — it's averaging about 2,000 new customers a day — and its owner said the company has a serious purpose in a city looking to diversify its economy.
Really.
To understand WhatsYour Price.com's economic prospects, consider what the site offers.
"As a regular guy, I would love the opportunity to at least have a chance with that gorgeous girl who would never go out on a date with me," said Brandon Wade, WhatsYourPrice.com's bespectacled founder and a self-described "shy, geeky nerd" with degrees in computer science and business administration from the Massachusetts Institute of Technology.
Wade, 39, launched his Internet career with job-seeking websites, but moved into dating sites in 2006. He runs two other dating sites, seekingarrangement.com and seekingmillionaire.com. WhatsYourPrice.com, which went live March 29, came from an epiphany he experienced while fielding feedback from women who used the other two sites. The gals told Wade they'd started asking men they met through the sites for money up front to compensate them for time off from work to meet for lunch or coffee.
"I thought, 'What a great idea if we brought that to the mainstream,' " Wade said. "So we did some market research and we basically asked them, 'Would you go out on a date with this person?' They'd say, 'No.' Then we'd say, 'What if the guy offers you $10 for an hour for coffee?' Some of them would say, 'Yeah, I'd do that.' The money kept going up — $20, then $50, then $100 — and eventually everyone in the room would say, 'Yes.' "
Wade's company has even trademarked the phrases "get paid to date" and "make money dating."
Maybe continued hard times have sent people on a constant search for additional income, or maybe people just really want to find, you know, love, or whatever. Regardless of the reason, WhatsYourPrice.com has proven popular in its infancy: It registered roughly 25,000 sign-ups in its first two weeks, including 5,000 new members on April 7 alone. The site divides registrants into "generous" members, who do the bidding, and "attractive" members, who accept or deny the offers. Men and women can sign up as either generous or attractive, but the balance is overwhelmingly male on the generous side and female on the attractive.
The site makes its money through payments from generous members. Attractive registrants pay nothing to join or go on a date.
But some members of WhatsYour Price.com don't sound like they're looking for serious relationships.
Christin Thomas, a 24-year-old "attractive" who lives in Washington, D.C., and is planning to relocate to Las Vegas, said she learned about the site after reading an ad on one of its sister sites.
"It seemed like something that would be fun and interesting," Thomas said. "If you can get paid for dating, why not?"
Still, Thomas, who works as a legal assistant and hopes to attend law school, said she's not in it for the money.
"The site is really getting a lot of criticism for that, and it's unfortunate," she said. "It's about meeting people you wouldn't necessarily meet otherwise."
Thomas had been on two dates as of Tuesday and made about $100. The bidding price doesn't include the cost of the date, which the "generous" member picks up on top of his initial payment.
But Thomas likely won't stay on WhatsYourPrice.com forever.
"I'm pretty young, so I can't say I'm looking for anything serious right now," she said. "I'm not really sure where my career is going to take me. If I ever decided to look for a serious relationship, I would probably stay away from the site."
That kind of thinking suits John just fine. John, a 70-year-old businessman from New York, signed up as a "generous" member a week or so ago and had been on three dates as of Tuesday. He doesn't want anything serious — he's been married and divorced twice, and he says he can juggle five younger girlfriends for "what one fat, old wife costs." (No wonder he didn't want us to use his last name.)
"I'd rather be with a beautiful, educated 20-year-old than a 65-year-old embittered woman. Not all 65-year-olds are embittered, but a lot of them are," John elaborated with a drawl he picked up in his native Georgia. "I'd like to be a mentor, find out if I can help them, or head them in the right direction."
John said he tried seekingarrangement. com, and found that women who made plans to meet with him through the site didn't always follow through.
"But if they think they're going to get $100 or $200, they show up," he said. "A lot of guys wouldn't pay $100 to meet somebody. Well, they don't have a lot of money. I'll pay $100 or $200 to meet someone because I enjoy meeting people. It doesn't have to be about sex or anything. I don't want to go to dinner by myself. I love to find out about people, talk to them, find out what makes them tick."
Wade is banking on such sentiments to transform WhatsYourPrice.com into a success. Seekingarrangement.com, which is designed to connect "sugar daddies" with young women who are looking for wealthy men to support them financially, has about 800,000 members worldwide; Wade said he expects WhatsYourPrice.com to claim 10 million or more registrants globally within two years. The company plans to roll out regional and national advertising campaigns for WhatsYourPrice before the end of the year.
"This is going to go way beyond (seekingarrangement.com)," Wade said. "We're having college students join as 'generous' members to go out on dates. You never see that on seekingarrangement.com."
Wade's websites aren't without their controversy.
They've drawn attention from ABC News, CBS News, CNN and Playboy magazine, among other outlets, and they've yielded observations that some of the sites, including WhatsYourPrice, are essentially portals for prostitution.
Wade said the sites have screening procedures to weed out "working girls" looking to score johns.
Jay Rivera, a public information officer for Metro, took a look at WhatsYourPrice.com and said he didn't see anything on the site's home page that indicated it was a sex-for-sale website.
"That's why escort services are able to function. It's not about sex. If it's money for company, then you haven't gone over into someone doing a sex act in exchange for money," Rivera said. "Just meeting someone does not constitute a sex act, and this site looks like it's about meeting people or going out."
Metro would begin monitoring any dating site for prostitution if the police department started receiving tips from johns or prostitutes that they were using the site to meet up, Rivera said.
For a Las Vegas business in particular, the whole prostitution angle smarts a bit. After all, the city's corporate and government leaders are in the midst of a united effort to lure new companies to Southern Nevada, and the Sin City sobriquet could curb interest in Las Vegas among some relocation prospects.
But Wade said people shouldn't worry about WhatsYourPrice.com perpetuating that image, and the company is doing its part to diversify the regional economy besides. The tech business has five local employees, and Wade said its staff could grow three times bigger by the end of the year.
"We (Las Vegas) should just keep showing people that we can innovate and always come up with new stuff as well," he said.
Contact reporter Jennifer Robison at jrobison @reviewjournal.com or 702-380-4512.