Las Vegas symposium to discuss reports of secret space program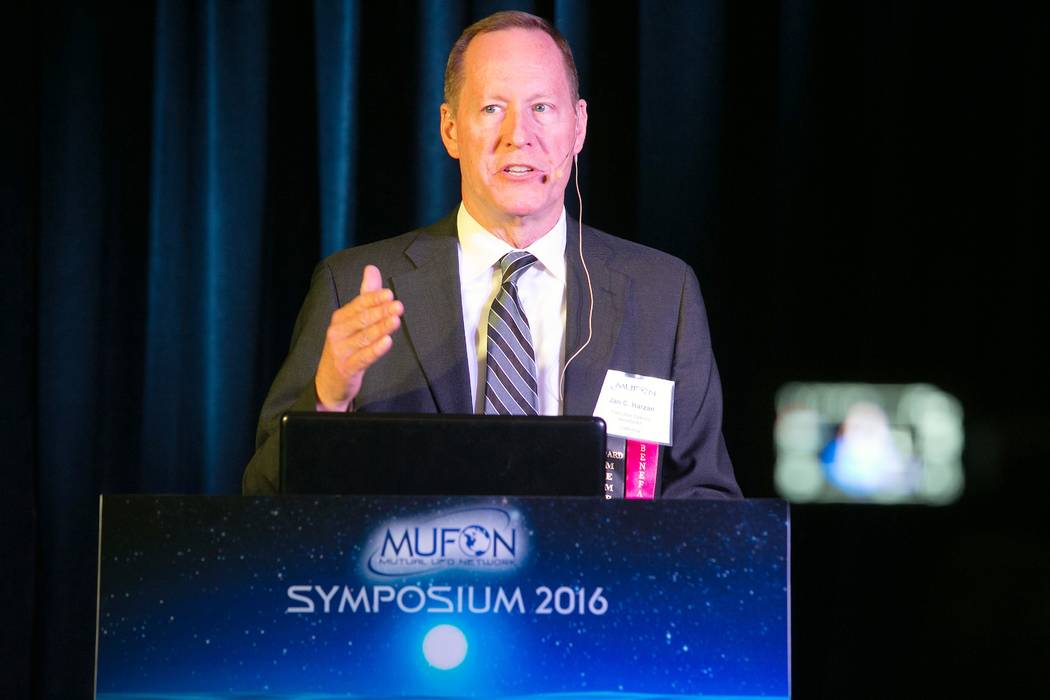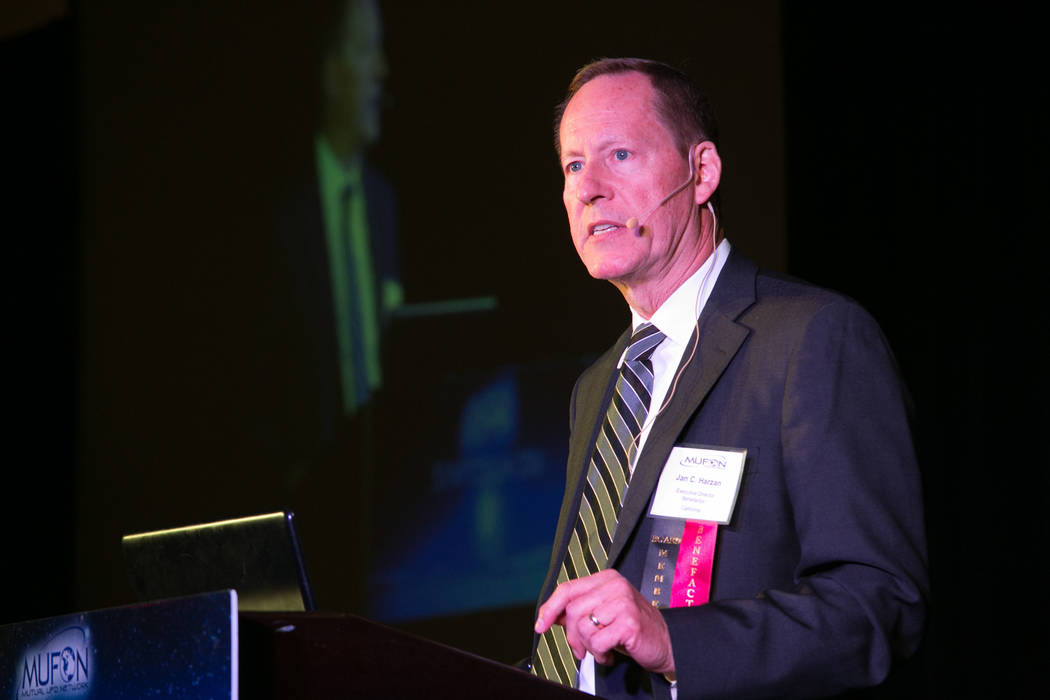 Jan Harzan has been a firm believer in the existence of UFOs since his childhood, when he says he saw one himself.
Harzan, executive director of the Mutual UFO Network, said he spotted the craft early one morning in April 1965 when he was 10 years old. He and his brother woke up to a strange humming noise coming from outside the house around 6:30 a.m. and went out to investigate. There, he said they discovered a metallic UFO flying 10 feet off the ground, about 30 feet away from them. The craft was about eight feet long and three feet tall, Harzan said, with a bright orange exterior.
"It was burnt into my mind as a 10-year-old boy," Harzan said. "You don't forget it."
He ran inside to grab his camera, but by the time he returned, the UFO was gone.
"It was definitely an unusual experience," he said. "I can't say if it was extraterrestrial or a test vehicle we were building."
And that's the focus of this year's 48th annual MUFON Symposium, The Case for a Secret Space Program. Harzan said the symposium, held at the JW Marriott in Las Vegas July 20 to 23, will look into the possibility of one or more hidden space programs with secret advanced technologies, including spacecraft.
Frequent reports
MUFON is a nonprofit scientific research organization that collects and investigates UFO reports from the public. The organization receives between 500 and 1,000 reports each month. While about 70 percent are debunked and labeled as identified flying objects, Harzan said the rest remain unknown after investigation.
While some of those could be alien UFOs, Harzan said, others could be part of a secret space program.
"Of the 30 percent unknown, we don't believe all are extraterrestrial craft," Harzan said. "Is there a possibility that some of those craft could be our own craft? That's what (this symposium) is all about."
George Knapp, a KLAS-TV reporter, who has reported extensively on UFOs for decades, said this year's MUFON symposium theme is a little more outlandish than past conferences.
"There has been some criticism in the UFO world for using this theme," Knapp said. "I think its a departure from that (gold-standard) image (at MUFON); it goes far from nuts and bolt scientific analysis into the realm of speculation."
Knapp said the lineup does have credible speakers — scientists and other professionals looking for hard evidence behind a secret space program— and that some of the theories behind the secret space program claims could be legitimate.
"There is some credence to the idea of a secret space program in that there are things floating up there in space that the public doesn't know exist," he said, referring to certain satellites and spy craft. "It's a different thing to ask if we have Starfleet Command up there."
No solid evidence
Knapp said he hasn't seen solid evidence of a secret space program, aside from Gary McKinnon's claims. McKinnon, a speaker at the conference who was arrested in 2002 on allegations that he had hacked into NASA and other U.S. military computer systems, claims to have found evidence of a secret space program in some of those files.
The Case for a Secret Space Program will feature 12 speakers, along with former CNN anchor Cheryll Jones as the event host. Speakers include author and UFO researcher Richard Dolan, plasma physicist John Brandenburg and James Woodward, aprofessor emeritus of history and adjunct professor of physics at California State University, Fullerton.
"These guys are all very knowledgeable. Many have Ph.D.s, they are very intelligent people who have met and had conversations with people within our own government who would verify this," Harzan said. "I think (the attendees') eyes are going to be opened."
Many pre-registrations
Harzan expects 500 to 1,000 people at this year's symposium — about 500 have already preregistered for the event.
Along with a series of speakers and panel discussions, the conference offers field investigator training, an Area 51 tour through the Mojave Desert and experiencer workshops.
The first workshop offers a safe space for those to share their experiences contacting extraterrestrials. The second teaches methods to avoid alien abduction.
Contact Bailey Schulz at bschulz@reviewjournal.com or (702)383-0256. Follow @bailey_schulz on Twitter.
At a glance
Where: JW Mariott, 221 N Rampart Blvd., Las Vegas
When: July 20 to July 23
How much: General admission for the full symposium is $349. More options can be found here.
The event is open to the public.