Local studio tries to lure adult industry as Adult Entertainment Expo begins
January 15, 2014 - 6:44 pm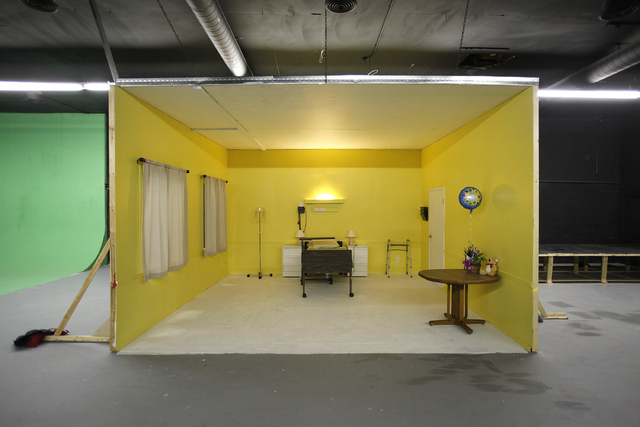 A few days before AVN's Adult Entertainment Expo hit Las Vegas, Lee Roy Myers was busy painting his movie studio and adding two sets for a restaurant and a hospital. This week marks the local business's hard launch, and Myers said he wanted everything to be perfect.
Myers is expecting to host between six to 10 tours for porn producers, directors and other studio owners at Mission Control Studio this week, taking advantage of an influx of adult industry people in town.
The Adult Entertainment Expo is at the Hard Rock Hotel through Saturday, bringing about 50,000 attendees to the property.
Sherri Shaulis, senior editor of pleasure products for AVN, has been with the company more than six years. She said the show is larger this year than last.
"The economy's coming back and (the show) is growing because more and more people are realizing this is a viable business," Shaulis said. "We're seeing a real influx of true business owners and entrepreneurs."
Also, she said, every year all things porn are more and more accepted in the mainstream, from novelties to movies and performers.
Of the 50,000 or so attendees, Myers said, he wants at least some of them to come see his 10,000-square-foot space.
"We've had a lot of interest from local businesses and Hollywood mainstream shoots that come out here and are looking for a new studio," Myers said.
Ironically, he hasn't really started conversations with adult studios that might be looking to shoot here, although he has been in the industry for seven years.
"We'd like to introduce them to the possibility of shooting in Las Vegas," Myers said.
During his time in the industry, Myers has created a few websites, which he said all failed, but eventually he became an adult-acquisition executive for Pay-Per-View. He wrote adult scripts for friends in his off time, and eventually left his corporate gig to become a full-time adult movie director.
Since May, he has been renovating his Mission Control space, a change he made because shooting in California has become more expensive. As for the local industry, Myers said it's not huge, but each month someone from the porn world decides to move to Vegas.
Thus far Mission Control has been used for Myers' own shoots related to his Woodrocket.com site, a couple Kickstarter projects and MTV Europe shot there.
"We saw a hole in the market that we wanted to fill. Outside L.A., it's hard to find a place that allows adult and is affordable," Myers said. "We thought it was very important to jump in that market and make something we would want."
Cost to shoot at Mission Control is $100 an hour. The studio's equipped with six sets plus a large green cyclorama or wall and a lot of empty space.
When he's not giving tours, Myers will be at the show this week, networking with his peers about the future of the adult industry. He said he sees companies moving toward website traffic count goals rather than DVD sales, much like his own tactic with Woodrocket.
"I feel there's a whole generation of people who don't understand the free content they're watching is probably pirated on a 'tube' site," he explained. "Sales will continue to go down until DVDs are dead."
Paid, online delivery too will suffer, thus requiring the industry to be able to give content away, instead using banner ads, product sales or product placement opportunities to make money.
"I eventually see people getting on this train," Myers said.
Anyone interested in Mission Control should call 702-546-7071.
Contact reporter Laura Carroll at lcarroll@reviewjournal.com or 702-380-4588. Follow @lscvegas on Twitter.