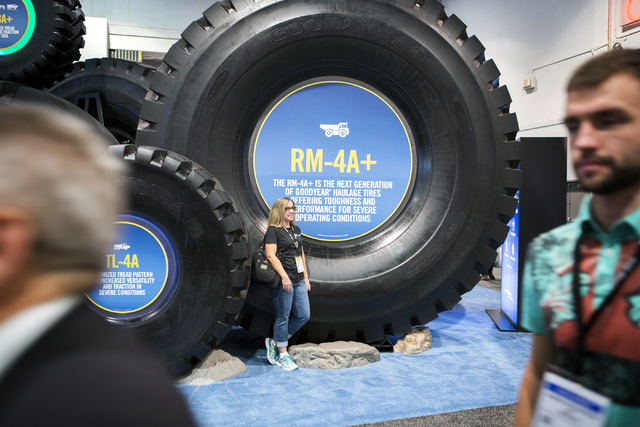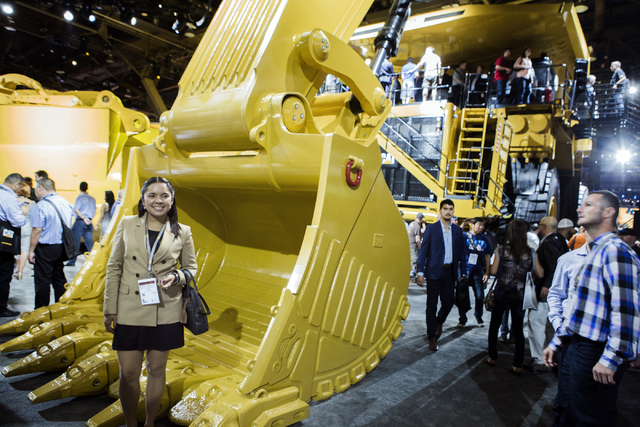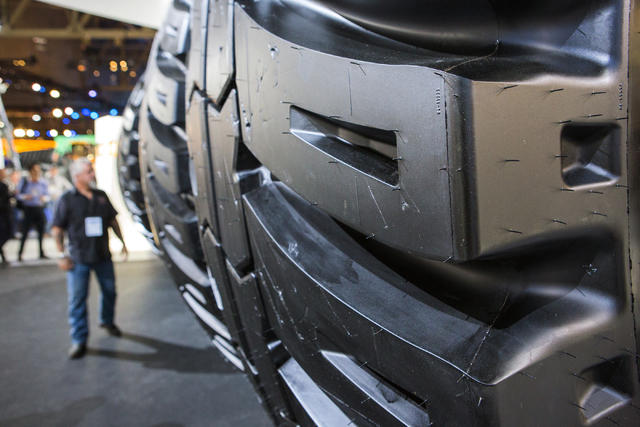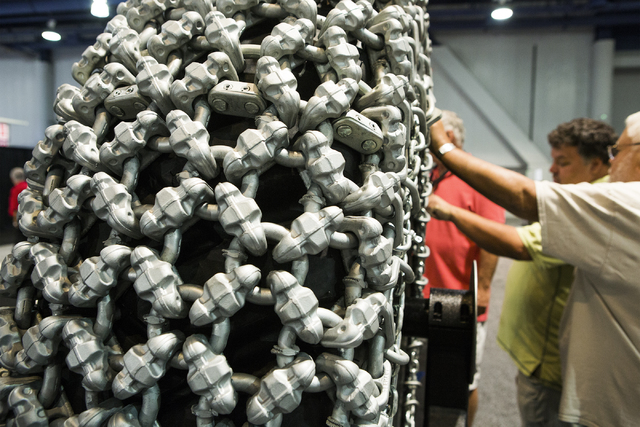 Can you dig Diatomaceous earth?
The international mining industry is well aware of the Silver State's standing as a producer of precious minerals.
But the Nevada industry is getting a bigger spotlight this week in Southern Nevada — as is the little-known Diatomaceous earth.
About 40,000 people from more than 130 countries are expected to attend MINExpo at the Las Vegas Convention Center. The event began Sunday and runs through Wednesday, with more than 1,900 exhibitors from 37 countries staking claim to over 840,000 square feet of exhibit space.
Dana Bennett, president of the Nevada Mining Association, said Nevada companies have tightened expenses as commodity prices have dropped.
There are about 20 minerals produced in Nevada and 230 mines across the state, Bennett said.
While gold and silver remain the bulk of mineral production, Nevada ranks second or third in the world in the production of Diatomaceous earth, Bennett said. The fossilized remains of tiny aquatic organisms are used in paint, pool filters and wine and beer filters.
Another commodity that has increased in recent years — particularly in Southern Nevada — is gypsum, which is used in wallboard and in construction materials, Bennett said. Gypsum production slowed during the recession as construction declined.
LEADING GOLD PRODUCER
In 2015, the U.S. was the world's fourth-largest gold producer, with Nevada accounting for 83 percent of the U.S. total, according to the Nevada Mining Association.
According to a September report by the Nevada Department of Employment, Training and Rehabilitation, the mining and logging job sectors declined 5.9 percent year to date. The department attributed those job losses to weakened gold prices.
Bennett said commodity prices have on a historical basis increased in recessionary years and decreased in non-recessionary years.
"During the recession, we were the only industry that was having job gains," Bennett said.
In Nevada, there are approximately 11,000 people who work directly in mining, according to Bennett.
The average wage for workers in the metal ore mining industry is $96,668, compared to the state average wage of $45,760, according to a 2016 Applied Analysis report commissioned by the Nevada Mining Association.
There are approximately 565,000 direct mining industry jobs in the U.S., according to the National Mining Association.
Joseph Hooker, business development manager with Las Vegas-based Allsite Structure Rentals, said the company has typically worked with aviation and construction companies but is now trying to cater to mining companies.
The company rents tentlike structures for industrial and commercial use, often for companies that need something up quickly. The structures are built with an aluminum frame and covered with fabric.
"There's a big market for it and we're looking to increase our share of it," Hooker said.
STRONG ATTENDANCE FIGURES
That convention attendance numbers this year have rivaled those of 2012 in spite of the mining industry coming out of a "prolonged downturn" is encouraging, said Luke Popovich, vice president of external communications for the National Mining Association.
"The commodity boom that fueled all the money going into the 2012 show — and caused it to be such a success — ended up in a bust about the time that that show took place," Popovich said.
In response to revenue declines, Popovich said the industry has had to embrace technology now more than ever in order to increase efficiency.
"That's put incentive on the equipment suppliers at this exhibition, to determine how they can improve productivity at these mines, using big data for example, using sensors, motion detection equipment," Popovich said.
Contact Alexander S. Corey at acorey@reviewjournal.com or 702-383-0270. Find @acoreynews on Twitter.