Nevada treasurer wonders whether China investor can afford Faraday factory
February 18, 2016 - 6:54 am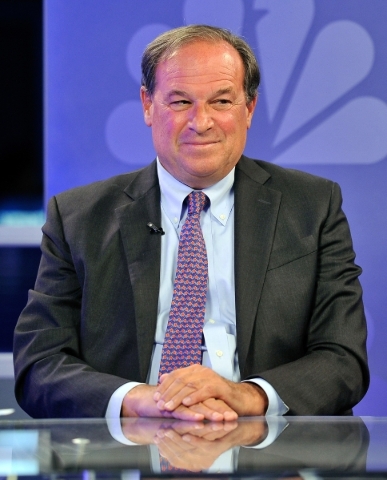 CARSON CITY — State Treasurer Dan Schwartz is raising concerns about whether the key financial backer of electric car maker Faraday Future has a wallet fat enough to build a $1 billion factory in Southern Nevada.
But Nevada's top economic development official said Wednesday that legislation passed by lawmakers during a special session to lure Faraday to the Silver State provides adequate safeguards for taxpayers and creates an opportunity to expand the region's tax base whether the car plant materializes or not.
"Trying to predict whether a company is going to succeed or flourish, or even say what they're going to do is … you're going to be wrong at times, maybe as often as you're right," said Steve Hill, executive director of the Governor's Office of Economic Development who helped broker the Faraday deal.
Schwartz told the Los Angeles Business Journal he met with undisclosed members of the Chinese financial community last week to inquire about the resources of billionaire backer Jia Yueting, a key behind-the-scenes player in Faraday Future.
"If I were to sum it up, it's the emperor's new clothes," Schwartz told the business journal. "If you look at the financials … he certainly isn't making any money to fund a billion-dollar car facility."
He expressed concerns that shares of Jia's company, Leshi, ceased trading on the Chinese stock market in December because of an internal reorganization. Trading has not resumed, but is expected to next month.
Schwartz said he met with Faraday executives in Las Vegas on Wednesday.
"We have agreed with the Faraday Future executives that we will meet again after Leshi's shares begin trading again, currently expected on March 7," Schwartz said.
Jia is founder and chairman of Leshi Internet Information & Technology, an online media company. According to Forbes, he is worth about $4.8 billion and in 2015 ranked 17th on the publication's "China Rich List," up from 78th place the year before.
In a press release before his trip to China, Schwartz said, "As the state official who will issue and sign up to $175 million in general obligation bonds to finance the project, I want to feel comfortable that building the factory will proceed as the Legislature intended, and the Nevada taxpayer is protected."
That bonding authority will not benefit Faraday exclusively. A big priority for state lawmakers and Southern Nevada officials was building needed infrastructure at the Apex Industrial Park in North Las Vegas.
Apex, which has sat largely vacant for decades on the city's outskirts, lacks water, sewer, other utilities and transportation systems needed to attract big industrial tenants. Building those amenities would help market the site to generate tax revenue and stimulate economic growth, officials say.
Lawmakers in December approved $215 million in tax abatements and credits for Faraday. To qualify for the perks, the company must invest $1 billion over 10 years and meet other criteria such as hiring and wage minimums.
The deal also included $120 million in road, rail and water improvements.
Of the $175 million in general obligation bonds approved as part of the Faraday deal, about half of the bond obligation will be paid by Apex property owners through a special improvement district. The state has authority to impose liens on properties if an owner fails to pay.
The other half will come from a tax increment area, the concept being that as property values rise with the added infrastructure, the portion of increased tax assessments will go toward paying off the bonds.
Faraday is required to pony up security for the bonds needed to bring water and the rail line to its site, Hill said.
The amount of the security has not yet been determined, but is estimated around $70 million.
Hill said the bonds probably won't be issued until September or October.
"Before we issue the bonds, the security needs to be in place," he said. "And if it isn't in place, we won't issue the bonds."
In a worst-case scenario, "Nevada is protected," Hill said, adding that work at Apex would increase the value of the property and make it attractive to someone else to generate tax revenues.
Faraday began preliminary site work on its 900-acre parcel in late January. The company has said it will build a 3 million-square-foot plant and employ about 4,500 people once completed.
Hill said the risk to taxpayers is minimal, though the state is ultimately responsible for the bond payments should the financing prove insufficient.
Schwartz said his concern is to keep taxpayers off the hook if the project falls through.
"Is it fair to ask Nevada taxpayers to subsidize infrastructure in Apex?" he said.
Contact Sandra Chereb at schereb@reviewjournal.com or 775-461-3821. Find her on Twitter: @SandraChereb