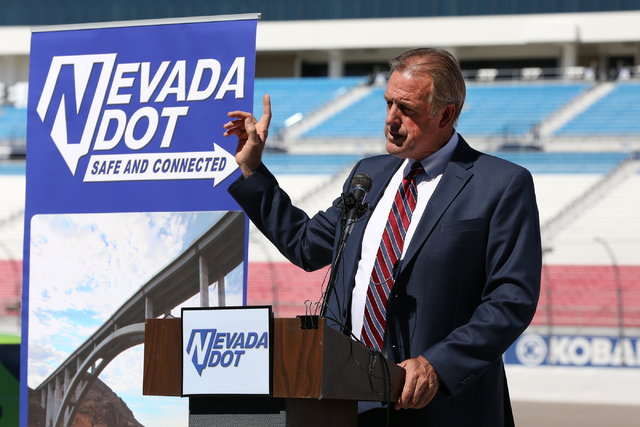 North Las Vegas Mayor John Lee on Wednesday said he'd like to see medical research businesses built on roughly 200 acres of vacant land north of the Veterans Affairs Medical Center.
The Bureau of Land Management is in the process of transferring the property, which was granted to the city for free as part of the National Defense Authorization Act of 2015. In turn, the city is required to convert the area into a "job creation zone."
"There's nothing else around there, so this is one of the huge opportunities for North Las Vegas," Lee told about 40 local contractors gathered for the monthly Las Vegas Development Roundtable at the Bali Hai Golf Club.
The gathering was sponsored by management consulting firm Venture Catalysts, the law firm of Holley Driggs Walch Fine Wray Puzey & Thompson, and the accounting firm Bradshaw, Smith & Co.
During the discussion, Lee said that North Las Vegas remains about 50 percent undeveloped, and reiterated his vision to attract manufacturing and distribution jobs to the city.
Lee said that he asked U.S. Sen Harry Reid two years ago to include the property grant as part of the National Defense Authorization Act of 2015, which also allowed for the creation of the Tule Springs Fossil Beds National Monument and conveyed several other federally owned parcels to cities and counties across Nevada.
At the time, Lee said that he was seeking ways to pull North Las Vegas back from the brink of a financial collapse.
"I said, 'Harry, if you want me to fix North Las Vegas, then I need your help,'" Lee recalled to the crowd. "I need that property right across the street from the VA Hospital."
Lee said that studies are underway to determine which companies would make "the right fit" at the land, abutting the northern side of the 215 Beltway.
"We're working with North Las Vegas to make the transfer as smooth and quick as possible," BLM spokesman John Asselin said, adding that no houses can be built on the site. "It's all up to them to decide what type of industry should go there."
Contact Art Marroquin at amarroquin@reviewjournal.com or 702-383-0336. Find @AMarroquin_LV on Twitter.