Once-stalled southwest project now adding new tenants
September 22, 2014 - 2:00 am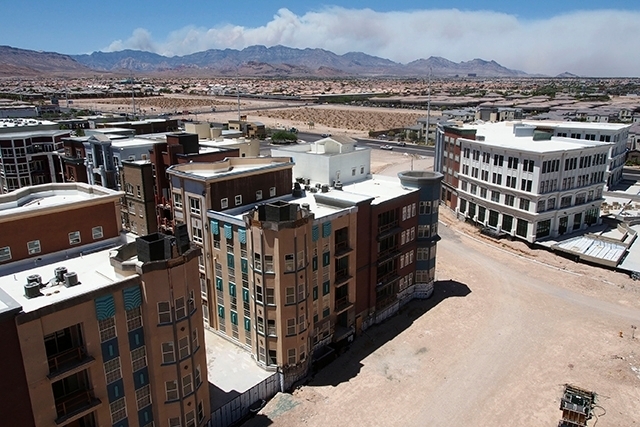 A long-stalled mixed-use project in southwest Las Vegas continues to add to its office-tenant base.
The Gramercy, initially launched as Manhattan West in 2008, said in March that HMS Holdings Corp., a publicly traded provider of cost-containment solutions for the health care industry, would move in. HMS will take over about 80,000 square feet of space above the soon-to-open DW Kitchen + Market and Alex Stratta Italian Steakhouse.
Now, owner The Krausz Cos. and developer SWLV Development LLC, have announced that custom home builder Touchstone Living will take over 8,000 square feet, while executive-suite company Regus will lease 15,000 square feet.
Of The Gramercy's 200,000 square feet of commercial space, 170,000 square feet is Class A office space.
Construction on The Gramercy restarted in September 2013, five years after work on the project stopped.
The project also will have more than 200 luxury apartments, as well as a central park, offices and stores.
Condo project renamed
Another recession-embattled project on the west side has yet another new name and marketing team.
Park House is the latest brand for the 83-condominium project at 8925 W. Flamingo Road. The property was rechristened The Modern in 2012, after starting life in 2008 as Luxe Lofts and standing empty for more than three years.
Developer Cross Harbor Capital Partners brought on interior designer Nadia Geller to renovate the lobby and upgrade the landscaping. Also, The Mark Co. is now serving as the property's sales and marketing team.
The Mark Co. was the sales and marketing firm for The Martin, a 45-story condo tower on Dean Martin Drive that's part of Panorama Towers. The Martin enjoyed strong sales in 2012 and 2013 following a redesign of its common areas.
Alan Mark, president and founding partner of The Mark Co., said Park House should enjoy similar improvements in sales.
"With its prime location near Summerlin and exceptional amenities, Park House is uniquely positioned to capitalize on the growing demand for high-end condominiums around the city," Mark said. "Las Vegas, like other Western U.S. markets, is seeing dwindling inventory which is creating urgency for a range of buyers from Millennials to empty nesters."
ZipRealty joins Coldwell
Coldwell Banker Residential Brokerage's parent company, Realogy Holdings Corp., acquired online-focused brokerage ZipRealty. The national deal gives Coldwell Banker 49 additional sales agents in Las Vegas.
Bob Hamrick, CEO of Coldwell Banker Premier Realty in Las Vegas, said the deal was designed to give Realogy's brokerages, which also include Century 21, ERA and Sotheby's, a unified website-technology platform.
ZipRealty will keep its name, so Coldwell Banker Premier will remain the only Coldwell Banker franchise in Las Vegas.
Contact reporter Jennifer Robison at jrobison@reviewjournal.com. Follow @J_Robison1 on Twitter.