Q&A with Mike Wixom, partner with Smith Larsen & Wixom
November 3, 2013 - 10:11 pm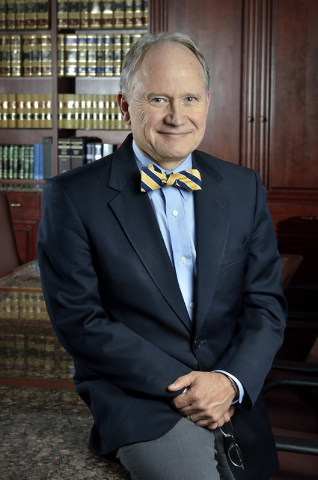 Michael Wixom is easy to recognize at a state Board of Regents meeting. The partner in the Las Vegas law firm Smith Larsen &Wixom is usually the regent who asks the critically edged question without championing a particular project or inflaming emotions.
He's also the regent who wears the bow tie.
Wixom's reflective style is evident in his role as a partner of his law firm, which specializes in banking issues.
Wixom grew up in the southern Idaho town of Blackfoot, and moved to Las Vegas in 1986 after graduating from the University of Utah law school.
Why move to Las Vegas?
"I needed a job," Wixom, 57, said without a pause.
Wixom, married and the father of six daughters, ages 19-33, lives on the eastern edge of Las Vegas on Sunrise Mountain.
None of his daughters pursued a legal career.
"They adamently refused to go to law school," he said, laughing.
After moving to Las Vegas, Wixom worked for a local law firm, then joined a bank to be in-house counsel before starting his current firm in 1996. The majority of Wixom's firm's clients are financial institutions.
When Wixom worked as the lawyer for First Interstate Bank in Las Vegas from 1988-93, his boss was Don Snyder — who spearheaded the Fremont Street Experience and The Smith Center for the Performing Arts. Snyder is the UNLV pointman for an on-campus stadium and serves with Wixom on an 11-member UNLV board formed to study the feasibility, scope and funding for the stadium.
In his spare time, Wixom likes to ride his Giant road bicycle in the Lake Mead area and Zion National Park in southern Utah.
When did you realize you wanted to be a lawyer and why?
I grew up in a small town in southern Idaho. As I became aware of issues in our community, it became clear to me that attorneys were in a position to make a real and lasting contribution for the good of all, and I viewed them as role models. Also, like many in my generation, I read "To Kill a Mockingbird" and Atticus Finch became a literary hero of mine.
What have been the biggest changes in the law profession?
Since I graduated from law school and started practicing in 1986, our business model has been entirely turned on its head. The large firm "pyramid model" is no longer sustainable, and clients refuse to blindly pay legal bills. They understandably want cost-effective results, and are demanding that the legal profession change its delivery system to accommodate their needs. Law firms and attorneys who refuse to adapt will be irrelevant and redundant.
Some Board of Regents members have been described as cheerleaders, but you seem to have a more critical-thinking approach. What do you see is your role as a regent?
My contracts professor at the University of Utah, at the end of our first year, told his students that you don't have to be the smartest person in the room to be successful. However, you do have to work harder than anyone else, be honest with yourself and others, and think critically, logically and sequentially. I have adopted that advice as my own mantra in my law practice, and in my work on the Board of Regents. While there are occasions when a board member should bring our attention to a particular issue or to a policy question, if a board member becomes a champion for any given cause, he or she risks losing the objectivity necessary for such critical, logical and sequential thinking. Certainly, none of us can know everything, and the best and most informed decisions are made in the tension between competing points of view, but that can happen only if the decision-makers have made the effort necessary to objectively and critically understand every possible ramification of the proposals before them. In the past, the problems we have had as a board came when we lost that vision, and our successes have come as we have embraced that responsibility.
Why do you like wearing bow ties? How many do you own? And do you get new bow ties every year as gifts from your family?
I started wearing bow ties merely as a matter of convenience. They are easy to work in, and don't get in the way. As a side benefit, I don't spill anything on them. I sometimes get them as gifts from my children, but not my wife — who is not a bow tie fan. More often than not, I buy them for myself. Once, a woman I did not know approached me and told me that my bow tie made her smile, and if something as simple as a bow tie will make someone smile, it is worth wearing them for that reason alone.
Who is your law hero and why?
My partner, Jay Earl Smith, who passed away in 2012. His ethical standards were unmatched, he was always a gentleman, he never lost his temper, and was about the best critical thinker I have ever known. I knew him for 20 years, and had been his partner since 1996. I look to him as a model of how an attorney should practice law.