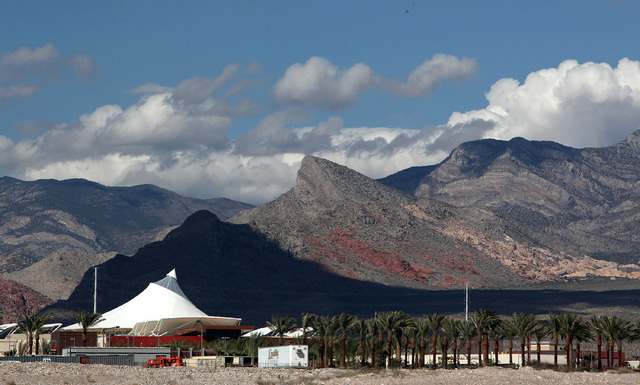 Those road improvements along the 215 Beltway and Boulder Highway might benefit commuters, but they're bringing staffing headaches to local contractors.
A statewide construction workforce that shrank 70 percent in the Great Recession has yet to bounce back, leaving vital positions unfilled in both office and field. The labor shortage ultimately could mean you will pay more for your home, and it might even imperil Las Vegas' standing as a can-do town, industry analysts say.
"Southern Nevada is very dependent on getting construction done at a high quality and on time," said Ken Simonson, chief economist for the Associated General Contractors, a national trade group that represents the construction sector. "Whether you're talking about a 500-foot observation wheel that gets heavily marketed so that people fill hotel rooms waiting to be the first riders, or you're talking about a convention-center expansion to accommodate meetings booked years ago, it's absolutely vital that these construction projects be done on time. Otherwise, the whole city's reputation can suffer."
Simonson and his association released a report Thursday showing just how difficult it's getting to hire and keep projects on track.
Half of construction firms in Nevada said they have trouble finding qualified craft workers, the study said. Every company surveyed said it couldn't find enough bricklayers. Sixty percent said the market had too few carpenters, and half said they couldn't readily hire cement masons, electricians, equipment operators and laborers.
Also, 100 percent of companies surveyed said they had issues recruiting engineers, while 71 percent said it has been tough to find project managers and supervisors.
Estimating professionals are also in short supply, 67 percent said.
Blame the labor dearth on two factors: a mass construction-worker exodus from Nevada, and a recent spike in building projects here.
Sean Stewart, executive vice president of the association's Las Vegas chapter and the Nevada Contractors Association, said members began telling him of shortages about six months ago.
The state's construction labor pool dwindled from a 2006 peak of 148,000 to a 2012 low of 46,700 as construction work evaporated.
But big projects — think SLS Las Vegas and Downtown Summerlin — ramped back up in 2013. There were also more homes under construction, as well as several new Strip retail projects and hotel renovations. Most importantly, Stewart said, a 2013 state law allowed the Clark County Commission to raise fuel taxes about 10 cents per gallon over the next three years to fund local road repairs and construction.
The fuel tax will generate $1 billion for more than 140 projects that are either scheduled or under way, including upgrades to the 215 Beltway and Boulder Highway.
The state's construction labor force was back up to 66,100 in September, but it has become a struggle to expand further because so many workers either left the state for better markets or abandoned the industry altogether, Stewart said.
That's a problem because the building isn't done. On top of those ongoing infrastructure improvements, the $4 billion first phase of Genting Group's Resorts World Las Vegas is on the way, and The Howard Hughes Corp. has 200 acres that it will spend billions developing in Downtown Summerlin.
Also, in addition to the revival of Henderson's Inspirada and Cadence master plans, Skye Canyon in northwest Las Vegas and Park Highlands in North Las Vegas might see activity in 2015.
For now, builders are adjusting in multiple ways. Mostly, they are more cautious, Stewart said. That means they have to "bid a little bit pricier" to make sure they will be able to find the manpower during construction, he said. And those expenses translate directly into the cost of a home or an office lease.
Contractors are squeezing more hours out of existing workers as well, Simonson said. Figures from research firm Applied Analysis show the average hours worked in local construction clocked in at around 38 hours a week in July, up from roughly 30 hours a week in mid-2012.
The average hourly wage was nearly $23.50 in September, compared with just more than $22 in May 2011.
Companies also are bringing in less-experienced workers or retaining subcontractors, Simonson said, but those approaches make for less labor flexibility.
"They're ad hoc solutions when you don't have the person you need, but they don't leave you prepared to do the next round," Simonson said.
That's why trade groups and employers are focusing on recruiting workers from outside the market and calling for development of education programs.
The local Associated General Contractors chapter is creating two national ad campaigns to persuade workers who left the state to come back. The group also will allot nearly $200,000 in 2015 to getting workers who left the industry for other fields recertified and back up to speed in safety training so they can re-enter the building sector.
Kevin Burke, president and CEO of local commercial builder Burke Construction, said he is recruiting nationwide. His firm is fishing for prospects in the Pacific Northwest and in colder climates, using as his lure the state's affordable housing and mild weather.
Beyond hiring today, the industry must "do a better job of selling construction as a career for young folks, and that's where the challenge is," Burke said.
The national chapter of Associated General Contractors is calling for increased funding for career and technical education and for making it easier to establish training programs for young adults.
"It won't happen overnight. It's going to be a process," Stewart said. "But we have to start now so the issue doesn't get worse. We want to avoid developing a critical shortage."
Contact Jennifer Robison at jrobison@reviewjournal.com. Find her on Twitter: @J_Robison1