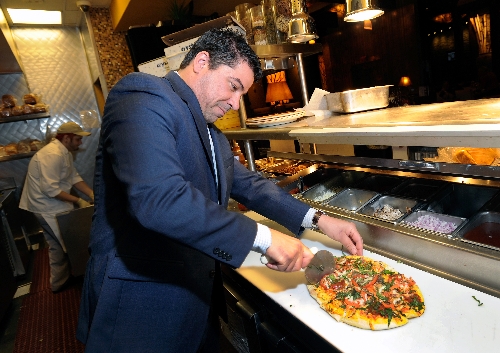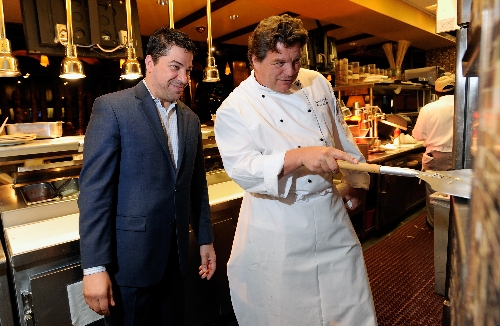 For the first time in more than a year, the Silverton's food and beverage department is whole again.
After a series of departures by top management, then a round of hiring and training, the locals' hangout is ready to get back to business.
Food and beverage director Christopher Roaché was hired one year ago and soon after, his executive chef and the chef of Twin Creeks Steakhouse, the Silverton's high-end restaurant, left to "move on to bigger and better things."
"We had vacancies for quite some time," Roaché said.
For eight months and five months, respectively, to be exact.
Besides filling the two management positions, Roaché has had to hire about 40 new employees, from dishwashers to the executive chef, or 10 percent of his staff, in the past year.
After the former executive chef, Joseph Mulligan, left Roaché interviewed 25 to 30 candidates to replace him. After eight months, he found Daniel Pfeiffer, a former executive chef and planning director for the University of Southern California for hospitality, special events, catering and banquets.
"It was about finding the person with the right fit," Roaché said. "It's a relationship. We spend more time at work than we do at home. If we don't get along with the ones we work with, then there's a problem. If there's not cohesiveness, then that's really going to come through in the food, the drink and the service."
When assembling his executive team, Roaché looked for experience, first and foremost. Then, he needed to find an executive chef who could do it all, everything from cooking to tabulating food costs.
"You have a lot of chefs out there who are skilled technically preparing food, but when you ask them to translate to paper with exact recipes and preparation, then cost it out, it's a whole other level," Roaché said.
He also wanted somebody skilled enough to eventually take his job.
"That way, if I move up or do something bigger and better, there's somebody who can slip right in and there's no learning curve," he said.
Roaché's main goal now is to create consistency in all of the restaurants. He also wants to take advantage of seasonal vegetables, fish and fruit, and feature those items more prominently on his menus.
"The ultimate quality of the food, when you go after something that's in season, it's the ultimate freshness," Roaché said.
With the help of promotions, the Silverton has been attracting more guests than in the recent past, but Roaché said his business tends to mimic that of the Strip's.
"The majority of the clientele we cater to are the ones who work in the Strip hotels," Roaché said.
The average casino customers at Silverton are in their early 40s and older. The concerts and restaurants tend to attract a younger crowd. The Silverton is home to Seasons Buffet, the 24-hour Sundance Grill, Shady Grove Lounge, Twin Creeks Steakhouse, Mi Casa Grill Cantina and the Mermaid Restaurant & Lounge.
Contact reporter Laura Emerson at
lemerson@lvbusinesspress.com or 702-380-4588.