T-Mobile Arena using customer data to shorten wait times
December 1, 2018 - 12:41 pm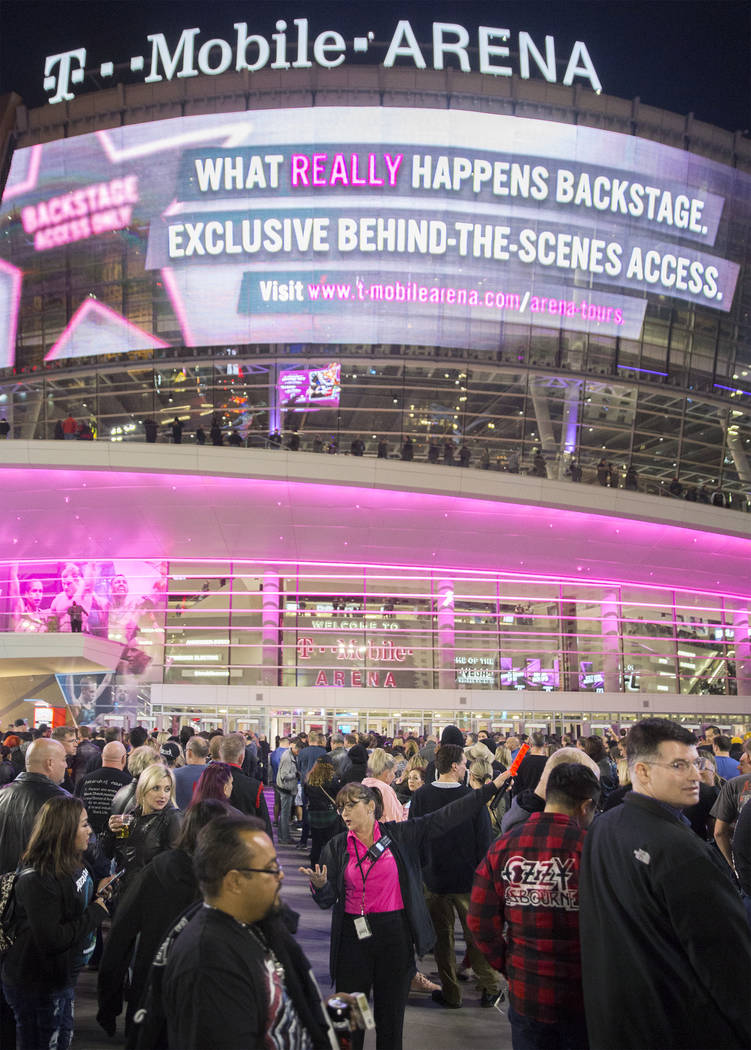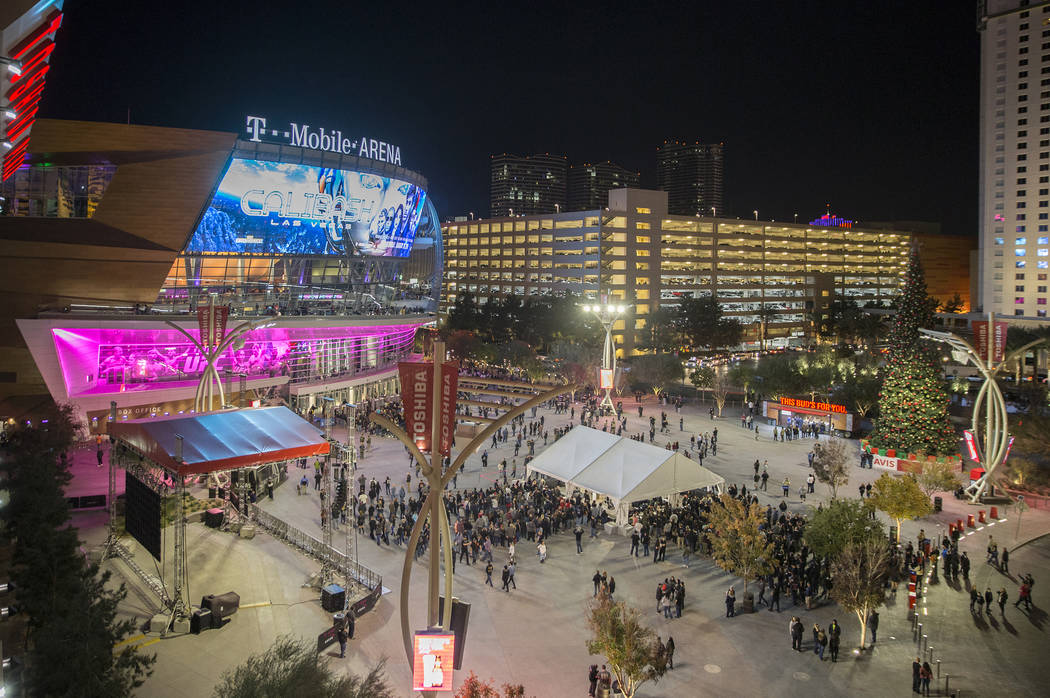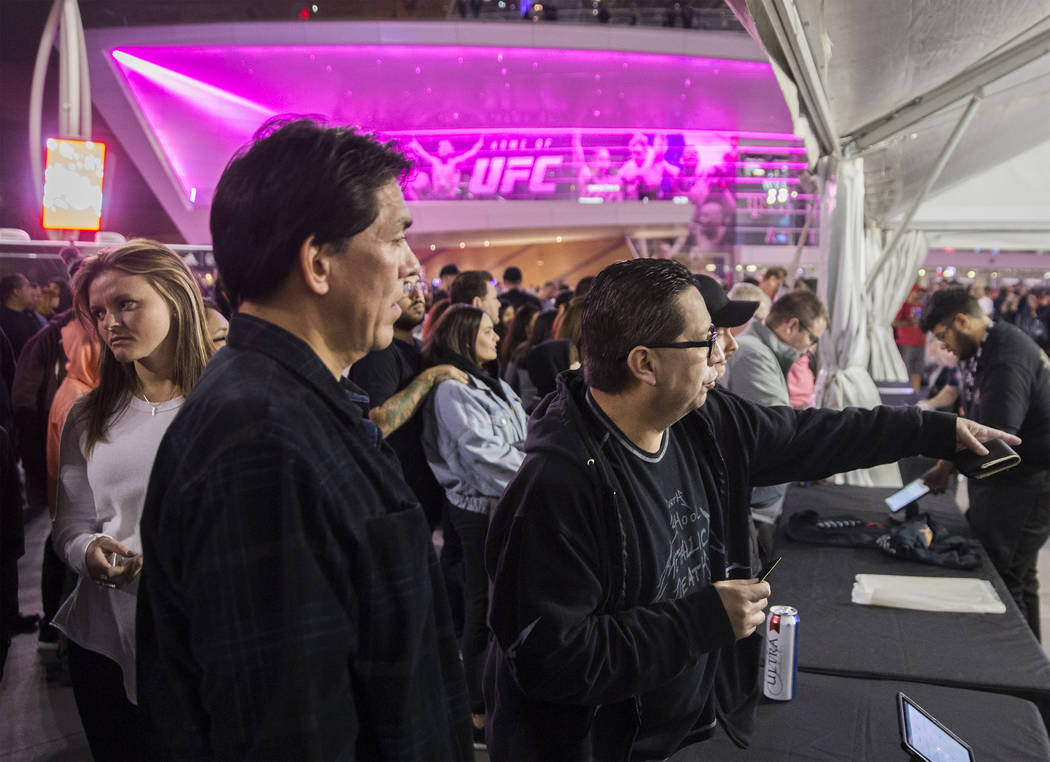 The world knows when Earl Loewen visits T-Mobile Arena.
Loewen was there Monday to see heavy metal band Metallica and posted several photos from the arena on Facebook and Twitter.
The photos Loewen knowingly posted — but the arena gathered information on him as well.
Loewen purchased the $1,000 VIP tickets online — and in doing so, gave his Las Vegas address. His information, as well as that of other purchasers, helped the arena decide how many employees it needed to handle car traffic from local concertgoers.
Like other sports and entertainment venues, T-Mobile has embraced technology to inform decisions to improve visitors' experience.
Raul Gutierrez, T-Mobile Arena executive director of arena operations, said the arena uses visitor data to forecast staffing needs and shorten the amount of time it takes for attendees to get from their cars to the arena.
Faster arrival, more purchases
Sports and entertainment venues used to learn about their visitors from trade publications and surveying visitors directly. Now, arenas can learn where visitors are from and what interests them from their online activity.
"We no longer need to wait to survey visitors," said Gutierrez, 48. "Using any advantage to make guest service better is paramount."
Crowds at T-Mobile Arena are 70 percent tourists for most events, based on the ZIP codes of purchases. For other events, like Golden Knights games, the mix is 80 percent local — adding that many more cars to parking and traffic around the arena.
With that information, and visitor data collected from the parking garages as well as a full-time traffic director, the arena has reduced the average time it takes to clear vehicle traffic from the parking garages at Aria, New York-New York, Park MGM and Excalibur after an event from 43 minutes to about 30, Gutierrez said.
MGM Resorts is a part owner in T-Mobile Arena and owns those four casinos.
The faster T-Mobile gets visitors into the arena, the more time they have to buy merchandise and concessions. And the happier visitors are about their experience, the more likely they are to make purchases.
Once visitors are in the arena, T-Mobile officials say they hope they use an on-site internet connection to share photos and videos online — just as Loewen did — for free positive buzz.
Engaged visitors spend more and want to come back, Gutierrez said.
Thierry Chau, who works with large public venues for Sunnyvale, California- based Ruckus Networks, said the prevalence of cellphones has made internet infrastructure part of the design phase before many venues are even built.
"It's not just 'I'm there,'" Chau said, "It's, 'I'm there and you're not. And here's the picture.'"
Gone in five seconds
When T-Mobile Arena opened in April 2016, company statements lauded 550 networking hardware devices to connect visitors to the internet. The arena finished adding an additional 200 devices in March to improve connectivity.
Visitors who use the internet connection at T-Mobile must agree to allow data collection, according to the connection's terms of use. The terms say uses for that data include reporting illegal activity and stopping someone from using too much bandwidth.
Gutierrez said the arena doesn't collect data through the on-site internet connection for decision-making. Most of that comes from ticketing information.
Without robust internet infrastructure, venues miss out on data collection and the opportunity to send visitors more specific marketing messages about future events or deals from sponsors, Chau said. They also miss out on the free marketing from visitors posting photos and videos online.
Ruckus and a few of its partner companies have bid for the wireless internet infrastructure at the upcoming Raiders stadium, he said.
The on-site connectivity is even more important with live events' large secondary market for event tickets. People sitting in the seats may not be the initial ticket purchasers, but an on-site internet connection means the venue can still collect some data on the actual attendees, Chau said.
Chau's company works with venues to make sure the sign-in screen to use the venue internet doesn't ask for too much information for access. Longer than five seconds to sign in, and the visitor gives up, costing the venue that data.
With sports betting on the horizon, and the possibility of outfitting players with sensors for more data collection, robust in-venue internet will become more and more essential to venue operations in general, he said.
The new normal
Loewen isn't sure what kind of data T-Mobile has been collecting about him. But he said the idea makes him uncomfortable.
Still, Loewen chooses to purchase tickets online and use the on-site internet connection.
George Baker, founder and CEO of parking management system platform ParkHub, said visitors do not see the data collection as an intrusion when it isn't aggressive and when they are rewarded for participating through things like coupons, vouchers and other offers.
"It's embraced because the guest receives benefits," he said.
ParkHub, based in Dallas, has several installations in the Las Vegas area and has provided services to T-Mobile Arena.
Alexis Hancock, a staff technologist at the Electronic Frontier Foundation, said data collection breeds privacy concerns.
She encourages venue operators to collect as little data as they need, to store that data safely and not sell it without telling visitors, she said.
She also cautions users that if a network connection requires someone to make a profile, don't log in with a third-party platform like Facebook or Google. That risks sharing more data than necessary, Hancock said.
Loewen said he's come to expect that every company is out to collect his information. That's the way the world works.
"It's kind of become the norm," he said.
Contact Wade Tyler Millward at wmillward@reviewjournal.com or 702-383-4602. Follow @wademillward on Twitter.