TECH LOOK AHEAD: Technology-heavy companies flowing into Las Vegas after years of trickling in
December 2, 2013 - 8:17 am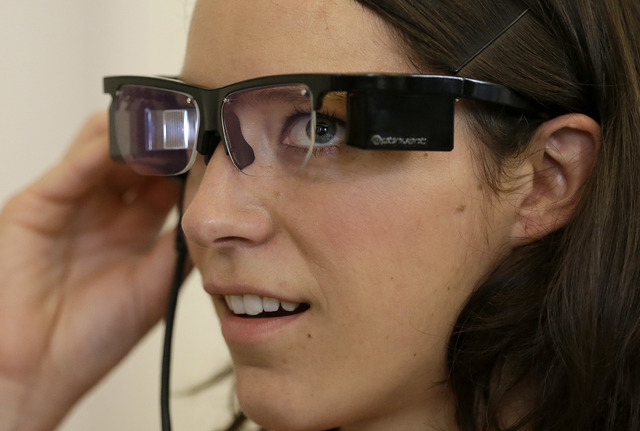 It's been happening slowly, over time, but 2014 will be the year we see exponential growth in the Las Vegas tech community, experts say.
"Over the past years I think we've seen dramatic changes in the influx of companies coming to Las Vegas and starting in Las Vegas," said Jason Mendenhall, executive vice president of cloud at Switch Data Center and president of the Technology Business Alliance of Nevada. "It's the result of years of work. It didn't just happen overnight."
Las Vegas' two major entrepreneurial hotbeds — Rob Roy's Switch Data Center and InNEVation Center and Tony Hsieh's Downtown Project — are both expected to continue recruiting and supporting businesses new and established.
Although tech companies were once trickling into the city, they're now moving at a more rapid pace, said Mike Yoder, founder of Wintech LLC.
"Downtown Project invests in some, but there are a lot moving here without financial investment," Yoder said.
In addition to enterprising tech businesses, Mendenhall predicts more health care and financial services companies will move here.
"I think 2014 will be a major coming out of all the things that have been coming together," Mendenhall said.
Affecting business owners will be updates to the Jobs Act, as well as improved tech education in Nevada and the emergence of new tech niches.
Expect to see more of the same growth and innovation in Las Vegas, but at a faster pace.
THE JOBS ACT
Passage of Title III of the Jobs Act is going to be big for small business, says Justin McVay, director of the Business Startup Center at the University of Nevada, Las Vegas.
Title III will define how nonaccredited investors can make small, online investments into private companies. Investors accredited by the Securities and Exchange Commission must have higher-than-average incomes and net worths. Title III will allow individuals with average finances to make small equity investments into private companies.
"If the SEC and the federal government get the regulations finalized and bring Title III to life, theoretically it will open crowdfunding to everyone," he said. "That will allow the best friend or the neighbor or the grandmother to invest even a small amount of money. Right now that's really difficult to do, at least on a large scale."
The provision, which should be determined by late 2014, follows Title II of the same act, which allows private companies to solicit seed funding, including by crowdfunding.
Title II was one reason Monty Lapica of Coloma Ventures created Start-Up Vegas, which gives local Web-based companies the chance to pitch angel investors and venture capitalists.
Crowdfunding bridges the gap between investors, who might be older and lacking contact to the tech industry, and younger Web entrepreneurs who need the help, Lapica said.
Raising capital is one of the biggest challenges facing startups and the finalization of this law will ease fundraising significantly.
"It's basically going to change the entire way we've looked at investment opportunities and startups since the '30s," McVay said. "It's a big deal."
EDUCATION
"A lot of people would argue the university doesn't have a strong technical program, but that's wrong," said Mendenhall, who sits on the advisory board of the Howard R. Hughes College of Engineering at UNLV.
The problem, he said, is there aren't enough students.
Mendenhall said UNLV engineering grads have a 100 percent job placement rate, which goes to show there isn't enough competition.
Among the goals of higher education is 2014 is smoothing the transition between the College of Southern Nevada and UNLV.
Mendenhall said in the past transferring from CSN to UNLV was difficult, requiring up to a year and a half of repeat schooling. These changes are being uncovered and addressed so students can take their broad-based core curriculum at the two-year college and transfer to the university for specialized training.
UNLV's push to become a Tier 1 research university is an important goal, McVay said.
"Look at historical tech communities that are successful," McVay said. "A majority of them surround a large research-based facility."
Although the designation won't be achieved in the next year, progress is important. More research, more research money and more faculty will affect the talent and technology coming from the university, fortifying the workforce and potentially providing a source of revenue.
"Growing the amount of intellectual property will flow to the community through spinout and commercializations," McVay said.
WEARABLE TECH
Wearble tech has been a buzz word for some time now, with the biggies being Google Glass and smartwatches. Pebble Smart Watch is among the most notable. It raised $10 million on Kickstarter, the most successful crowdfunding campaign to date, and has sold more than 250,000 units.
The watch syncs with smartphones, and displays texts and social media notifications, as well as the time, of course. Various apps are available to change the watch's appearance and capabilities. Apps available include GPS and camera functions, and the technology is still in its infancy.
Mike Yoder of Wintech LLC, makers of Alice multilingual virtual receptionist, wears a Pebble watch and is confident the wearables will continue to grow in coming years.
In a report published Oct. 30, IHS Electronics & Media valued the wearable technology market at $8.8 billion, surpassing its 2012 estimate that the industry would reach $6 billion by 2016. In 2012, 96 million wearable devices were shipped, compared with 14 million in 2011.
Google Glass is seeing competitors, such as a French startup called Optinvent, which is working on a glasses model with a larger display.
Fitness technology such as Nike Fuelband is also on the rise. Fuelband tracks a wearer's daily total body movement and synchs with a mobile app to track activity.
Yoder also points to other calorie-counting apps that calculate nutrition based on photographs of a meal.
"It's really bleeding-edge technology, but that's where these trends start and in in a year or two become more commercial," Yoder said.
Contact reporter Kristy Totten at ktotten@reviewjournal.com or 702-477-3809. Follow kristy_tea on Twitter.