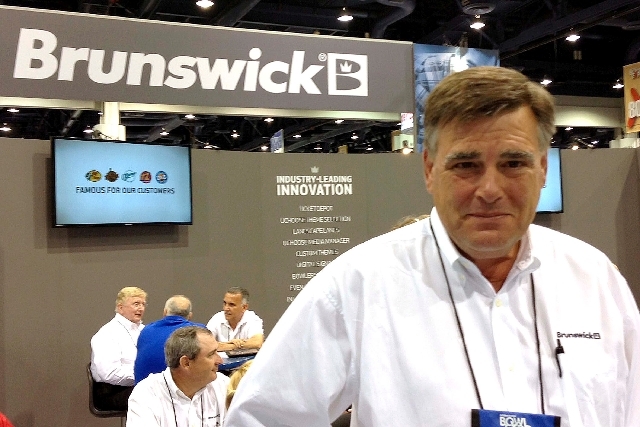 With the International Bowl Expo under way in Las Vegas this week, executives of some of the bowling industry's biggest brands have already targeted South Point's proposed $30 million, 60-lane tournament bowling center as a major business opportunity.
"For the big equipment manufacturers, it's a big revenue maker for them," said Stu Upson, executive director of the U.S. Bowling Congress, the sport's governing body.
At the sprawling Brunswick Bowling & Billiards exhibit space, company kingpin Brent Perrier smiled broadly when he began chatting about the South Point bowling center, which is scheduled to open in 2015 and host its first major national bowling event a year later.
Perrier said he has begun negotiating with South Point owner Michael Gaughan about Muskegon, Mich.-based Brunswick installing the bowling lanes and equipment.
"From an industry standpoint, it's a great new development. For the competitive bowlers, people love to come to Las Vegas," Perrier said.
And from Brunswick's standpoint?
"We expect it to be a Brunswick center," Perrier said. "Brunswick enjoys a close relationship with not only Las Vegas but with the state of Nevada."
He noted Brunswick is a major player at the National Bowling Stadium in Reno.
Other industry executives at the bowling trade show, at the Las Vegas Convention Center through today, are stoked about the South Point project.
The new bowling center is expected to have excellent spectator viewing areas and state-of-the-art electronic data boards. It will be used exclusively for tournament play because South Point already has a bowling center open for public use.
Randy Schickert, chief executive of bowling equipment maker Ebonite International, said he expects the new South Point bowling center to have manufacturer booths at the tournaments to create an exciting atmosphere for fans.
"Anytime people are excited about a new bowling center, we sit and listen," said Schickert, whose Hopkinsville, Ky.-based company sold between 1.3 million and 1.4 million bowling balls last year.
A Florida company that manufactures machines that applies oil to bowling alleys also wants in on the South Point action.
Chris Chartrand, president of Lake Wales, Fla.-based Kegel, said he realizes Brunswick can deliver a big package of bowling equipment, including the oil machines, at the proposed South Point center.
But Kegel will still seek to sell its oil-applier lane devices to South Point.
Chartrand noted his company is a sponsor of the USBC Open Championships, so his equipment will get into the new bowling center one way or another.
"This is a huge deal," Chartrand said. "Anything good for the sport is good for us."
Bill Chrisman, owner and founder of Brigham City, Utah-based Storm bowling company, couldn't agree more.
"Anytime there's a big new facility, our customers will be there," Chrisman said.
The U.S. Bowling Congress will stage Women's Championships at South Point's new crown jewel facility in 2016, 2020 and 2022 and USBC Open Championships in 2017, 2019, 2021 and 2023.
Contact reporter Alan Snel at asnel@reviewjournal.com or 702-387-5273.