Casino chips enthusiasts ready for Las Vegas auction of rare items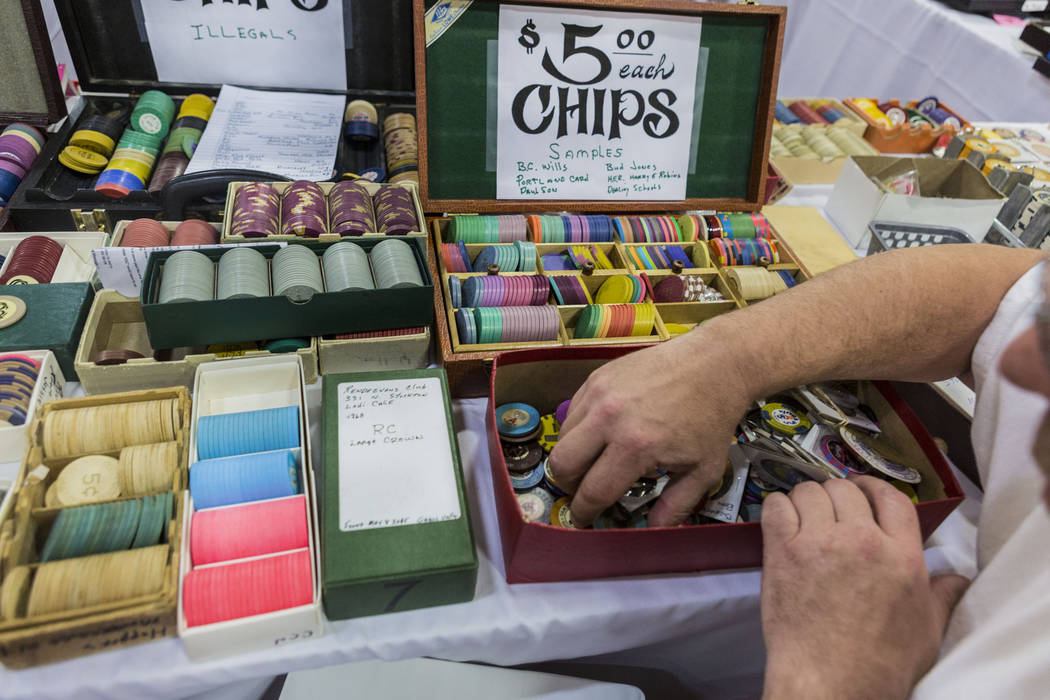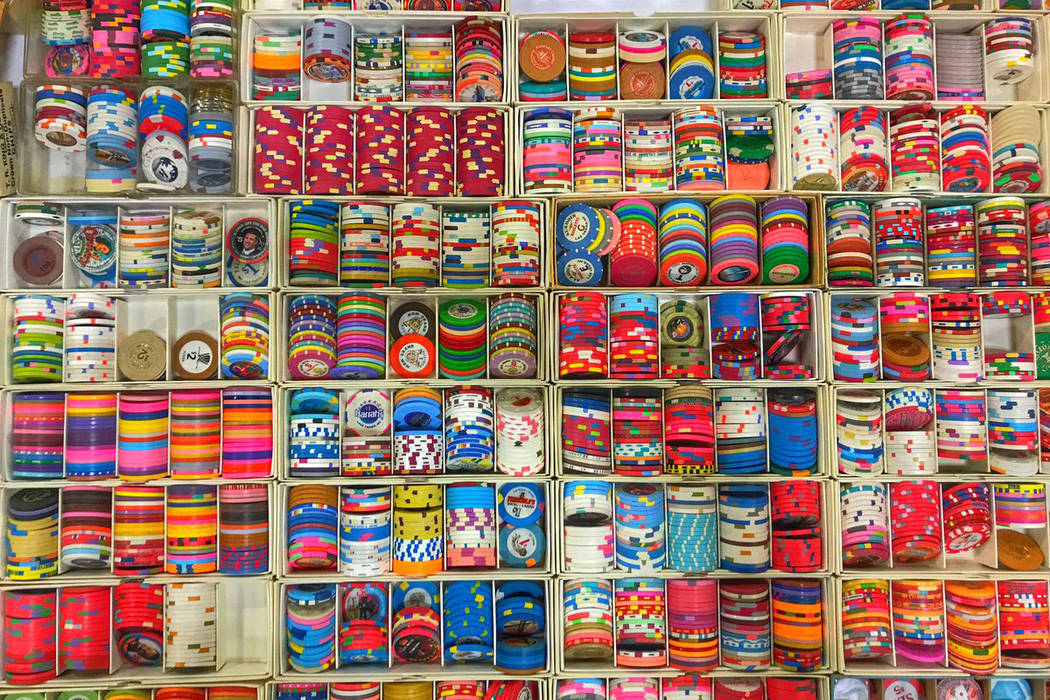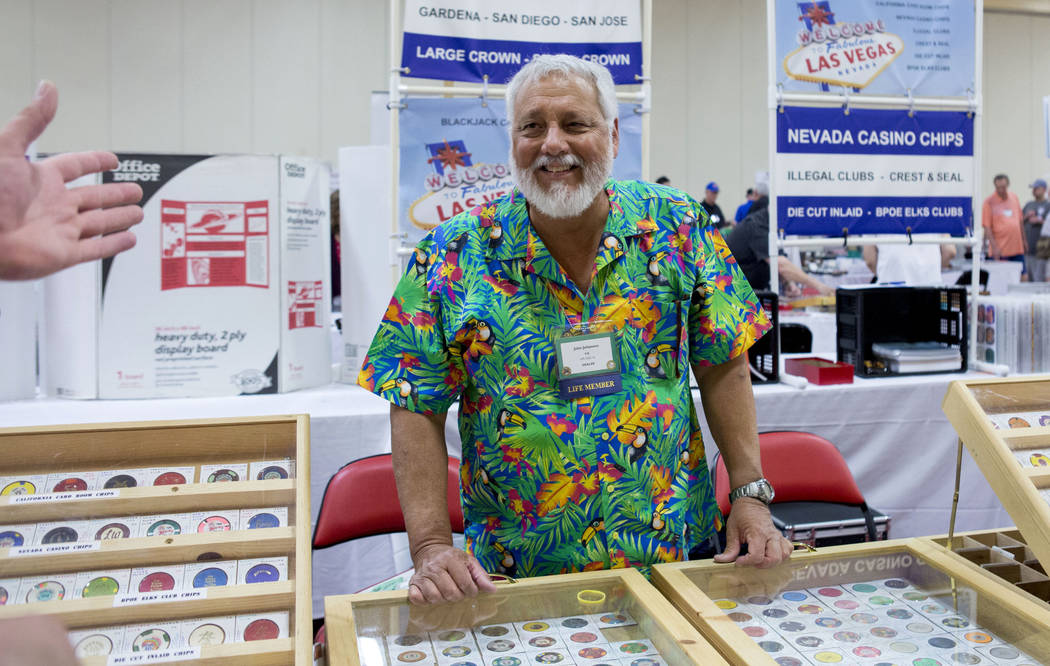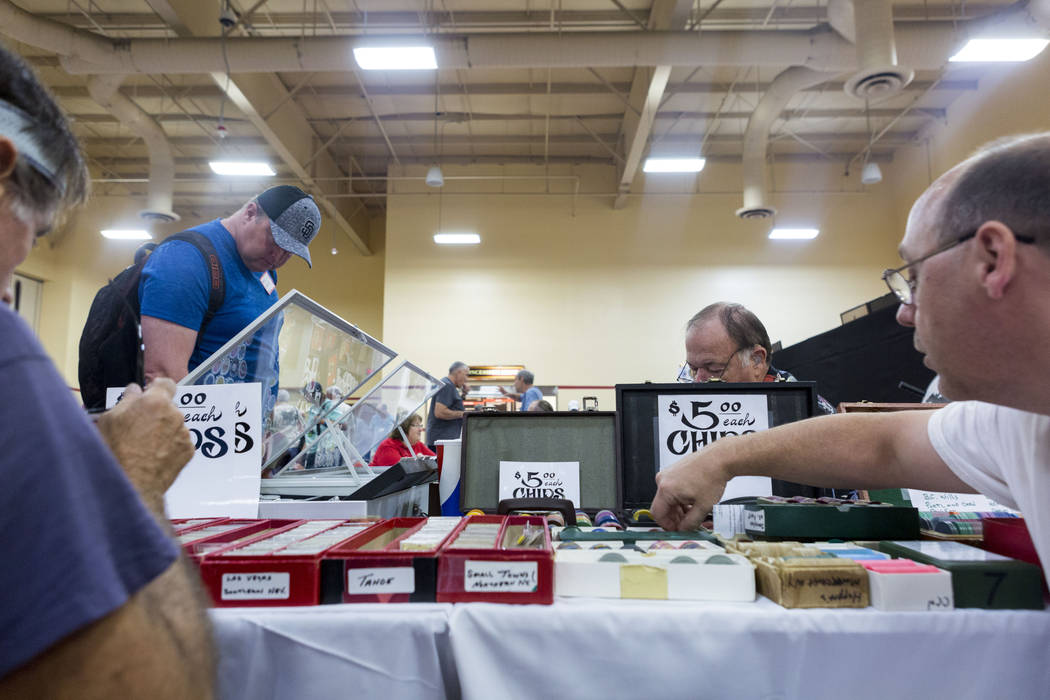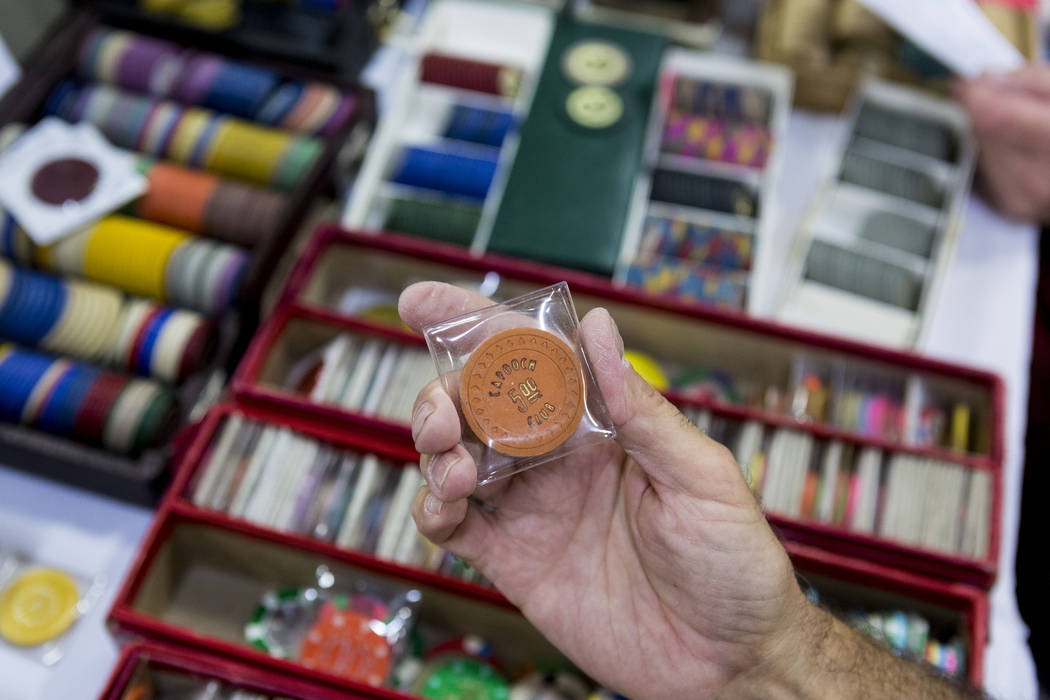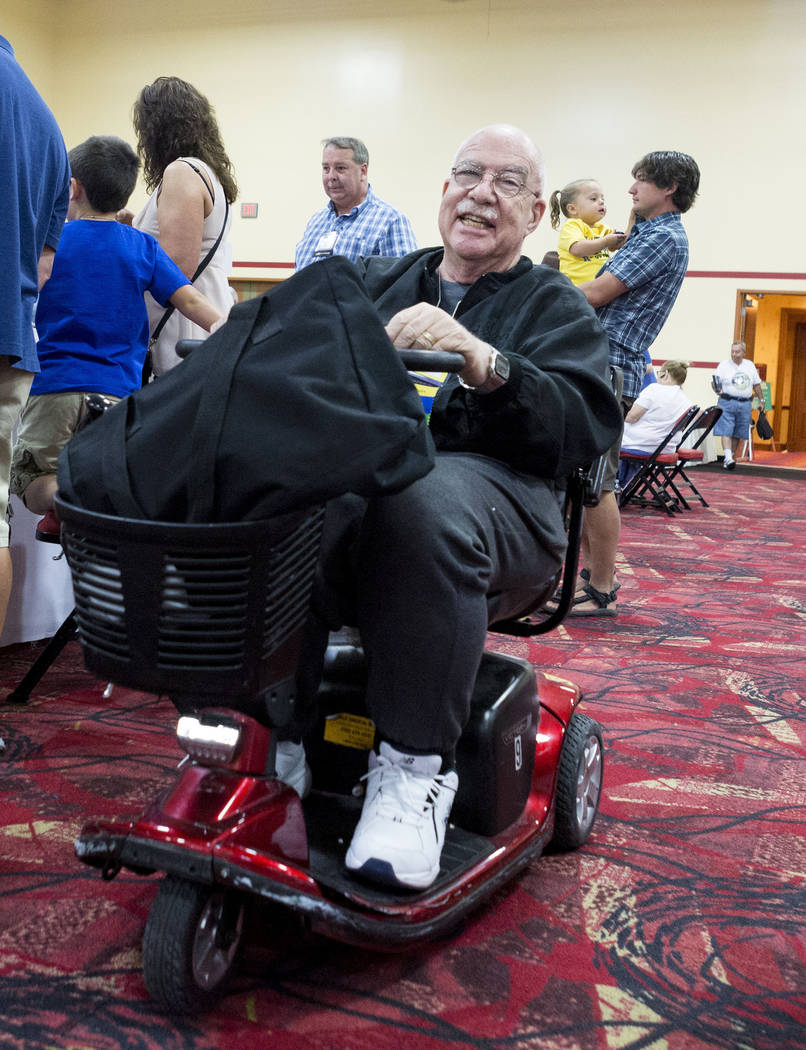 Die-hard casino memorabilia collectors won't be able to bargain over rare chips on display in Las Vegas.
A 1969 Caesars Palace $25 casino chip with green horse-head mold and a 1955 $5 chip from Lake Tahoe casino Wagon Wheel are slated to be auctioned off Thursday night at the South Point with bids starting at $4,000 and $500, respectively.
They are part of 180 lots of poker chips that will be sold to raise funds for the Casino Collectibles Association, a small group of eclectic individuals with dreams of building a gaming history museum in Las Vegas.
While the association is no closer to getting started on their project than unfinished Strip projects, they will still hit a small jackpot at Thursday's auction during their annual convention, which brings more than 50 dealers of antique chips.
"The prices can get outrageous at the auction," said Sheldon Smith, a representative of the association, as he toured the show floor. "People say, 'I need that for my collection' and they bid like crazy. There is no rhyme or reason sometimes."
A chip worth $150 can easily go for $650, he said, at the convention.
As in other collectible fields, the rarer an item, the higher the price. Sands chips from the 1950s are among the most expensive because relatively few were made and survived to this day.
At least 5,000 Golden Goose $5 chips were made in 1976. But only one is known to exist. It sold at the convention two years ago for $75,000. It was purchased in 2001 for $6,000.
Crowds returning
The Casino Collectible Convention, now in its 25th year, launched at the Aladdin in the early '90s and hopped around to other casinos before switching to the South Point in 2009.
Dealers, lined up in rows in Ballroom D, keep their best chips, such as 1950s Sands tokens, inside glass cases. Other chips are neatly placed in binders with plastic pockets. The rest, worth a few dollars, are tossed in plastic buckets.
"People will sit for hours and go through the binders," Smith said.
Aside from chips, some dealers sell ashtrays, napkins, slot cards and other items with casino names on them.
Show attendance took a hit in the wake of the financial crisis, but interest is now returning, said Tom Pleau, who has one of the largest exhibits at the convention this year with about 50,000 chips, mainly in binders organized by state.
The 62-year old former credit card portfolio manager from Ohio has more than 400,000 in all.
"I have been to almost every casino in the country in the last five years," he said, explaining his large accumulation.
Socializing with collectors
Many of the associations members, like Smith, began their collection journey by picking up a few chips as souvenirs. The hobby then blossomed into a passion.
"I took a dollar chip out of every casino I visited because I liked the feel of them,'' said Larry Markman, a 79-year-old former stockbroker from Florida, who has been collecting chips for decades. Like others at the show, Markman also collects coins and stamps.
For dealers, the convention is as much about hanging out with other passionate collectors and discussing their common interest as it is about making money. The three-day event includes a banquet and an awards ceremony for best new chip and card.
John Johannes, a former Merrill Lynch stockbroker in Silicon Valley and an early investor in Microsoft before it went public, expects to sell about 200 chips for $5,000 over the course of three days. It is pennies compared with the millions he made on Microsoft and other tech stocks in the 1970s and 1980s.
"It is more of a social thing for most of us," said Johannes, who specializes in obsolete California card room chips. "Maybe 20 to 30 percent are here to generate income."
Johannes bought 500 chips from 18 dealers, adding to his collection of more than 100,000, which he said is "enough chips to sell for three lifetimes."
His favorite chip is a rare blue $1 chip from the Normandie Club in Gardena, California, with a $950 price.
Like famous paintings, rare chips can have a wide price range because they are not often traded. Buyers and sellers often turn to the Chip Rack, the Sotheby's catalog for the poker chip industry containing thousands of listings with approximate market value.
Museum dream
Members of the Casino Collectibles Association, a nonprofit founded 30 years ago, have created the industry's equivalent of an online museum while they seek a build a physical one.
Jerry Vergatos, the association's new president, hopes to revamp the outdated site and push ahead with new fundraising efforts to make the museum a reality in the lifetime of its aging members.
He admits it's hard for the association to raise money as it's relatively unknown to the wider public and to people and organizations with deep pockets.
Vergatos is looking to hire an experienced grant writer to help apply for government funds.
"The museum is the future of our organization," he said.
Contact Todd Prince at tprince@reviewjournal.com or 702-383-0386. Follow @toddprincetv on Twitter.
Casino Collectibles Convention
at South Point
Open to the Public
Friday: 9 a.m. to 4 p.m.
Saturday: 9 a.m. to 3 p.m.
Cost: $5 for adults on Friday, free for all Saturday