Culinary union, Sodexo avert strike with late-night contract deal
Updated March 11, 2023 - 1:46 pm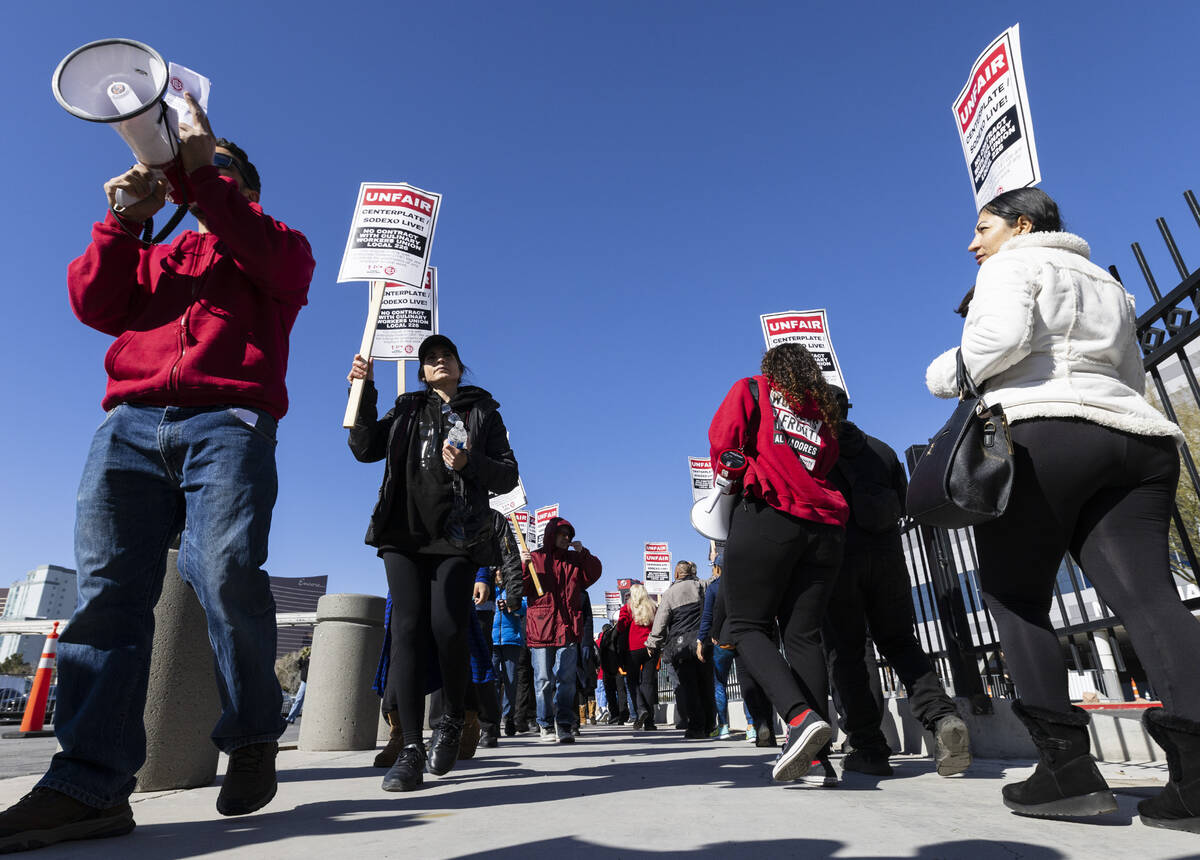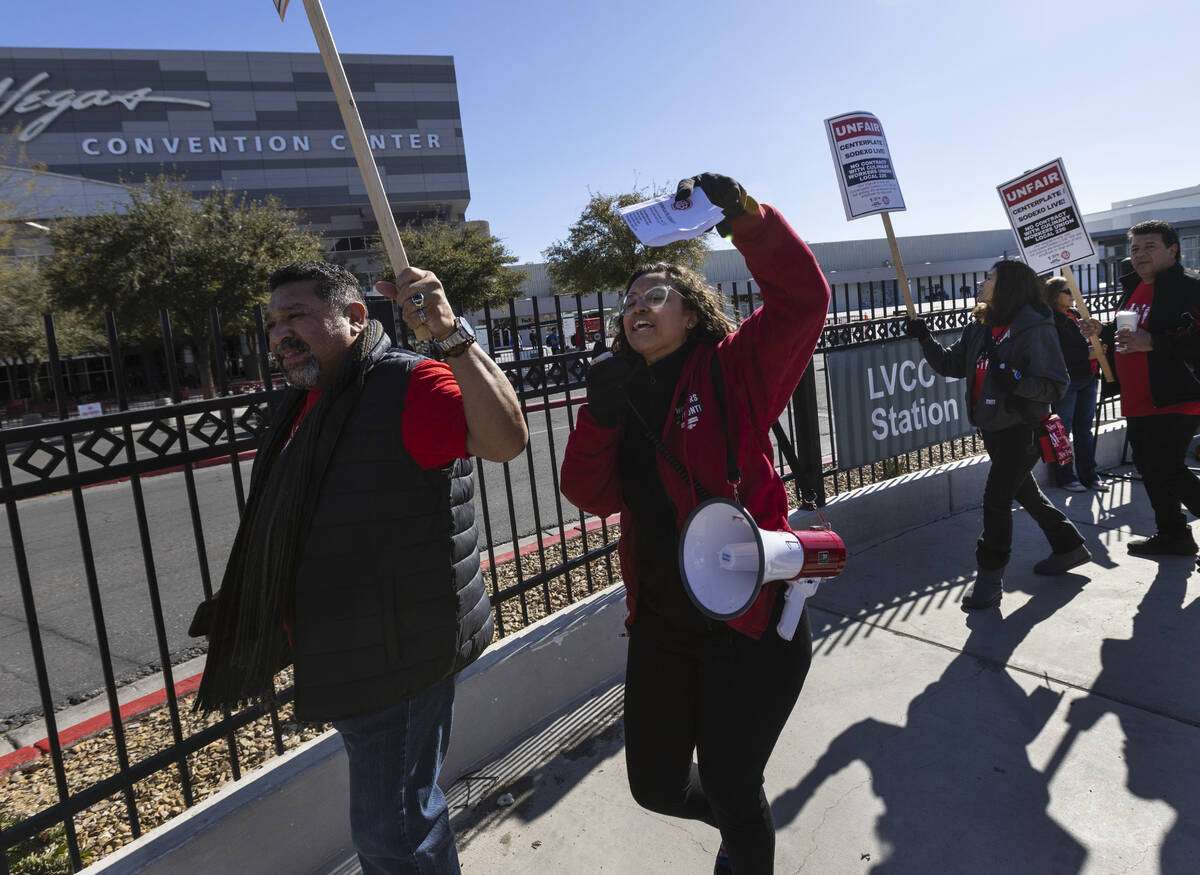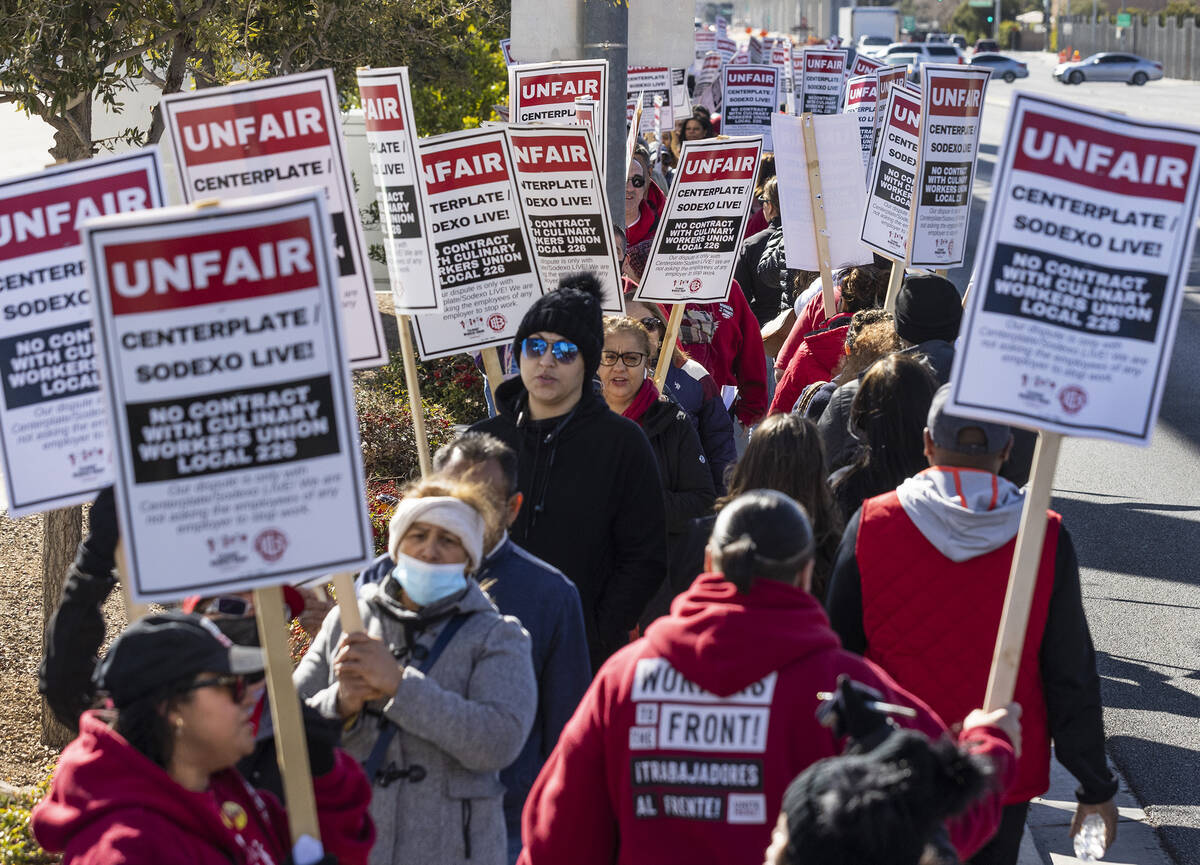 Negotiating teams from the Culinary union and Sodexo Live!, the contracted food service provider for the Las Vegas Convention Center, averted a strike Friday night — six hours before workers vowed to walk off their jobs and form picket lines.
Representatives of Culinary Local 226 and Bartenders Local 165 announced Friday evening that they'd establish picket lines at various locations around the Convention Center and walk off the job Saturday at 6 a.m.
But at about 11:55 p.m. Friday, union officials announced an agreement had been reached on a four-year contract.
Union officials didn't say when a ratification vote would be scheduled.
"The Culinary union has fought hard to protect workers over the last 88 years and we are proud that this new agreement is the best contract with the highest wage increases that Sodexo Live!-Centerplate workers have ever had while continuing to protect health care and pension benefits for 400 hospitality workers who work so hard every day to keep the Las Vegas Convention Center running," Ted Pappageorge, secretary-treasurer of the Culinary union, said in a news release.
"This new contract mirrors the Culinary union technology standard language in contracts on the Strip and downtown (Las Vegas) by setting clear goals regarding worker retention, job training, advance notice of technology implementation, automation and a severance package," Pappageorge said.
Paul Pettas, a spokesperson for Sodexo, said in a statement Saturday that the deal would ensure milestone wage increases, expanded health coverage benefits and increased access to pensions.
"This deal will ensure increased economic vitality for the individuals who have careers with us at the Las Vegas Convention Center," Pettas wrote. "We are proud to be an employer of choice in Southern Nevada, and look forward to continuing to provide best-in-class hospitality to the world's largest meetings, conventions and events."
Strike averted days before trade show
The strike was averted days before the Las Vegas Convention Center is scheduled to host what's expected to be the largest trade show since the COVID-19 pandemic — the five-day, once-every-three-years ConExpo-Con/Agg construction equipment show, which starts Tuesday. An estimated 130,000 people are expected to attend.
Union workers had been working without a contract since Sept. 1 and demanded higher pay and benefits. Non-tipped cooks, dishwashers, banquet servers, concessions cashiers and other Sodexo workers have been paid an average $16 to $19 an hour, which union officials contended was not a high enough living wage.
"I feel really good to have a new union contract," Sodexo banquet worker Jeremy Schoenhard said in a union release. "My coworkers and I really stood together and held strong and when you stand united, you can get something that's really fair. We no longer have second-class jobs. We have first-class pay, benefits and job security, so I couldn't be more excited for myself and all my coworkers."
Esmeralda Avila, a Sodexo pantry worker, said she is happy for the new contract.
"We work so hard to ensure conventions and guests are taken care of and with this new contract, one job is enough and we will have something to show for all our hard work," she said.
Over the past four months, the union had ratcheted up the pressure on Sodexo management to come to a contract agreement.
In late November, representatives of unions of the umbrella organization UNITE HERE — the Union of Needletrades, Industrial, and Textile Employees (UNITE) and Hotel Employees and Restaurant Employees (HERE) — from Orlando; Detroit; New Orleans; Sacramento, California; and Las Vegas presented an online discussion of their strategy to take strike votes as contract negotiations took place.
Union and Sodexo management met in late November, but failed to reach an agreement.
The Las Vegas group voted unanimously Dec. 7-8 to authorize a strike, as a series of big trade shows such as CES were due to arrive in the city in January.
There were no strikes during CES and the World of Concrete trade show, but when the MAGIC fashion trade show was in town in mid-February, the union conducted a loud informational picket line at the Convention Center.
Culinary union members also showed up when Southwest Airlines flight attendants had their own picket line in front of the Convention Center's West Hall on Feb. 21.
Contact Richard N. Velotta at rvelotta@reviewjournal.com or 702-477-3893. Follow @RickVelotta on Twitter.