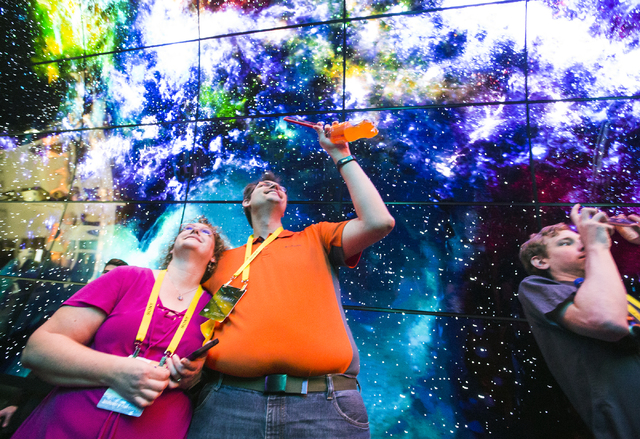 An event management company that ranks the top cities in the world for hosting meetings and trade shows says Las Vegas has climbed from third to second in the nation behind Orlando in 2017.
Cvent Inc. released its rankings Tuesday for the top 50 cities in the United States and the top 25 for Asia and the Pacific and 25 more for Europe, the Middle East and Africa.
In the 2016 rankings, Las Vegas was third behind Orlando and Chicago, according to Cvent, which compiled data by meeting and event booking activity through the Cvent Supplier Network, sourcing nearly $11 billion in meetings and events globally through its marketplace.
Cvent ranked more than 5,000 U.S. cities, tracking unique requests for proposals received, total room nights booked, awarded requests for proposals, awarded room nights, the percentage of qualified meeting venues and the number of profile views for the 2016 calendar year.
The company also factored in changes in the average daily room rate between 2015 and 2016.
Tyson's Corner, Virginia-based Cvent monitors 245,000 hotels, resorts and special events venues in 175 countries worldwide with its Cvent Supplier Network database.
Because Cvent only monitors its customer database, the Las Vegas Convention and Visitors Authority doesn't hold the ranking in as high esteem as those produced by Trade Show News Network, which considers square footage sold for show exhibits as a top metric. Las Vegas has finished atop the Trade Show Weekly rankings for the past 23 years.
"Las Vegas continues to be the leading meeting and convention destination, hosting a record number of convention delegates in 2016," a statement from the LVCVA said. "We are excited to see an increase in Cvent clients who are choosing to bring their events to Las Vegas and experience the facilities and service that have made us the No. 1 trade show destination in the country for 23 consecutive years."
Kevin Fliess, vice president of marketing for Cvent's Hospitality Cloud, said Las Vegas, Orlando and Chicago jostle for position among the top three event hosts regularly. Because the rankings are so close, Fliess said slight changes in the meeting scheduling rotation and the addition of hotel rooms and other infrastructure can make a difference where a city's ranking falls.
He said corporate events continue to be economic drivers for cities around the world.
"In the U.S., for example, the most recent statistics from the Department of Commerce show that several of the cities in our top 10 list — including Orlando and Nashville — are enjoying GDP growth that outpaces the national rate," Fliess said. "Cities that continue to invest in attracting more and larger meetings and events each year are directly investing in their local economy."
The top five cities for the EMEA (Europe, the Middle East and Africa) region in 2017 are London, Barcelona, Berlin, Amsterdam and Paris. The top cities for the APAC (Asia Pacific) region are Singapore; Sydney, Australia; Bangkok, Thailand; Kuala Lumpur, Malaysia and Hong Kong. Cvent's top 10
The top 10 U.S. cities for meetings and events, according to Cvent Inc.:
1. Orlando
2. Las Vegas
3. Chicago
4. Atlanta
5. San Diego
6. Washington D.C.
7. Nashville
8. Dallas
9. New York
10. Phoenix
Contact Richard N. Velotta at rvelotta@reviewjournal.com or 702-477-3893. Follow @RickVelotta on Twitter.