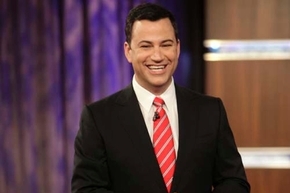 Just before Jimmy Kimmel weds fiancee Molly McNearney, the former Las Vegas resident will represent his former stomping grounds.
On Friday during Kimmel's ABC show, "Jimmy Kimmel Live," 30-second Las Vegas commercials will begin airing, as well as three, in-show integrations related to the latest advertising campaign produced by the Las Vegas Convention and Visitors Authority. The in-show content is meant to lead viewers to an extended online version.
The monthlong advertising cost slightly more than $500,000.
The series features Las Vegasdotcom and other characters with unfortunate names created through a collaboration with Kimmel's team and R&R Partners, the agency of record for the travel authority.
Las Vegasdotcom is the fictional character, depicted in other Vegas ad campaigns, who is mistaken with the website with the same moniker. The Unfortunate Name Organization, called Uno, also is featured throughout the series.
During the campaign, viewers will be encouraged to tweet out unfortunate names with the hashtag #unfortunatename. Each day the best tweet will receive a $100 voucher for lasvegas.com, a T-shirt and bragging rights.
"This was just another big way for us to help push the summer message. Part of what we like to do is showcase all the offerings, attractions and events that are available throughout the summer," Fletcher Whitwell, senior vice president of media and measurement at R&R Partners, said.
The Hard Rock Hotel, Golden Nugget, Luxor and Flamingo are featured in the campaign. R&R Partners pitched the idea to Kimmel's producers because he's a former resident and has also helped create videos that have gone viral and gained a lot of traction online.
"That's our hope with this campaign," Whitwell said.
In addition to using celebrities with Las Vegas ties, the convention authority also frequently uses current events in its ads. Earlier this week it ran a campaign in USA Today that cautioned tech companies such as Facebook and Google to protect Vegas tourists from possible NSA data requests.
As for Kimmel, when he's not promoting Las Vegas this month, he has other big plans.
On July Fourth weekend, he's set to marry his lady love. In mid-May Kimmel received an honorary degree from UNLV.
Contact reporter Laura Carroll at lcarroll@reviewjournal.com or 702-380-4588. Follow @lscvegas on Twitter.