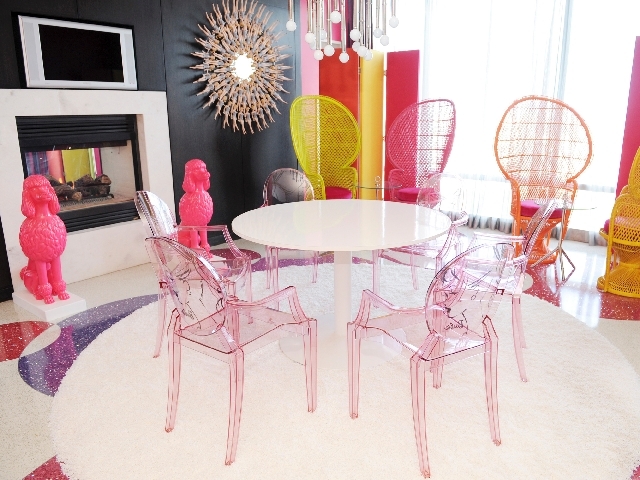 Whether it's a Last Lei, the World's Largest Bachelorette Party or a private soiree inside the Barbie Suite, Las Vegas venues are working to make themselves stand out in a sea of bachelorette options.
They have good reason.
The next time you see a hot pink bridal veil or sparkling tiara atop a woman's head on the Strip, think about the revenue potential. When a gaggle of women head out to celebrate upcoming nuptials, they're out to spend.
"Bachelorette parties are a big business for us," said Kristin Conte, director of marketing for the Tao Group.
Tao is set to host its second-annual World's Largest Bachelorette Party at the end of July, and Conte said attendance this year is tracking ahead of the 2012 fete.
"We definitely see this area continuing to be strong," Conte said.
At Tao Group, three people from its 15-person marketing staff work solely on bachelorette parties: One is dedicated to Marquee, one to Tao and Lavo, and one assists. They sell parties, network with concierges and attend wedding trade shows to spread the word about the Tao brand.
"The partnership (with wedding trade shows) has really been successful and given us the opportunity to show the brand to key influencers," Conte said. "It has become a big focus for us."
The company's venues host 30 to 50 bachelorette parties with six to 15 women per event each week. Most of the women are ages 25 to 35, and Conte said the menu tends to include champagne, sweet cocktails and shots of liquor. The bachelorettes spend anywhere from $40 per person on up, depending on how lavish they want their parties to be.
While the bachelorette market isn't exactly novel — it's ingrained in Las Vegas culture — efforts to market to it have increased.
"It's something that's always been around, but there's probably more of an organized effort around it now," said Jack Colton, founder of Jack Colton Nightlife Guides.
Colton's business partner, Kalika Moquin, said venues now are working to keep groups from leaving a company's sphere. Tao's customers, for instance, can go to Tao Beach during the day, eat dinner at Lavo, then go to one of the nightclubs in the evening. It's the marketing staff's job to help ensure they do by making sure they're entertained and engaged throughout their Las Vegas stay.
"I think Vegas has always been the No. 1 destination for bachelorette parties," Moquin said.
The Las Vegas Convention and Visitors Authority doesn't track economic impact or specific visitation numbers related to bachelorettes primarily because there's no real way to do it.
However, the travel board does offer sample itineraries on its website for both bachelor and bachelorette parties. For the latter, it suggests a stay at the Barbie Suite at the Palms, a room that features life-size copies of furnishings from the doll's Malibu beach house. The property's Sky Villa, a 10,000-square-foot room with a hot tub pool that extends out over the hotel, is also popular with ladies on the loose.
"We get a lot of bachelorettes in there," said Erin Levzow, executive director of hotel marketing and ecommerce at the Palms.
At any one time there are several bachelorette groups at the Palms.
"They come here for the daylife, the nightlife or the spa, so the spending really varies," Levzow said. "The good thing about the Palms is that when you come here, you don't have to leave."
At venues such as Kahunaville, the tropical-themed party bar at Treasure Island, marketing specifically to bachelorette groups has become an important aspect of doing business.
Kara McMenamin, director of special events at Kahunaville, said she has noticed a "substantial" increase in bachelor and bachelorette party bookings.
"I personally think the topic is super-relevant," McMenamin said.
Bookings have increased so much that the company recently created two packages offered exclusively to these groups.
The offers are tagged as "Last Lei" packages, and McMenamin said the venue has had a great response to them.
"Our venue tends to be a great first stop for bachelorette parties before they make their way over to the nightclubs or male revues," McMenamin said.
On any given weekend, there are at least a half-dozen groups of women inside Kahunaville adorned with Hawaiian leis and other novelty gear while celebrating with the bride-to-be.
Contact reporter Laura Carroll at
lcarroll@reviewjournal.com
or 702-380-4588. Follow
@lscvegas on Twitter.