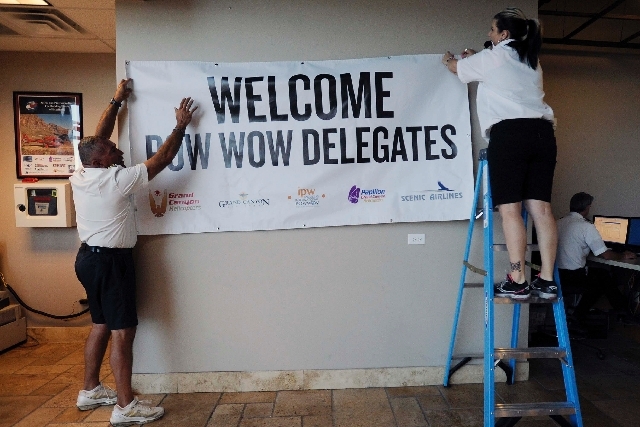 Gourmet restaurants throughout Las Vegas are putting on the finishing touches. Andre's and Alizé, for example, rolled out completely revamped menus last week.
Tour companies, such as the Papillon Group, have been been working for months on this project. Base Entertainment, MGM Resorts International, Caesars Entertainment — most everyone in the tourism industry really — are getting in on the action by hosting delegates for shows, dinner, lunch or parties this week.
Las Vegas is pulling out all the stops — and for good reason.
The U.S. Travel Association's trade show hits Las Vegas this weekend, bringing about 6,300 delegates from 70 countries. Attendees include travel writers, domestic and international travel agencies, tour operators, travel buyers and suppliers all meeting to learn about new offerings from the U.S. travel industry.
"You've got the big decision makers all here," Robert Graff, vice president of marketing for The Papillon Group and founder of Best Vegas Attractions, said.
The U.S. Travel Association is estimating that more than $3.5 billion in travel to the U.S. will be booked during the event, which hasn't been in Vegas since 2008. Each year the international powwow, or IPW, goes to a new host city. Las Vegas has hosted four times and been participating for 40 years.
Typically, the host city gets about 10 percent of the total take.
"My guess is Las Vegas would get 15 percent," Roger Dow, president and CEO of the U.S. Travel Association, said.
That could net Las Vegas businesses $400 million from this one trade show.
Then there's also the contest factor for the host city, which can amp up the free publicity. Each year the travel association sponsors a writing contest and one of the categories is best story about last year's host destination. So all of the 500 media in attendance across 70 countries will be writing about Las Vegas this year, to ensure they have contest entries when next year's competition rolls around.
"We get the media very, very excited about the venue," Dow said.
And Las Vegas is taking every opportunity to capitalize on its home field advantage.
"You have one chance to be able to showcase things right. These are people who have come flying in from all around the world. This is what we do. For us this is huge," Graff said.
In 20 minutes, the attendees are making decisions whether they are going to be using services or not.
"It's really like the Comdex of the travel industry, especially when it comes down to the international visitors at play," Graff said. "That's the growth sector market we're all after."
In 2012, 17 percent of the 39.7 million visitors who came to Las Vegas hailed from other countries. The Las Vegas Convention and Visitors Authority has a goal to increase that to 30 percent in the next decade.
As for the Papillon Group, 70 percent of its passengers are international visitors, and tours are conducted in 16 languages. During IPW, 300 people will experience Papillon's services. During the show itself nine Papillon representatives will hold 235 appointments with existing and new clients to give them a sneak preview of new products coming out: think weddings on the Grand Canyon floor and twilight flights over the Strip.
"It's all coming down to the wire," Graff said.
In the end, it will be worth the work if the company can increase its business by 10 percent to 15 percent as a result of the show, Graff said. As of now, Papillon moves about 4,500 people daily with its airplanes, coaches and helicopters.
About 90,000 20-minute appointments are expected to be held during this year's show, which is in town through Wednesday, at the Las Vegas Convention Center.
"It's an amazing opportunity for Las Vegas and all our Las Vegas businesses to be exposed to all these individuals," Jana Lane Southard, director of sales for Andre's and Alizé, said.
On Tuesday , Alizé is closed to the public due to the trade show. Also, the restaurants are participating in the 2013 press brunch at the Smith Center on Sunday where they will feature specialty cocktails and hors d'oeuvres.
"We have quite a few clients who visit us from New Zealand, the U.K. and Japan, but this is our opportunity to showcase the restaurants to a growing international market," Southard said.
About 15 percent of the restaurants' business is international.
Contact reporter Laura Carroll at lcarroll@reviewjournal.com or 702-380-4588. Follow @lscvegas on Twitter.