Sandoval delivers upbeat tourism talk, tosses in personal slide show
November 17, 2015 - 11:15 pm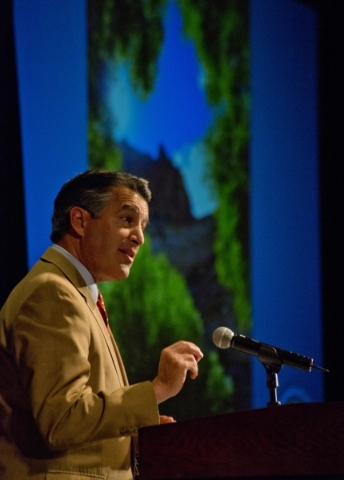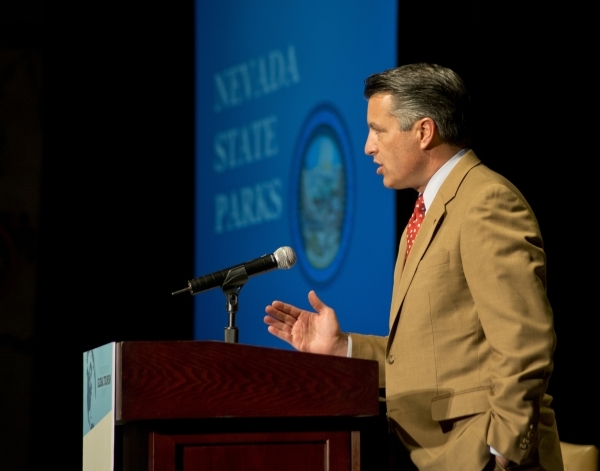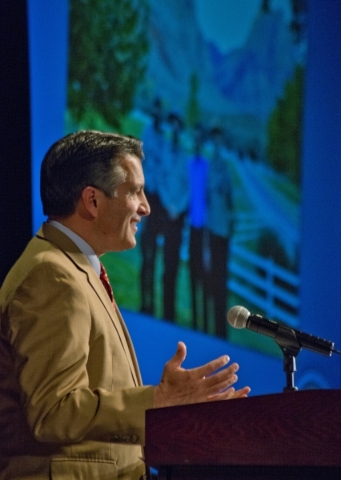 If Brian Sandoval ever gets tired of his gubernatorial gig, he can easily line up a job promoting the state of Nevada.
Sandoval presented a speech that was part pep talk, part thank-you note and part congratulatory remarks to about 300 attending his Global Tourism Summit on Tuesday at Hilton Lake Las Vegas. He also threw in a slide show of photos that he had taken in his travels to the state's 20 state parks.
"You all recognize the potential of our state and I thank you," Sandoval told the crowd, gathered for two days of panels and presentations centered around how to best invite the world to the Silver State.
Sandoval said he is appreciative of the approximately 474,000 state residents who work in the tourism industry — about 29 percent of the work force.
"You're all international ambassadors and every job is important," he said.
Sandoval told of his own experience as an international ambassador for the state, explaining that every opportunity he had on his trade mission to Ireland, England, Poland, Germany and Italy earlier this year that he would tell stories about some of the things visitors could see in Nevada.
"I would say, 'Have you ever been to Nevada or Las Vegas?' and they would always respond with a resounding 'Yes,'" he said.
But while most of his contacts in Europe knew something about the bright lights of Las Vegas, some of his best stories were about some of the things they could experience in rural Nevada.
"We have the loneliest road in America, U.S. Highway 50, and there's just something about all that solitude," he said. "I took a trip to Ely and got on a road where I didn't see another car for an hour. And, I took my family camping at Great Basin National Park. It's great to just look at the stars when you're out there."
When Sandoval first took office, he embarked on an effort to visit every state park. Even though he was continually amazed at seeing a beautifully rugged landscape around every corner, it wasn't the locations that grabbed him the most.
"What I'm most proud of is the people that you meet, the characters that are out there and the stories that you hear," he said.
That realization coincides with the Nevada Commission on Tourism's new marketing program, unveiled with television spots that first aired Monday in Los Angeles, San Francisco, Phoenix, Salt Lake City and Boise, Idaho.
While the Tourism Commission saw the ads for the first time on Monday, most of those attending the event were going to get their first look Tuesday.
Unlike previous campaigns, the new ads don't dwell on striking landscapes, but instead on the stories and experiences that a traveler would encounter on a trip to the state.
"I'm a huge believer in those types of stories because I live it," Sandoval said. "And I want you to be able to sell Nevada from your heart as well."
The Global Tourism Summit wrapped up Tuesday afternoon with attendees meeting with international representatives of the state based in Brazil, Mexico, South Korea and Nevada's newest focus market, India.
Contact reporter Richard N. Velotta at rvelotta@reviewjournal.com or 702-477-3893. Find @RickVelotta on Twitter.