Steve Hill to join LVCVA as chief operating officer on Jan. 22
January 9, 2018 - 12:52 pm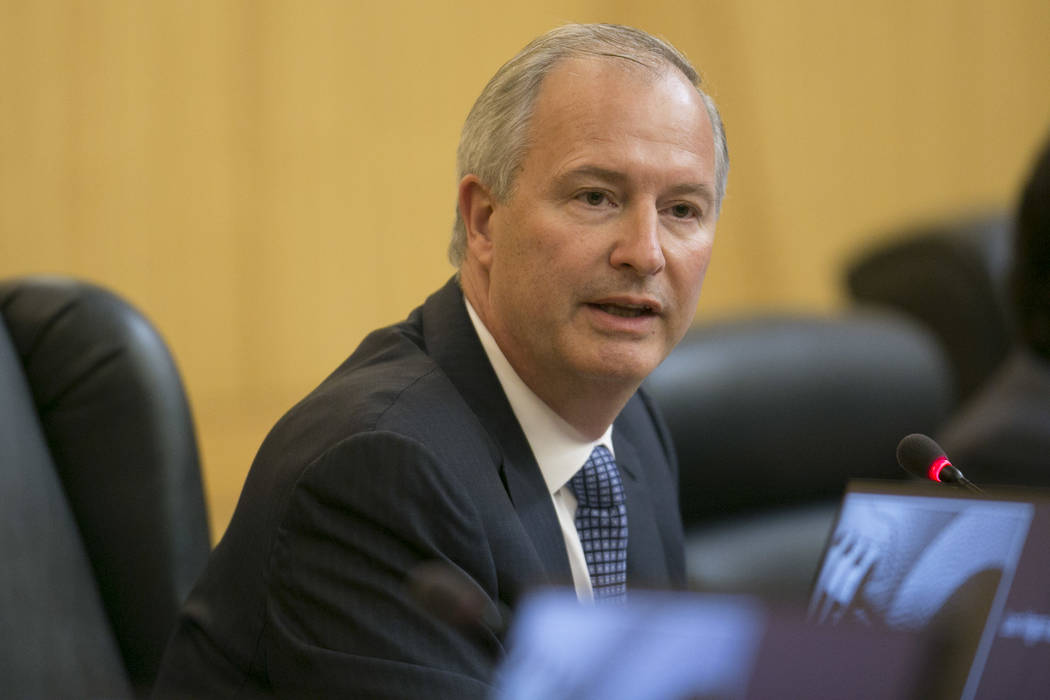 Ever since Steve Hill announced his plans to leave the Governor's Office of Economic Development in September, he's been pegged as the heir-apparent to Las Vegas Convention and Visitors Authority President and CEO Rossi Ralenkotter.
But a lot has changed since September.
Hill on Tuesday officially was announced as the LVCVA's new chief operating officer by Ralenkotter, a position he'll take over on Jan. 22.
The position will pay between $212,200 and $424,400 a year.
But Ralenkotter won't be relinquishing the LVCVA reins anytime soon and when he does, Hill wouldn't necessarily be next in line for the job.
C-suite reorganization
Ralenkotter, 70, wrapped up the two-year process of reorganizing the LVCVA "C-suite" in announcing Hill's appointment. He also said Cathy Tull, senior vice president of marketing, has been promoted to chief marketing officer, a position the LVCVA board authorized last month, and that Ed Finger, senior vice president of finance, has been promoted to chief financial officer. Finger replaces Rana Lacer, whose last day at the LVCVA was Tuesday and is stepping down to spend more time with her family.
Hill will step into a position where he'll be handling day-to-day functions for the LVCVA while Ralenkotter will continue as the organization's top policy man and represent the city in national and international representative roles.
Once Hill outlined plans to leave Gov. Brian Sandoval's administration in September — an occurrence not uncommon in the latter months of an outgoing government chief executive — Hill became the favorite to take a lead role at the LVCVA. Hill has been a key figure as chairman of the Southern Nevada Tourism Infrastructure Committee and the Las Vegas Stadium Authority. While most of the focus for the stadium has been on it becoming the new home of the Oakland Raiders, the facility has long been considered an important economic development driver benefitting the tourism economy. Hill is expected to continue to chair the Stadium Authority.
When the 1 October massacre occurred, the LVCVA process of reorganizing the C-suite took a back burner. The anticipation that Hill would join the group got pushed back and LVCVA leaders insisted that Hill was a candidate for chief operating officer, not a shoo-in.
The extra time enabled Hill to prep Republican Assembly Leader Paul Anderson to fill his economic development post.
Last month, the LVCVA had a discussion about Ralenkotter's eventual successor and how the board wanted to have a say in how that occurs when Ralenkotter eventually leaves.
'Ralenkotter Hall'
That isn't likely to happen anytime soon — at Monday's groundbreaking ceremony for the Las Vegas Convention Center expansion and renovation, Ralenkotter vowed to be on board when the facility opens in January 2021. At least two speakers at the ceremony referred to the new 600,000-square-foot exhibition hall for which ground was broken as "Ralenkotter Hall."
The December board conversation about C-suite succession also included a decision to create the new chief marketing officer position and Tull was always the clear favorite to fill that role. The new position will pay in the range of $171,900 and $305,100 a year.
The appointment of Finger to chief financial officer completed the executive moves.
Contact Richard N. Velotta at rvelotta@reviewjournal.com or 702-477-3893. Follow @RickVelotta on Twitter.
It's official: No visitation record in 2017
The Las Vegas Convention Center board of directors on Tuesday received a report with the preliminary visitation statistics for 2017.
Kevin Bagger, executive director of the LVCVA Research Center, said visitation for the year was down 1.7 percent from 2016's record 42.2 million.
Bagger said the downturn was attributable to lower available room inventory and a slight decline in occupancy. Hundreds of hotel rooms were offline through 2017 as renovations occurred at Caesars Palace, Planet Hollywood, Harrah's, The Linq, Monte Carlo, Palms and Palace Station.
The 1 October shooting also resulted in a dip in visitation, mostly in October and November.
Occupancy was off 0.4 percentage points from 2016 to 88.7 percent for the year, but the average daily room rate was up 2.8 percent to $129 a night.
Bagger confirmed that 2017 was Las Vegas' best year for conventioneers with 6.6 million arriving for meetings and trade shows.
Bagger's team is forecasting a 1.2 percent increase in visitation in 2018 to 42.7 million, which would be short of 2016's record 42.9 million. The reason for the conservative estimate: continued low inventory with renovations continuing at Monte Carlo (to be renamed Park MGM) and at Luxor and Cosmopolitan.