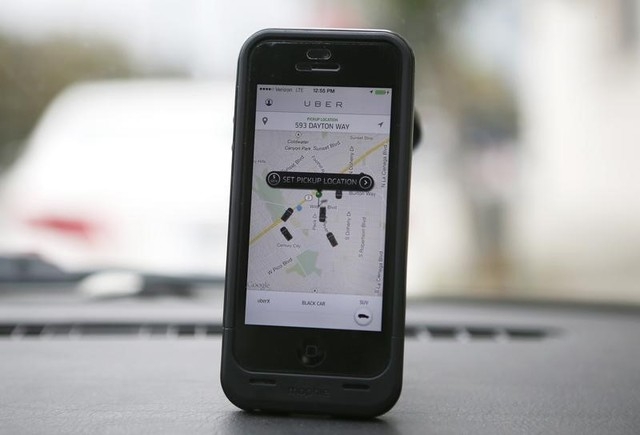 As representatives of Uber work behind the scenes to persuade Nevada lawmakers to approve legislation allowing the ridesharing transportation network company to operate legally in the state, they're also enlisting the public for support for their technology.
The strategy was described by executives of Uber and Lyft, a company similar to Uber that hasn't attempted to start operations in Nevada, in a panel discussion at the International Consumer Electronics Show in Las Vegas on disruptive technology on Tuesday.
Justin Kintz, the head of North American policy for Uber, said the company has been working with state lawmakers and Gov. Brian Sandoval's office to carve out a means for contracted Uber drivers to return to the market after a Washoe County judge issued an order prohibiting operations statewide because of safety concerns.
Uber launched service in Nevada on Oct. 24, but shut itself down on Nov. 26 after Judge Scott Freeman's injunction was issued. Since then, Uber has told its drivers that it is working on a solution to get them back on the streets of Southern Nevada, Reno and Carson City.
The Uber strategy isn't unexpected. Southern Nevada's taxi and limousine industries have been bracing for the company's efforts. Since Uber shut down operations, taxi company executives have developed a plan to better serve local neighborhoods by staging cabs at outlying neighborhood casinos and this month is expected to introduce a new smartphone app that would enable customers to hail a cab.
Kintz said the state's "archaic" regulatory structure has become a system that protects the entrenched taxi industry.
"They're using public policy as a weapon to keep out the new players," he said. "The entrenched industry has poured money into a political system that writes the regulations."
Kintz reiterated Uber's long-standing position that it's a technology company, not a transportation company, and therefore not subject to Nevada's transportation regulations.
"Why should you have to ask for permission to operate a service for which there's no regulatory structure?" he asked.
TALKING WITH OFFICIALS
But local industry leaders say Uber's contracted drivers are doing exactly what cab drivers do — transport passengers from one place to another for a fee.
"If any driver is going to transport the public for a fee, they have an obligation to follow the established safety rules," said Kimberly Maxon-Rushton, executive director and general counsel of the Livery Operators Association, in a Wednesday interview. "There's nothing that's precluding Uber from coming into the market. They just need to meet the established state standards."
While Uber officials have been talking with legislators and transportation officials prior to the start of the Nevada legislative session in February, no details have emerged on how existing laws could be changed to enable the company to operate with its business model.
Maxson-Rushton believes the transportation regulations are effective the way they are.
"I don't know that the rules need to be tweaked," she said.
Some bill drafts with generic titles about state transportation have been posted on the Legislature's Internet site, but there haven't been any specifics about what laws that would enable Uber to operate would say.
That hasn't stopped Uber from rallying support from the public. The company's website has a petition signed by more than 23,000 people supporting Uber operations in Nevada. The company also suggests mailing Sandoval or Attorney General Adam Laxalt.
The CES panelists agreed that Uber's use of its fan base has helped it gain a foothold in other cities where it has had difficulty meeting regulatory standards.
Kintz said that while the strategy has worked so far, it's a massive undertaking because the rules are so different worldwide and in different locations, the company has had to work with states, counties, cities or various transportation authorities. He said in some cases, Uber's standards for screening and testing prospective drivers are tougher than the standards of the overseeing government entity.
PR IN OVERDRIVE
Uber's public relations efforts also have been in overdrive in the past few months following a series of unrelated incidents.
Officials in New York are investigating an accident in which an Uber driver struck and killed a pedestrian walking outside a crosswalk on a city street on Saturday.
In late December, Philadelphia cab companies asked a federal judge to shut down Uber in that city, accusing the company of wire fraud and racketeering.
In South Korea last month, Uber CEO Travis Kalanick was indicted for violating local licensing laws prohibiting rental car companies from operating taxi services.
And, on New Year's Eve, Uber transported more than 2 million riders — but had to send out a pre-emptive explanation of why the company practices dynamic pricing, or "surge pricing" as critics call it.
The practice involves charging a higher price when demand is high. It's designed to motivate contracted drivers to hit the streets to make extra money while better serving the public when the demand for rides is high.
Because Nevada taxi laws mandate a set rate, dynamic pricing would be illegal — and another roadblock for Uber to operate.
A DECADE-LONG EXPERIMENT
Kintz said that as Uber provides more and more rides, there will be an increase in the number of controversial incidents involving the company. As for dynamic pricing, Kintz said it's a basic supply-and-demand economic principle the company is working to educate people about.
Panelist Evan Engstrom, policy director of Engine Advocacy, a research and public policy organization for technology entrepreneurship, said the public is starting to see the benefits that technology introduced by companies like Uber have delivered.
"We're also seeing regulations being diverted into things they weren't meant to do," Engstrom said.
But panelists agreed that those entering political office are younger and more tech-savvy today than ever before and that could lead to legislative and regulatory changes that could help companies like Uber.
If that occurs and Uber returns to Nevada, look for similar companies to arrive right behind it.
Panelist David Mack, a director for Lyft, said his company would love to be in Las Vegas.
"The way we look at it, we're 2½ years into a decade-long experiment and we're still working at educating the people about the issues," he said.
Contact reporter Richard N. Velotta at rvelotta@reviewjournal.com or 702-477-3893. Find him on Twitter: @RickVelotta