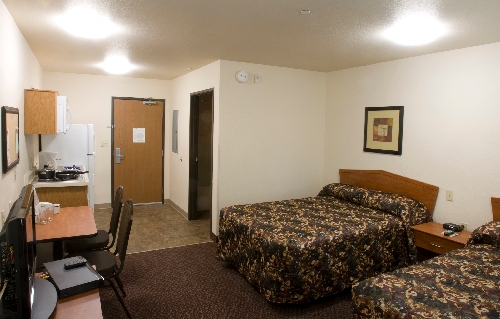 Executives from extended-stay lodging chain Value Place tout active-duty military members and their families as a key market segment for the nationwide company.
So it made sense the business that is based in Wichita, Kan., to open its first Las Vegas franchise, and the largest in the 175-property Value Place chain, at 5300 E. Craig Road, near the gates of Nellis Air Force Base.
The 242-room Value Place, with three room plans, full kitchens, and other amenities and services, celebrates its grand opening today.
With plans in the works to put 10 total Value Place franchises in Las Vegas, company officials are targeting another key market segment — individuals and families who have been displaced by the home foreclosure crisis.
Gina-Lynne Smith, the president of Value Place franchise services, said the company is gaining more customers who have lost their homes through foreclosures. Value Place operates in 27 states.
"We call that segment 'housing transitioners' and it's probably 40 percent of our guests right now," Smith said. "About 18 months ago, that segment made up about 20 percent of our market."
Various financial analysts and ratings services have placed Nevada at the top of the nation's foreclosure listings for the past three years. According to StockMarketsReview.com, one in every 69 Nevada homes is in foreclosure.
Smith said Value Place will rise quickly to the top of the extended-stay lodging business in Las Vegas because of a focus on security and cleanliness. The Las Vegas location offers twice-a-week cleaning, additional cleaning and linen service and a secure location.
The company also has a 99-step process for cleaning units once they are turned over, which includes cleaning bedspreads, carpets and shower curtains.
"We admit it, we're clean freaks," Smith said. "There are a large number of choices in the extended-stay market in Las Vegas. The difference is we don't sacrifice on cleanliness and safety."
The three units — a studio, a double and a studio with a sleeper-sofa — start at $189.99 a week. There are nominal fees for such items as high-speed Internet service.
Smith said the average stay companywide is about 90 days, but the length of occupancy varies by location.
"Our properties can have a residential appeal, as a home between homes, but they also have a blue-collar appeal as well for people on business," Smith said.
The Las Vegas location was targeted for Nellis because of Value Place's military influence.
The company, which opened its first Value Place in Wichita in 2003, was developed by Jack DeBoer, a former military police officer who was responsible for originating the Residence Inn, Summerfield Suites and Candlewood Suites brands. A large number of company employees have military backgrounds.
Value Place Chief Executive Officer Greg Kossover said the company took its time to assemble the right location for its first Las Vegas franchise.
"We expect guests at this property to be government officials, contractors who have business with the base, and active-duty military in need of transitional housing," Kossover said. "We're very proud to offer affordable, cleaner lodging to those serving our country and the military."
Smith said Value Place is still determining where it will locate its next Las Vegas property.
Contact reporter Howard Stutz at hstutz@reviewjournal.com or 702-477-3871.