Clark County sheriff disagrees with FBI director, says Metro is understaffed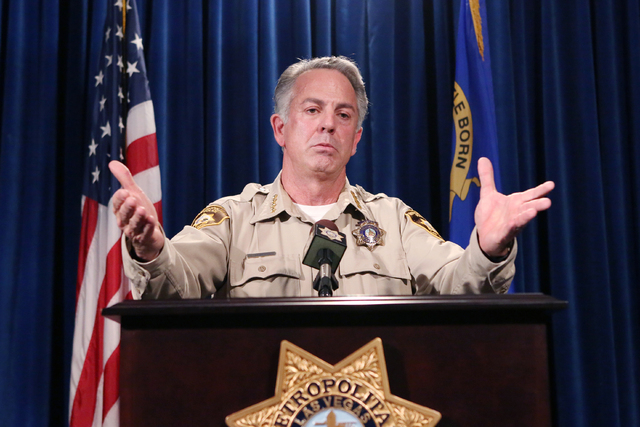 Clark County Sheriff Joe Lombardo disagrees with FBI Director James B. Comey about what's driving a national spike in violent crime.
The FBI chief said last week that several cities are seeing dramatic increases in the number of homicides — he specifically mentioned Las Vegas — and said it may be a result of de-policing. Lombardo told reporters gathered at the scene of a homicide investigation Monday night that the problem in Las Vegas is the Metropolitan Police Department is understaffed.
De-policing is the idea that officers are patrolling minority neighborhoods less aggressively than in the past because they are afraid of being captured in a video and being criticized online and in the media, sometimes referred to as the "Ferguson effect."
"There's a perception that police are less likely to do the marginal additional policing that suppresses crime, the getting out of your car at 2 in the morning and saying to a group of guys, 'Hey, what are you doing here?'" Comey told reporters in Washington last week.
Lombardo said that while he can't speak about what may be happening in other departments, de-policing is not happening in Las Vegas.
"I have to push back," Lombardo said. "As the leader of this agency, I'm not in agreement with those comments.
"I don't see my police department, my police officers, actively de-policing in addressing the crime that's occurring in their community. What I have seen, and what I personally experienced, and what I know for a fact is we are not properly staffed as a police department."
Metro officials have said they want at least two officers for every 1,000 residents. The department's officer-to-population ratio is about 1.7 to 1,000.
"I believe if we have the ability to hire the appropriate amount of police officers it will have a direct effect on crime," Lombardo said.
He also said he was upset that his office was not contacted by Comey before the director's remarks, and that he planned to "have a conversation" with Comey or his people at a meeting of the Police Executive Research Forum and the Major Cities Chiefs Association next week in New York City.
The wave of violent crimes affecting many U.S. cities will be discussed at the annual meeting.
Contact Wesley Juhl at wjuhl@reviewjournal.com and 702-383-0391. Find @WesJuhl on Twitter.
RELATED
Spike in fatal shootings over past weekend in Las Vegas Valley spells troubling trend
Metro to devote semipermanent unit to violent crime initiative through summer
Clark County OKs More Cops sales tax increase