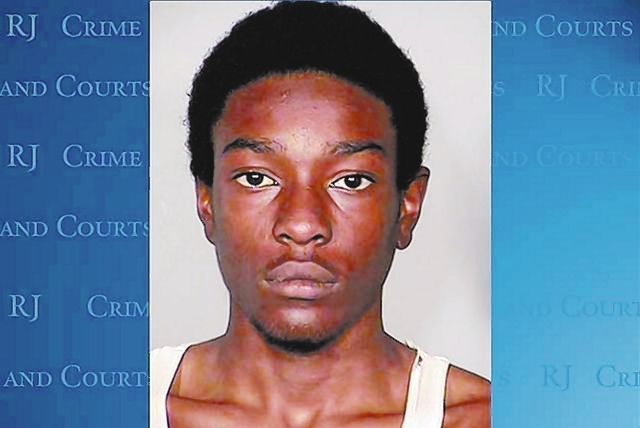 Dixie Chaney Jones had been fighting all her life.
The 71-year-old was raised in Las Vegas in the '50s and still lived in the small family house on G Street with a few close relatives.
Jones was shot and killed just a block from her home Saturday night after refusing to give her purse to a pair of teenage robbers.
She only had a few dollars. But Dixie, the seventh of 10 children, was used to fighting for every little bit she owned, her family said Monday.
"You try to take something from her, and she's not about to give it to you. That was her nature. That's human nature," said brother Scott Chaney, 63, who lived with his sister. "She was scrappy."
"What's hers was hers," said nephew Damon Chaney.
William Copeland, 19, was charged with murder after confessing to shooting Jones, according to his Las Vegas arrest report.
Copeland told police he "wanted to make some quick money," when he saw Jones walking near H Street and Monroe Avenue about 10 p.m. Saturday. Scott Chaney said his sister, who was usually a "loner," was visiting a few friends.
"She wasn't a bar-hopper or someone who liked to be out and about," he said. "She had a few friends and they'd sit around and talk, then she'd come home and watch some TV."
Copeland told the driver of the car, 16-year-old Fabian Diaz, to pull over.
He pointed a handgun at Jones and ordered her to give him the purse. But Jones told Copeland she had a gun, too, the report said.
Copeland fired two shots as she reached into her purse, he said. He told detectives he was afraid she would shoot him.
Damon Chaney said his aunt didn't own a gun. She was likely afraid and bluffing, he said.
"That's what I would do if someone pointed a gun at me," he said.
Copeland told police he fired the first shot into the air. As he was backing away, he bumped the car, which caused "his arm to lower," the report said.
Jones was shot in the stomach and died at University Medical Center, but not before describing Copeland and the getaway car.
Scott Chaney said he wasn't aware of the shooting until his niece called him a few hours later and said Jones was at UMC.
He thought she was in her bedroom, he said.
"I said, 'UMC trauma? She's right here,'" he said. "I had no idea."
Patrol officers later found a car in the area that matched Jones' description and arrested Copeland and Diaz, police said. It's unclear if Diaz, a juvenile, was also charged in the woman's killing.
Although he was named in Copeland's arrest report, police wouldn't formally identify Diaz or any possible charges he was facing.
Jason Chaney, 30, said his grandmother was a family-oriented woman who "spoke her mind."
Jones, a graduate of Rancho High School, lived in Texas for a few years and was a "Dallas Cowgirl," he said.
She had several children and grandchildren. The retired casino worker had many family members in Las Vegas, he said.
"She stood for what was right," Jason Chaney said.
Scott Chaney said he couldn't imagine that either teenager knew Jones, or they wouldn't have approached her.
"Everybody in this area knew Dixie. She was a sweet lady who never bothered nobody," he said.
"It's just a violent, stupid crime. There was no reason for it."
Contact reporter Mike Blasky at mblasky@reviewjournal.com. Follow @blasky on Twitter.