A city that never sleeps considers justice in a court that doesn't, either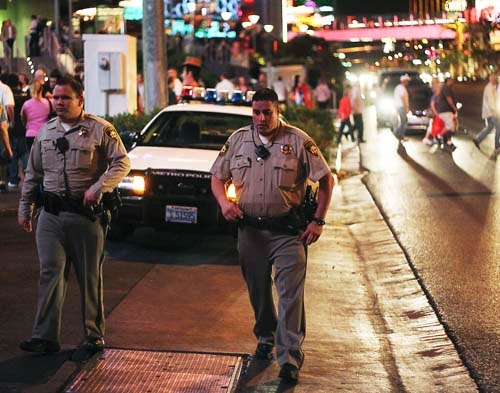 A street gambler plays three-card monte on the Strip's sidewalks.
An illegal vendor sells tap water in used bottles to unsuspecting tourists.
Two boozers exchange blows, but neither presses charges.
Las Vegas police routinely cite and arrest such lawbreakers in the state's most important casino area, but justice often is elusive. Police are frustrated by these types of minor offenses that appear to have no consequences for offenders who skip court dates or don't face justice, their cases dismissed because judges have more severe problems to handle.
Clark County District Attorney Steve Wolfson is studying a proposal to implement a night court on the Strip where offenders would be forced to pay up, and instead of putting offenders in jail, fine them heavily that same night and quickly send them on their way.
It's welcome news for Metropolitan Police Department Capt. Todd Fasulo, whose Convention Center Area Command officers patrol the Strip.
"We get bombarded from hotel complaints and continue to write the same 50 to 60 tickets for the same people," Fasulo said.
"The judges dismiss it because there's no way they're going to put somebody in jail for selling a bottle of water. We're telling (officers) to go out there, and they're thinking, 'Why keep spinning my wheels?' That's when a level of frustration kicks in," he said.
The bottom line is the economy. Some tourists won't go to a casino if they're going to be harassed on the street, Fasulo added.
A group that studied resort corridor issues recently proposed a night court, among other recommendations, to the County Commission as a way to clean up the Strip and make it more inviting for tourists. From those discussions have come a pedestrian study to identify areas where foot traffic is congested and an ordinance that bans certain animals on the world-famous, four-mile stretch of real estate between Russell Road and Sahara Avenue.
A NIGHT COURT MODEL
Wolfson has assigned a prosecutor to study Philadelphia Municipal Court's Nuisance Night Court model, a mobile court program that began in 1996 using volunteer judges to hear low-level cases, including underage drinking and disorderly conduct, among others. The goal is to deter crime by assessing civil penalties, such as community service and court fines, to offenders while keeping them out of jail.
It's unclear how many nights a week a Clark County night court would be open.
"This is still in the exploratory stage," Wolfson said. "If there's a new ordinance passed that needs some enforcement, the issuance of citations or literally arresting people, we could afford them a court system in a timely fashion. If someone is arrested on a Friday night, you don't want them to sit in jail until Monday."
Janet DiTomasso, director of Philadelphia Municipal Court diversion programs, said judges take turns holding court in different police precincts citywide. Federal grants help pay support staff filing court paperwork. Court opens 8 p.m. Friday evenings for about four hours at least twice a month and does not include misdemeanor or felony cases.
Once offenders complete community service and pay court fines, their records are cleared, she said.
Philadelphia has a problem with illegal street vendors similar to what is happening in Las Vegas, but now those merchants have less of a presence on the sidewalks because of the night court deterrent, DiTomasso added.
At one time, the Philadelphia Eagles pro football team requested the mobile court be set up at their old stadium to deal with rowdy fans. Only a few cases were heard there before the night court was moved to a better-equipped police precinct, DiTomasso said.
Wolfson's office is looking at different variations of the program, which include a physical satellite courtroom location on or near the Strip, on-call judges or full-blown court sessions at the Regional Justice Center.
A deputy district attorney and Las Vegas police are scheduled to travel to Philadelphia in June to study that city's night court program.
STRIP COURT LOCATION
A Strip court location would be more convenient for officers because cases would be expedited, Fasulo said.
Rather than driving to jail and going through the booking process, officers would be back out on the street more quickly for that "nice visible presence."
Oftentimes, plainclothes officers arrest the vendors, who strategically place themselves on pedestrian bridges, hide their illegal merchandise in bushes on casino properties, and use lookouts and radios to scope for police.
This pattern could be broken if hefty $500 fines were assessed for illegal vendors each time police run them through night court, Fasulo added.
"The county wins, we win, and we get rid of the problem off the Strip," Fasulo said. "The revenue is coming back in for civil penalties, and vendors will get the message real quick."
Fasulo said he envisions the court handling nuisance issues such as street vendors, jaywalkers and drunk-and-disorderly people, "not robbers and burglars."
Clark County Commissioner Lawrence Weekly said he supports the convenience of the idea, which allows for after-hours law enforcement in a 24-hour place.
"You're not having to deal with somebody hauled off to jail and stuck in jail all weekend because court is closed," Weekly said. "We'll probably see some diversion in crime."