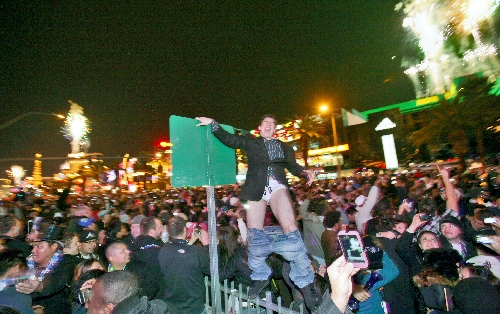 When the A-list shows are over and the amateur partiers retreat to their beds, it is the Republic Services crews who begin performing their Las Vegas Strip magic show.
About three hours after horns blared, fireworks cracked and revelers toasted 2011, the famed Strip re-opened to traffic. By Saturday morning, it was difficult to tell that Friday night was unlike any other evening.
The streets and sidewalks showed no signs of a massive bash featuring hundreds of thousands of guests. Only a handful of tourists braved the still-freezing temperatures along the quiet sidewalks.
According to Las Vegas police, the night was similar to any other night that officers are on the streets in search of illegal behavior. Most people were out to have fun, not to cause problems.
But like any major event in Las Vegas, not everyone avoids the Clark County Detention Center.
At celebrations held on Fremont Street and the Strip, Las Vegas police made 17 felony arrests and hauled in 52 motorists on suspicion of driving under the influence.
Officers also responded to 34 traffic accidents valleywide, none of which were fatal.
The Nevada Highway Patrol arrested 48 motorists on suspicion of driving under the influence; 40 men and eight women. DUI arrests logged by state troopers this year fell nearly 50 percent from last New Year's Eve, when 82 people were taken in on suspicion of driving under the influence of drugs or alcohol.
The overall number of arrests indicate a fairly well-behaved New Year's crowd, which tourism officials estimated to be 320,000. Las Vegas' party is the largest west of the Mississippi.
Temperatures that dipped into the high 20s might have contributed to the low number. Visitors to the Strip said the streets were tame and partygoers were staying warm inside casinos until shortly before midnight, when crowds emerged to take in the fireworks show.
Contact reporter Adrienne Packer at apacker@reviewjournal.com or 702-387-2904.