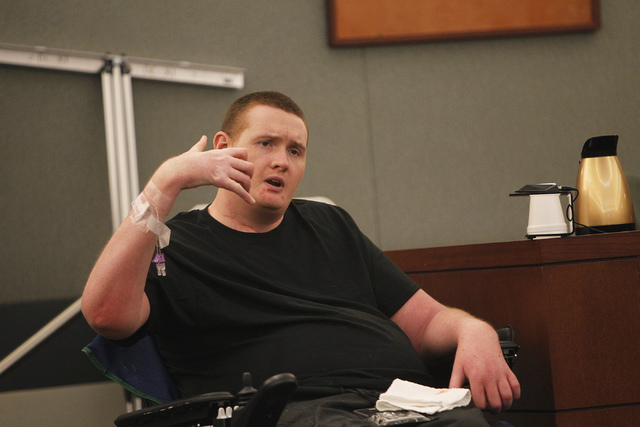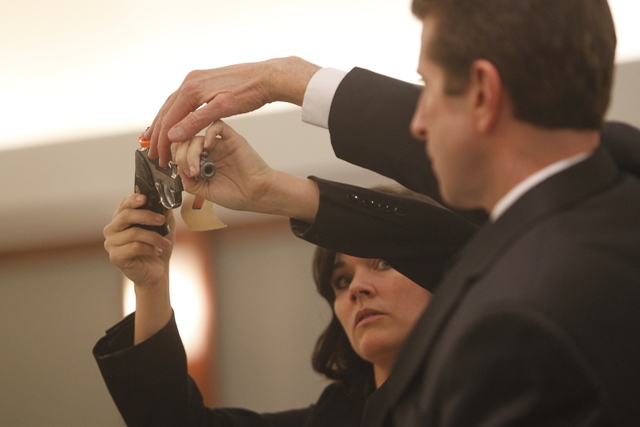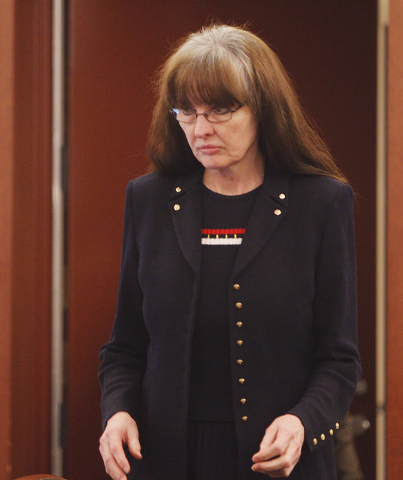 Kevin Cooney was sitting on a couch in his family's home when his mother shot him, an ex-girlfriend told a jury in Linda Cooney's attempted murder trial on Friday.
Clarita Kendall, who dated Kevin Cooney a few years before he was shot in 2011, said he told her that while she was visiting him in the hospital in 2012.
Kendall's testimony at the trial, which has spanned two weeks, supported physical evidence suggesting the bullet entered Kevin Cooney at a downward angle.
However, her testimony contradicted what Kevin Cooney told the jury earlier in the week. Kevin Cooney said he attacked his mother and the gun went off in the struggle.
After Kendall's testimony, defense lawyer Michael Becker recalled Kevin Cooney, who arrived in court in a motorized wheelchair.
Kevin Cooney said he wanted to clarify where the gun was when it discharged. Specifically, he said that after ripping it from his mother's grasp he lifted it at an angle so the barrel was aimed at a downward angle at his neck. The gun was his arms length away from his body when it fired, he said.
Prosecutors say Linda Cooney shot Kevin Cooney June 28, 2011 during a feud over his then girlfriend Karina Taylor. Prosecutors say that before the shooting, Linda Cooney was trying to sabotage her son's relationship by sending text messages to colleagues saying his girlfriend was "an evil whore."
Defense lawyers have said that the evidence shows that Kevin Cooney was responsible for his injuries.
Linda Cooney, 66, faces four counts, including attempted murder, battery with use of a deadly weapon and intimidating a witness. She also is charged with stalking Taylor. If convicted of all counts, she faces three to 65 years in prison.
During Kevin Cooney's testimony, prosecutor Shanon Clowers pulled out the .357-caliber revolver and tried to demonstrate where the gun was when it discharged. Clowers questioned whether Kevin Cooney had changed his description of the angle of the gun from his testimony earlier in the week to Friday.
Earlier in the week, prosecutors suggested the gun was fired at an upward angle and Kevin Cooney did not disagree, Clowers said.
However, after testimony showed the bullet entered Kevin Cooney at a downward angle, he changed his story, Clowers said.
Kevin Cooney explained he had earlier testified via video conference from a hospital bed and didn't feel he could completely demonstrate where the gun was when it was discharged. He came back to court after discussing it with his mother's lawyers, he said.
Earlier in the day, Kendall told the jury Kevin Cooney doesn't remember everything that happened the day he was shot.
Kendall testified that Kevin Cooney told her: "My mom, she started up again. He started arguing with his mom. I was sitting on the couch. I don't remember too much before I was shot. I'm laying on the ground. I feel wetness everywhere. I feel wetness. I see my mom. She's all curled up crying. I wait to die. I can't move anything. And so I'm waiting and nothing's happening. So I told Mom, 'Mom I'm not dead. But I'm going to die if you don't call an ambulance. Can you call an ambulance?'"
Kendall went on to say that Kevin Cooney told her that Linda Cooney shot him. And that before she shot him, she was wearing the handgun in her waistband.
Kevin Cooney said on April 14 that he beat his mother for meddling in his relationship with Taylor and threatened to kill her. He said he went for the handgun, which was hidden near the downstairs sofa. His mother got it first and fled. As the 5-feet-7-inches-tall Linda Cooney cradled the gun, Kevin Cooney, who is 6 feet 9 inches tall, jumped on her and grabbed the gun. As he pulled the gun away from her, it fired, striking him in the neck.
Kevin Cooney said he told his mother not to call for help and to call his brother Christopher Cooney, a Las Vegas police officer. Christopher Cooney has testified his mother told him a similar story. Kevin Cooney said he was to blame for what happened.
Kevin Cooney also said earlier that his relationship with Kendall was a "Fatal Attraction experience." He added that his ex-girlfriend, Taylor, was a liar. Taylor has testified that after the shooting, Kevin Cooney said he was scared of his mother because she shot him.
Kendall told the jury she feared Linda Cooney because she knew she had killed her ex-husband, James Cooney, in Florida more than two decades ago. Linda Cooney was acquitted by a jury that found she acted in self-defense when she shot her ex-husband. Prosecutors say she used the same gun to shoot Kevin Cooney.
Closing arguments in the case are expected on Monday.
Contact reporter Francis McCabe at fmccabe@reviewjournal.com or 702-380-1039. Find him on Twitter: @fjmccabe.