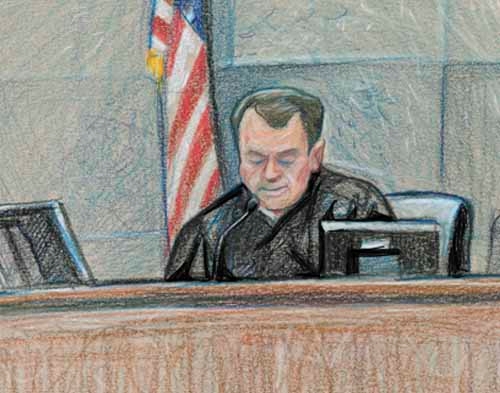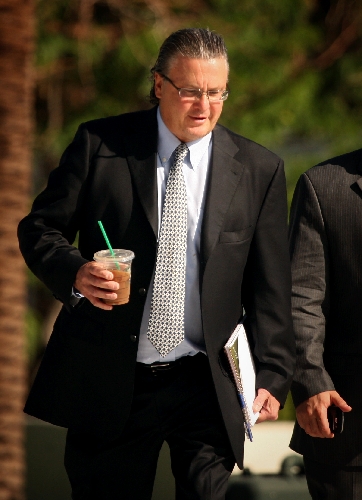 U.S. District Judge Kent Dawson on Monday ordered longtime nightclub operator Steve Davidovici to start serving his three-year probation sentence after federal prosecutors refused to say whether they think the judge should remove himself from the case.
Dawson's order from the bench came amid an FBI investigation into ties between his 38-year-old son, Brian, and Davidovici.
Agents assigned to the FBI's public corruption squad in Las Vegas last week questioned current and former Davidovici employees about Brian Dawson's employment as a bartender at clubs tied to Davidovici, the Las Vegas Review-Journal reported.
The Justice Department's Public Integrity Section in Washington, D.C., which handles public corruption cases, also has become involved in the investigation.
Justice Department spokeswoman Alisa Finelli declined on Monday comment from Washington on the case.
Dawson had sentenced Davidovici, 48, to probation and eight months of home confinement for his role in a $7 million tip-concealing scheme, but later held up the sentence after questions arose about his son's employment at Gallery Nightclub, where Davidovici was a consultant. The tip scheme occurred at Davidovici's former Pure Nightclub at Caesars Palace between 2005 and 2007.
Prosecutors, who wanted Judge Dawson to put Davidovici behind bars for 18 months, had objected to the sentence.
Dawson, who took part-time senior judge status on Monday, also ordered the sentencing back on track for Mikel Hasen, the former head doorman at Pure. He is to surrender to federal authorities Sept. 28 to begin serving a 366-day prison term for hiding $471,120 in tip income from the Internal Revenue Service.
In both cases, Dawson said he saw no reason to remove himself or further delay the sentences.
The judge gave the prosecutors, Christopher Maietta and Joseph Rillotta, of the Justice Department's Tax Division in Washington, several opportunities in court to say whether they wanted him off the case. But they indicated through a telephone hookup from the nation's capital that they weren't prepared to discuss the matter at this time.
Dawson even offered to let the prosecutors explain their position behind closed doors, but again they declined.
Maietta and Rillotta, however, once more objected to Davidovici's sentence and said they would appeal it because of "procedural irregularities" on the judge's part.
The FBI corruption investigation, meanwhile, is not just confined to Brian Dawson's ties to Davidovici.
FBI agents also have inquired about a connection between Dawson and former construction company boss Leon Benzer, the target of a long-running FBI-Las Vegas police investigation into a massive fraud and corruption scheme at valley homeowners associations.
More than two-dozen people have pleaded guilty and are cooperating in the high-profile criminal investigation, which also is being spearheaded by the FBI's public corruption squad.
FBI agents have attempted to firm up what Brian Dawson did when he worked for Benzer's former company, Silver Lining Construction, which is alleged to have played a role in the takeover of nearly a dozen homeowners associations.
Agents also were interested in details about the younger Dawson's work record at the Gallery Nightclub and any other Davidovici-linked establishments and whether he got special treatment because of his father, a former Davidovici executive said.
One employee who worked with Dawson at Gallery Nightclub said Dawson was not a good bartender, but everyone at the club knew he was there as a favor to Davidovici.
Some managers were fired when Dawson was not treated as an "untouchable" and given an average schedule, the employee said.
Last week, Judge Dawson denied a request by the Justice Department lawyers for roughly six more weeks to "investigate" whether the judge had a conflict in the Davidovici case.
Dawson had given Davidovici the lighter sentence because he was concerned that Davidovici wouldn't get the care he needed in prison for his eye condition, acute optic neuropathy, which threatens to leave him legally blind.
The judge has insisted that he didn't know prior to the sentencing that his son worked at Gallery and that there were no grounds to take him off the case.
Dawson's son had obtained a work card in May 2011 as a bartender at Chateau Nightclub & Gardens, sources said. Until recently, Davidovici was a co-owner at Chateau, which is at Paris Las Vegas.
On Monday, Dawson said he has since learned that his son spent a few days training at Chateau.
Davidovici's lawyer, David Chesnoff, urged Dawson to move forward with the sentencing, saying he was surprised to hear the government objecting so "vociferously" to it.
"I'm amazed that people are just so flippant about somebody losing their eyesight after undergoing the stress of a 4½ year investigation," he said.
Chesnoff said Davidovici paid the IRS $1.8 million in taxes in 2006, the year he admitted filing a false tax return.
Contact reporter Jeff German at jgerman@reviewjournal.com or 702-380-8135.