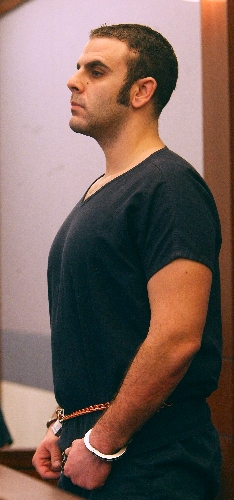 A hearing to determine if the suspect in the Bellagio robbery, Anthony Carleo, should stand trial was postponed Wednesday morning after defense attorney William Terry told the judge hearing the case that he needed time to review contradictory witness statements.
The witnesses are Las Vegas police detective Michael Gennaro, who testified Feb. 23 in the first stage of Carleo's preliminary hearing, and Las Vegas physician Kian Kaveh, whose written statement Terry reviewed after receiving it from prosecutors on Monday.
"There are inconsistencies with his testimony and the detective's testimony," Terry told Las Vegas Justice of the Peace Ann Zimmerman, who reset the hearing for March 25.
Kaveh in police reports was identified only as a confidential informant who was present when the undercover detective met Carleo, but he was named in court Wednesday. Prosecutors later said there was no reason to shield his identity.
Kaveh, in a brief telephone interview, declined to describe his involvement, but said he received "no benefits" for talking to police.
Terry declined to provide details of conflicts in the grand jury testimony and said he will subpoena the doctor to testify at the March 25 hearing.
The Bellagio was robbed of $1.5 million in gambling chips from a craps table in the early morning hours of Dec. 14. The robber made his getaway on a motorcycle. Police say Carleo, the son of Las Vegas Municipal Judge George Assad, sold 14 of the chips — many were distinctive $25,000 denomination "cranberries" — to Gennaro for less than half their face value.
Gennaro said Carleo boasted about robbing the casino at gunpoint. Police say he gambled away roughly $300,000 between the robbery and his arrest on Feb. 2.
The 29-year-old faces three counts of armed robbery, including an enhancement because a victim was 60 years old or older; two counts of assault with a deadly weapon; and one count each of burglary and carrying a concealed weapon.
Contact Doug McMurdo at
dmcmurdo@reviewjournal.com or 702-224-5512.