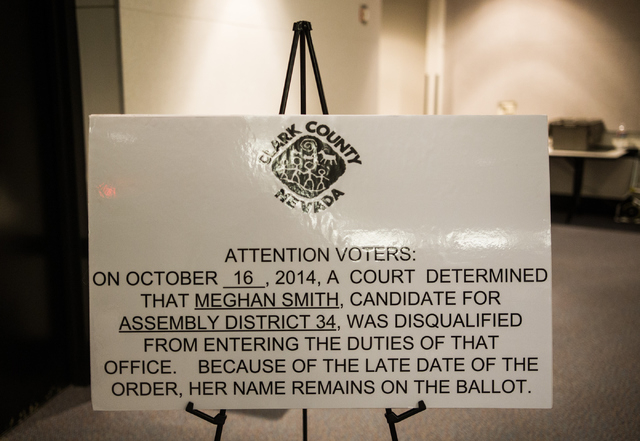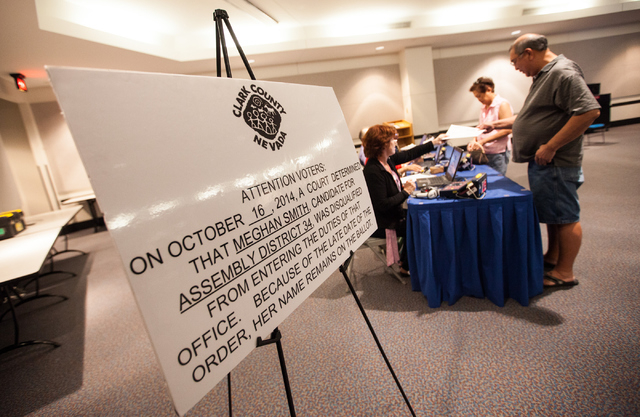 Meghan Anne Smith, a Democrat who was disqualified in her bid for the Nevada Assembly District 34 seat in 2014, was indicted on a perjury charge, prosecutors said Wednesday.
In her attempt to join the race, the 36-year-old Smith also lost a state Supreme Court ruling after she sought to have signs removed from polling places that informed voters about her ineligibility.
Republican Victoria Seaman, who won the seat in a Republican wave in Nevada, had challenged Smith's candidacy after discovering Smith purchased a home in the northwest Las Vegas district after she filed to run for office.
Under state law, a candidate must live in a district for 30 days before filing for office.
District Judge Nancy Alf later ruled that Smith did not meet residency requirements.
The judge decided that Smith "willfully filed a declaration knowing that the declaration of candidacy or acceptance of candidacy contained a false statement."
The felony indictment alleges Smith made false statements in her declaration of residency form filed on March 14, 2014, according to a news release from Attorney General Adam Laxalt. Perjury is a category D felony, which carries a possible sentence of one to four years in prison and a $5,000 fine.
"Our office is committed to protecting the sanctity of fair and transparent elections," said Laxalt, a Republican, in the release. "Every violation of the electoral process erodes the public's trust in its government, a trust this office seeks to safeguard by enforcing the law."
On Tuesday, the same day the grand jury met to indict Smith, a bill designed to strengthen residency requirements for candidates for public office passed on a party-line vote in the Assembly, with Democrats unanimously voting against the bill, according to a news release from the Clark County Republican Party.
"It's sad to see after all these trials that Democrats still don't want to strengthen our electoral integrity," Nick Phillips, the group's political director, said in the release. "We obviously couldn't rely on politicians like Catherine Cortez Masto, former Nevada Attorney General, or Clark County District Attorney (Steve) Wolfson who are blinded to wrongdoing by partisan politics and took no action to enforce the law against Democrats."
The District 34 seat was wide open after Assembly Majority Leader William Horne, a Democrat, was term-limited out of office.
Registered Democrats make up 43 percent of the district's registered voters, while registered Republicans account for 31 percent. Another 19 percent of registered voters don't have any party affiliation. The remaining 7 percent belong to other parties.
Smith's ineligibility alone would not have necessarily prevented her from being seated later by the Legislature.
In 2012, a district judge ruled that Democrat Andrew Martin was an ineligible candidate because of lack of residency.
He won with 53 percent of the vote anyway against Republican Kelly Hurst, and the Democrat-controlled Assembly picked him for the seat.
Smith is scheduled to appear in front of District Judge Kerry Early on May 14 for arraignment.
Contact David Ferrara at dferrara@reviewjournal.com or 702-380-1039. Find him on Twitter: @randompoker.