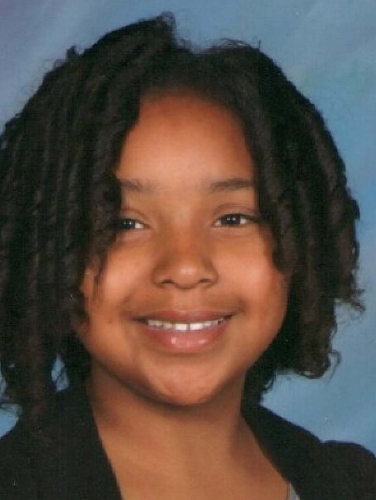 The blood of 10-year-old Jade Morris is a positive DNA match to blood on a jumpsuit worn by Brenda Jean Stokes, the 50-year-old expected to be charged this week in the child's homicide, according to police.
A Las Vegas police report released Monday paints a clearer picture of the events that lead to Jade's death on Dec. 21. She died from multiple stab wounds. Her body was found Thursday in an unfinished housing development in North Las Vegas.
Police say Stokes used a red 2007 Saab, borrowed from her friend Eddie Turner, to kidnap and transport the girl.
Turner told investigators that on Dec. 21, the day Jade disappeared, Stokes returned the car but borrowed it again to go to her apartment on Windmill Lane to change her clothes.
Later that evening, Turner told investigators, she dropped off Stokes at The Cosmopolitan, on Las Vegas Boulevard, where Stokes said she planned to meet a friend, according to the report.
Instead, authorities allege, Stokes went to the Bellagio, and used a pair of razor blades to slice the face of Joyce Rhone, 44, a blackjack dealer.
Jade's family thinks Rhone and Stokes' fiance, Philip Morris, Jade's father, were having a fling that led to the attack. Police have neither confirmed nor denied that allegation.
After Stokes' arrest, she told responding officers she regretted not having killed Rhone, who suffered serious cuts to her face, enough to cause "disfigurement," according to the report.
While held on assault and battery charges in the Clark County Detention Center, Stokes was questioned by investigators about the girl's disappearance. She denied knowing Jade or her family.
Investigators tracked her cellphone records, which placed her in the vicinity of the Las Vegas Beltway and Interstate 15 at 5:34 p.m. on Dec. 21.
When homicide investigators later learned of Stokes' second address on Windmill Lane, they found the dark jumpsuit with the child's blood. The clothes were discovered on Thursday , the same day Jade's body was discovered.
A DNA match came back on Friday , at which time Stokes was rebooked into custody on a murder charge with a deadly weapon. She is being held on $600,000 bail.
Her next court hearing is scheduled for Wednesday.
Contact reporter Tom Ragan at tragan@reviewjournal.com or 702-224-5512.