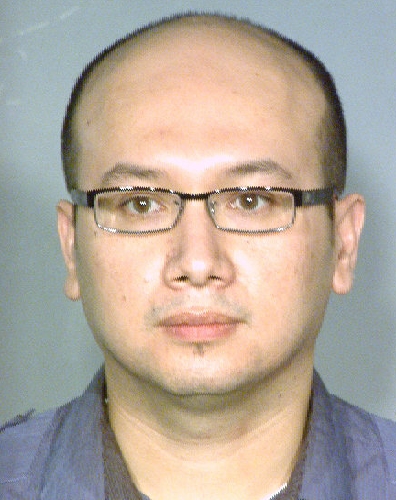 A doctor accused of sexually assaulting a 68-year-old woman while she was in his care failed a polygraph exam about the abuse allegations, said a North Las Vegas police report released Monday.
Mane Shah, 34, who was arrested last week on one count of felony sexual assault and one count of misdemeanor open or gross lewdness, denied the allegations made to police by the woman and North Vista Hospital personnel.
The report said Shah voluntarily consented to a polygraph exam through his lawyer in January. The exam was conducted by an FBI special agent, who indicated that Shah was trying to beat the exam with certain techniques.
"Shah was advised that he failed the examination," the report said. The special agent "stated that during the test it was evident that Shah was also utilizing countermeasures."
Police said that on Nov. 2, Shah sexually assaulted the woman at North Vista after she complained about leg and hip pain. The woman said that after her complaint, the doctor asked her to remove her underwear. He first touched her near her anus and then penetrated her vagina with his fingers.
The woman asked during the examination why Shah was doing what he was doing and was told "not to worry," the report said.
The woman went on to tell investigators that she felt uncomfortable throughout Shah's exam that morning but trusted him because he was a doctor.
But the woman said she knew Shah was assaulting her when he tried to conceal his erection.
"It wasn't until she witnessed Dr. Shah try to cover his erect penis through his pants is when she knew what he had done was not right," the report said.
During the polygraph, Shah was asked if he remembered asking the woman to take off her underwear. He first said he didn't remember, then said there would be no reason to do that, and then again repeated he didn't remember.
The report said Shah did tell the FBI agent during the polygraph that the woman was being treated for tuberculosis, although she told police she was being observed to determine whether she had the disease.
During the polygraph, Shah said the woman was in a special quarantined area of North Vista. Shah said he had a couple of interactions with her during a short period, the report said.
The woman told police she was admitted to North Vista on Oct. 30 and had seen Shah every day about 7:40 a.m.
After Shah examined her Nov. 2, the woman called her daughter and husband to the hospital. At one point, a relative of the woman retrieved the gloves Shah used in the examination from a trash bin.
Police collected the gloves. Shah acknowledged using rubber gloves on the woman that morning, the report said.
The woman's husband alerted hospital security, and a hospital employee called police shortly after. Shah denied the accusation to a hospital employee.
The woman was then taken to University Medical Center for a sexual assault examination.
In December, police collected Shah's DNA through a buccal swab test, the report said.
Shah was arrested Thursday, posted bond later that evening and was released.
Shah has privileges to practice at North Vista Hospital, St. Rose Dominican Hospital, Sunrise Hospital and Medical Center, and Mountain View Hospital, police said.
The attorney thought to be representing Shah could not be reached Monday evening.
According to the Nevada State Board of Medical Examiners website, Shah completed his internal medicine residency in New York in June 2008. He has no current restrictions on his license.
Contact reporter Antonio Planas at aplanas@
reviewjournal.com or 702-383-4638.