Domestic partners push for marriage in Nevada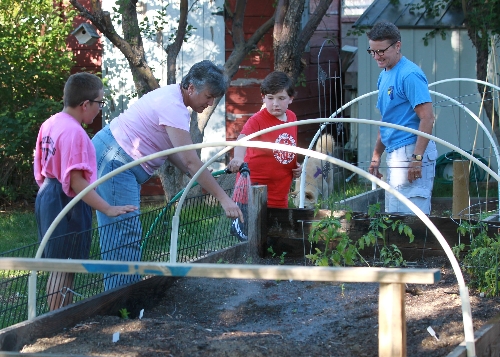 CARSON CITY – Around their home and school, sons Quinn and Dean refer to Farrell Cafferata as "Mom" and Caren Jenkins as "Ema," Hebrew for "Mommy."
The 7- and 8-year-old boys are considered special by other kids in their grade school classes because they have two mothers, said Jenkins, who besides being one of their mothers is a lawyer and executive director of the Nevada Ethics Commission.
"I remember being embarrassed by my parents," Jenkins said. "They're not. Their socialization with other kids is not a problem. We have been very open about our relationship. If someone has a problem, it is their problem."
Cafferata and Jenkins, who have been together for 15 years, are among the 3,780 couples in Nevada who have entered into domestic partner­ships under a 2009 state law. This partnership gives them most of the rights and privileges of heterosexual married couples, although it has a few shortcomings.
It doesn't give them something they really want – a legal marriage. That's because a voter-approved state constitutional amendment prohibits same-sex marriage.
THEY WANT TO MARRY
Both believe the state domestic partner­ship law – passed over a veto by Gov. Jim Gibbons – is not enough and emphasize they are entitled to equal rights under the 14th Amendment's Equal Protection clause. They have twice married in California, only to have that state shoot down same-sex marriages with its Proposition 8 vote in 2008.
"It wasn't about giving us our civil rights, it was about shutting us up," said Cafferata about the Nevada domestic partnership law. "The pendulum is swinging toward being inclusive, but there are plenty of people who are xenophobic. If you are not exactly like me, you are evil. You are scary and you are threatening me."
"The document you get when you register as a domestic partner is identical to the document you get when you register an LLC (limited liability corporation)," Jenkins said. "The state is recognizing a financial relationship between people. Marriage commemorates the public recognition of your relationship."
On April 10, they were one of eight same-sex Nevada couples who were part of the Lambda Legal Center's challenge in federal court in Las Vegas to the state's constitutional amendment permitting marriages only between one man and one woman. The law also does not permit the state of Nevada to recognize same-sex marriages from other states. Six states now allow gay marriage. Two others, Washington and Maryland, have placed the matter before voters in November.
Legal analysts believe that as early as next year the U.S. Supreme Court might decide the legality of same-sex marriage since numerous lawsuits have been filed by gay and lesbian couples in federal courts.
State Sen. David Parks, D-Nev., the primary sponsor of the domestic partner­ship law, said he has heard no problems from couples who have entered into partnerships. Yet virtually all of them want to formalize their relationships through marriages, he said.
Domestic partnerships are too much like a business relationship, and not an official expression of one's love for another, he said.
WHERE DOMESTIC PARTNERS LOSE
The law, however, has some short­comings: Couples still lose some benefits that straight couples usually receive.
Companies employing one partner are not required to give medical benefits to the other partner.
Also, Cafferata and Jenkins cannot file joint married couple income tax returns because of the federal Defense of Marriage Act that, like Nevada's amendment, defines marriage as a joining of one man and one woman. They file as single individuals, but have community property rights that allow them to share income and reduce their tax bite.
Getting these tax benefits has been a difficult process, since even Internal Reserve Service employees never seem to have the same view on what's allowed and what isn't, Jenkins said.
The Center for American Progress reported in December 2007 that couples with domestic partnerships pay $1,069 more a year in taxes than they would if they were heterosexual married couples. They also are not entitled to family-related Social Security benefits.
The center, a nonprofit educational organization, also found last year that 76 percent of small businesses say they offer health care benefits to gay partners of their employees.
Tony Hall, a Reno lawyer who specializes in labor and management issues, said he believes about one-third of Nevada companies offer health care benefits to domestic partners of their employees. The problem is medical insurance has become so expensive that some companies now won't even cover the heterosexual spouses of their employees, he added.
The Clark County Commission approved health care benefits for gay partners last year, while the Las Vegas government approved the benefit in 2006, Henderson in 2008 and the state of Nevada in 2009.
Nevada allows all types of couples – male-male, female-female and heterosexual couples – to enter into domestic partnerships by paying a $50 fee with the secretary of state's office. Only a few of these couples are opposite-sex couples.
Also, 193 domestic partnerships in Nevada have been dissolved.
Jenkins and Cafferata are not surprised by these "divorces." Like any straight couple, gay couples have their ups and down, and for some dissolution is the best option.
"Living with a woman is hard," Jenkins said jokingly.
Rather than trying to change the constitutional amendment forbidding same-sex marriage, Parks predicted that the federal courts far more quickly will decide Nevada's and other states' protection of marriage acts are un­constitutional.
He believes far more Nevadans support same-sex marriage today than they did in 2002 when the amendment allowing only opposite-sex marriage was passed with nearly a 2-to-1 majority.
A 2011 Gallup Poll found for the first time that a slight majority of Americans support gay marriages. Fifteen years earlier, Gallup found 2-to-1 opposition.
President Barack Obama in May became the first sitting president to express support of same-sex marriage.
"I believe in same-sex marriage on the basis of equality," said Parks, D-Las Vegas. "There is widespread acceptance. Some people are kind of reserved about it, but they accept same-gender marriage."
ALL-AMERICAN FAMILY
Cafferata and Jenkins said theirs is a loving family, not unlike millions of others. Their boys go to gymnastic classes, camp, carnivals and have normal arguments with their school friends. If they want to be football players, fine, or take ballet lessons, fine, too. One of the boys is just discovering girls.
Cafferata is the daughter of former state Treasurer Patty Cafferata, a Republican who was her party's unsuccessful candidate for governor in 1986. Her father is Dr. Treat Cafferata. She managed his office for 20 years before attending medical school herself for one year.
She is much more outspoken than Jenkins about the discrimination she has suffered as a lesbian.
"I remember going into Safeway and not being waited on at a meat counter and going into restaurants and not being waited on," she said. "It doesn't matter who is your family. It doesn't matter how much money you have. I am a lesbian. That's what matters to some people."
Jenkins "came out" at Penn State. After graduation she moved to San Francisco. She doesn't have as many horror stories. She also has a great sense of humor and takes pains to separate her professional life from her personal one. During business hours, she only talks about Ethics Commission matters.
"People have made disparaging comments, shouted at me from cars, but generally they could shout at me for being a Democrat, Republican, Jewish or whatever," Jenkins said.
Contact Capital Bureau Chief Ed Vogel at evogel@reviewjournal.com or 775-687-3901.