Ex-Las Vegas teacher found guilty of kidnapping, child porn
March 31, 2017 - 11:00 am
Updated March 31, 2017 - 5:42 pm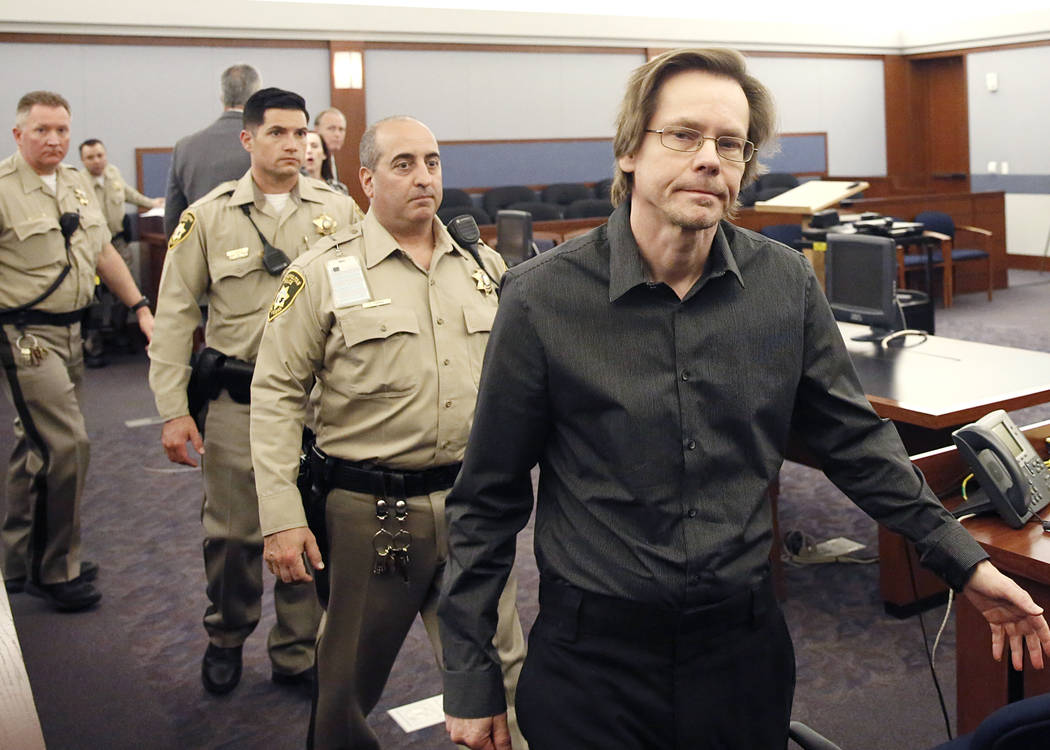 A frequently contentious former kindergarten teacher slipped silently out of a Las Vegas courtroom and into a holding cell Friday after a jury convicted him of secretly keeping a 16-year-old girl in his apartment for two months.
"I absolutely think today we took a predator off the streets, someone who was in our schools, with the most vulnerable of children, 5-year-olds," prosecutor Jacqueline Bluth said. "And now he's not in a classroom anymore."
Jurors took about two hours to convict 48-year-old Melvyn Sprowson on four counts of unlawful use of a minor in the production of pornography, as well as one count each of first-degree kidnapping and child abuse or neglect.
Sprowson, who represented himself during a trial with four days of testimony, faces the possibility of life in prison at sentencing, slated for May. He showed no physical reaction to the verdict.
Prosecutors said Sprowson kept the 16-year-old girl in his apartment for two months in late 2013.
Just before the jury was selected, Sprowson rejected an offer from prosecutors to plead guilty to one count of producing child pornography and one count of second-degree kidnapping.
At times during the trial, Sprowson appeared unprepared, stalling at length with witnesses on the stand, including the victim. At one point, he told Bluth she was "going to hell." At another, he told prosecutor James Sweetin he would make a good teacher. Occasionally, Sprowson consulted with standby public defender Michael Yohay, who did not question any witnesses — even Sprowson, who testified on his own behalf.
While she was in his home, the girl did not have contact with her family, though Sprowson once drove her past her home. When he did take her out of the apartment, prosecutors say, he concealed her identity with baggy clothes and a baseball cap.
Sprowson met the girl, who is now 19, through a Craigslist ad he posted in August 2013.
Prosecutors said he had the girl send him pictures of herself wearing little clothing, and the two exchanged photographs before meeting at a roller-skating rink.
After several weeks, the two developed a relationship. When the girl's disapproving mother found out, she punished her daughter by taking her phone away. The girl then contacted Sprowson to pick her up. He told her to bring her Social Security card and birth certificate.
Sprowson told jurors he kept the girl for so long because he was afraid she would kill herself if he took her home, and that his intention was only to keep the girl safe.
Sprowson said he planned to keep the girl at his apartment until she turned 17-and-a-half years old, so they could get married. He removed her from school and prohibited boys from entering his apartment while she was there, according to her testimony.
Contact David Ferrara at dferrara@reviewjournal.com or 702-380-1039. Follow @randompoker on Twitter
RELATED
Former kindergarten teacher, prosecutor deliver closing arguments in kidnapping, child porn trial
Former teacher accused of child porn, kidnapping said he feared girl would kill herself
Former kindergarten teacher cross-examines accuser during kidnapping trial
Former teacher contacted girl he kidnapped, prosecutors say
Former teacher pleads not guilty to kidnapping, other charges