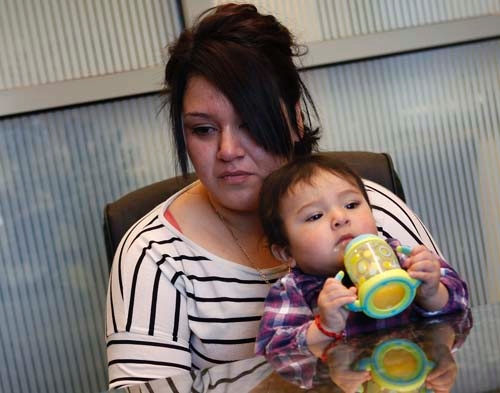 Eduardo Lopez-Hernandez couldn't wait to be a father.
The 21-year-old was thrilled when he found out his girlfriend was pregnant.
He planned to find a second job, and maybe a third, so he could buy a bigger car with enough room for even more children later on.
"He was so excited," his father, Filemon Lopez-Castro, said in Spanish. "He said he wanted eight kids."
With a baby on the way, Lopez-Hernandez and his girlfriend, Amelia Vasquez, made plans to get their own place together. They talked about baby names. They talked about marriage.
But barely a month after getting the good news, Lopez-Hernandez was dead.
A year and a half later, his survivors don't know much about what happened that day.
Authorities said Lopez-Hernandez was driving erratically on U.S. Highway 95 on the evening of Aug. 25, 2010. He crashed into other vehicles and fought with motorists, they said.
When Nevada Highway Patrol troopers arrived, he fought with them and was shot with a Taser. Troopers later realized he had stopped breathing, and he died at the hospital.
That death was supposed to be one of the first reviewed under the county's new coroner's inquest process. But legal challenges have delayed the hearing for months, leaving it among 17 cases pending an inquest. Lopez-Hernandez's survivors have filed a federal civil rights lawsuit against the Nevada Highway Patrol, hoping to find answers and justice.
They can't understand how things unfolded as they did. They can't believe Lopez-Hernandez tried to hurt anyone. They can't comprehend why he was shocked with a Taser over and over again, and why he died at the hands of those who were supposed to come to his aid.
"They should have helped him," Vasquez said of the troopers. "They should have never done what they did."
ATTACK ON HIGHWAY
Lopez-Hernandez was headed home from soccer practice with his 14-year-old brother, Miguel, at his side that evening.
Traffic on northbound U.S. 95 had been snarled for hours that afternoon because of a chemical spill near downtown Las Vegas, creating frustration and short tempers along the highway, lawyers for Lopez-Hernandez's survivors said.
The details of what happened next are unclear.
The family lawyers believe Lopez-Hernandez got in a fender bender, which led to a fight with three men who beat him, chased after him when he drove away, then beat him some more when he crashed trying to get away.
The Highway Patrol received a call about 6:50 p.m. reporting a fight with five guys beating another man with a broomstick and throwing him over a wall, according to agency dispatch records.
The lawsuit said Lopez-Hernandez ran across the southbound lanes to escape his attackers. That's when the first trooper arrived.
According to the lawsuit, Lopez-Hernandez saw the responding troopers and headed toward them for help. A confrontation followed, and within minutes Lopez-Hernandez was unconscious. He was rushed to the hospital, where he died of cardiac arrest.
"The cops got there, overreacted and killed the guy," lawyer Mitchell Bisson said.
The other motorists involved in the roadside fight were questioned by Las Vegas police but not charged.
Trooper Heather Neely was one of the first two troopers to arrive at the scene. According to her interview with Las Vegas police homicide detectives, the event unfolded like this:
Neely and Sgt. Scott Simon pulled up and saw Lopez-Hernandez in the middle of the southbound lanes. He had blood on his face.
From the center median, they yelled and waved at him to get out off the road and go back to the shoulder to safety. He didn't.
"He failed to listen," Neely said. "He just kept walking in front of the traffic."
It is unclear why. Lopez-Hernandez was taking English classes, and his family believes he would have understood the officers.
He also had an episode four months earlier where police took him to the hospital in an "altered mental status, requiring restraints," according to his autopsy report. He was stabilized and sent home.
Bisson said the episode was triggered by drinking too much alcohol.
On the highway, the troopers worried Lopez-Hernandez would be run over, so they jumped into the freeway, waved to stop the oncoming 65 mph traffic and tried to get him out to safety. When they grabbed his arms, he immediately pulled away and struggled with the troopers as they tried to bring him to the median. Neely said she thought Lopez-Hernandez bit Simon.
The troopers eventually got Lopez-Hernandez to the ground and on his stomach. They handcuffed him. He struggled and slipped one hand free. They handcuffed him again, and he continued to struggle to get up.
During the struggle, Simon was at Lopez-Hernadez's back, and Neely was at his legs.
Throughout the confrontation on the ground, Neely and Simon each used her Taser to shock him in "drive stun" mode, in which the device is touched directly to the body.
During the next three minutes and 19 seconds, Neely's Taser was fired 19 times. Most of the shocks were for five seconds at a time, but one was 11 seconds, according to data downloaded from the weapon.
Neely told investigators she shot Lopez-Hernandez's calf as he kicked, wiggled and tried to get up from the ground. Simon used it on his back and neck.
Some of the Taser shocks came while Lopez-Hernandez was handcuffed, because "he still refused to listen to commands," Neely told investigators.
By the end of the roadside grappling match, at least five troopers and a Hender­son police officer were involved in trying to control Lopez-Hernandez, who was 5 feet 4 inches tall and 148 pounds. That's when they noticed he had stopped breathing.
Troopers started CPR and briefly revived him, Neely said. He was taken to Sunrise Hospital and Medical Center, where he died about 30 minutes later.
The county coroner listed his cause of death as "cardiopulmonary arrest during varied restraining procedures." The autopsy found traces of marijuana but no other illicit drugs.
Matthew Callister, a lawyer for Lopez-Hernandez's family, called the episode an "outrageous misuse" of the Taser and an overreaction by the troopers.
"He was under control," Callister said. "You don't have a right to kill someone who's under control of five officers."
TASER CONTROVERSY
Tasers, the most popular brand of conducted energy devices used by police nationwide, have been the target of controversy for much of the past decade. Civil rights groups, including Amnesty International, have linked them to hundreds of deaths, and a handful of medical examiners have linked Tasers to someone's death.
But, as a recent National Institute of Justice report noted, scientific studies have found "no conclusive medical evidence" in current research that shows a high risk of serious injury or death from the short-term exposure to the devices.
However, the study warns against longer term shocks.
"Because the physiologic effects of prolonged or repeated CED exposure are not fully understood, law enforcement officers should refrain, when possible, from continuous activations of greater than 15 seconds," the report states.
The stress on the body from the electric shock is similar to the stresses of being subdued by police in a physical struggle. However, the report warned against overuse of the devices.
"Law enforcement personnel should be aware that the associated risks are unknown and that most deaths associated with CED involve multiple or prolonged discharges," the report said.
The Metropolitan Police Department has one of the nation's model policies for Taser use. It forbids Taser use on anyone who is handcuffed, and it emphasizes continuous assessments of the Taser's effectiveness to minimize the number of shocks. It also discourages multiple uses in drive stun mode, which causes pain in the immediate area but does not create the full-body muscle lock that a regular Taser shot does.
A spokeswoman for the Nevada Department of Public Safety, which includes the Highway Patrol, did not provide a copy of the agency's Taser policy but said it was under review.
FAMILY LOSES TRUST
To Lopez-Hernandez's family, the official version of events doesn't sound like the man they knew.
His father, Lopez-Castro, described his son as a hardworking, artistic young man who enjoyed drawing cartoons. He wasn't a fighter.
"He was so young and happy," he said. "When he was born I felt like God sent me an angel. I don't know why He took him away."
Lopez-Castro, who worked alongside his son as a cook in a Japanese restaurant, said he feels guilty for bringing his eldest son from Mexico City to the United States about six years ago. He can't help but wonder if his son's nationality played a role.
"Why did they do this to us? Is it because we are undocumented? Hispanic?" he said. "What did Eduardo do to deserve this?"
Lopez-Castro has lost the trust he once had in law enforcement.
"I thought they were good and would protect us," he said. "I was wrong. It's the same here as in Mexico."
Meanwhile, Vasquez moves forward with her 9-month-old daughter, Adela, who looks just like her father.
Throughout her pregnancy Vasquez struggled with depression and loneliness, especially at doctor's appointments where she was surrounded by expectant couples. She tells herself things happen for a reason.
"It's very hard to move forward, when you're just so in love with somebody and they're just taken away," Vasquez said, holding Adela on her lap.
Contact reporter Brian Haynes at
bhaynes@reviewjournal.com or 702-383-0281.