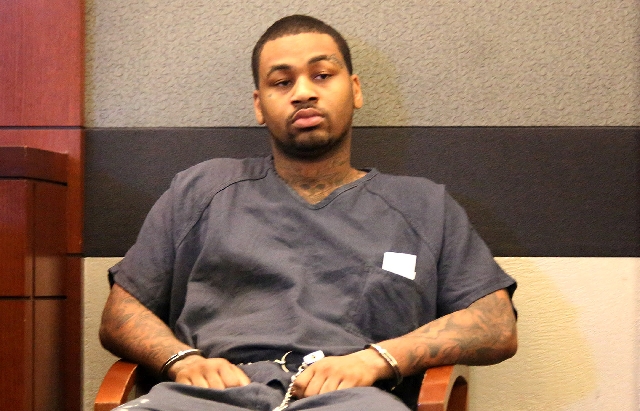 Self-proclaimed pimp Ammar Harris was indicted by a grand jury on charges he killed three people on the Strip in February.
Prosecutors said Harris shot and killed reputed pimp Kenneth "Kenny Clutch" Cherry Jr. as the two were driving separate vehicles on the Strip early in the morning of Feb. 21.
The shooting caused Cherry to crash his car into a taxicab, which burst into flames, killing the driver, Michael Boldon, and his passenger, Sandra Sutton-Wasmund of Maple Valley, Wash.
Harris was arrested Feb. 28 in Los Angeles. He fought extradition to Las Vegas for nearly six weeks. During his extradition, Harris also unsuccessfully attempted to escape from custody, prosecutors said.
He faces nearly a dozen charges stemming from the incident: three counts of first-degree murder, two counts of discharging a firearm into a vehicle, five counts of discharging a firearm out of a vehicle and attempted murder.
The grand jury also indicted Harris in a separate rape case. He faces three counts of sexual assault and one count of robbery in that case.
The district attorney's death penalty committee is expected to review the Strip shooting case to determine whether prosecutors will seek capital punishment for Harris if he is convicted.
The committee, whose meetings are not open to the public, looks at three factors when considering capital punishment: whether there are aggravating factors in the case, whether a jury would impose the death penalty as punishment, and whether a conviction would stand up under appeal.
According to police reports and sources, Harris and Kenneth Cherry Jr. had a brief encounter at Aria at CityCenter that sparked the deadly encounter.
Harris became angry with Cherry, 27, and, after leaving the casino, authorities allege, fired at least five rounds from the driver's seat of his Range Rover at Cherry's Maserati on Las Vegas Boulevard near Flamingo Road.
The Review-Journal has learned that the beef was over a prostitute.
Harris fled Las Vegas, which sparked a multistate manhunt. He was arrested by a team of FBI agents and police at an apartment in Studio City in Los Angeles.
He is being held without bail at the Clark County Detention Center.
The sexual assault case dates to 2010, when Harris was arrested on charges he raped an 18-year-old woman.
The victim, a stripper at Little Darlings, told police she was staying at Harris' home at The Meridian on June 3, 2010, when he forced her into a shower and raped her.
About two weeks later, she accused Harris of choking her, stealing $600 from her wallet and again sexually assaulting her in the shower.
The case languished in the courts until it was dropped because the authorities no longer could find the victim.
After the Strip shooting, the victim was found and testified to the grand jury, prosecutors said.
Contact reporter Francis McCabe at fmccabe@reviewjournal.com or 702-380-1039.