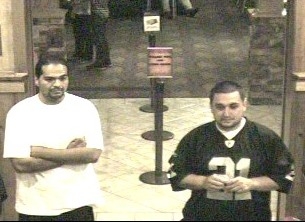 Las Vegas police are seeking the public's help in identifying a man who beat two women with a tire iron and stole their purses after they said they wanted to get out of his car at the intersection of Decatur Boulevard and Vegas Drive.
The incident occurred about 1:30 a.m. on May 25, said police, who on Monday released images from a surveillance camera.
The suspect is described as Hispanic, between 20 and 30 years old with a goatee. There were two other men who witnessed the beating and whom police identified as persons of interest.
The women said that the man offered them a ride home and that he became upset when they said they wanted to be get out at the intersection.
Police said the man got out of the vehicle, opened the trunk and retrieved the tire iron before he attacked both women, who survived.
The men were in a white, four-door compact car with a broken windshield and significant damage to the right front fender.
Anyone with information about the attacker or the men with him that morning is encouraged to call Crime Stoppers at 385-5555.