Home where Las Vegas cop killed family and self is demolished a year later
January 30, 2014 - 5:39 pm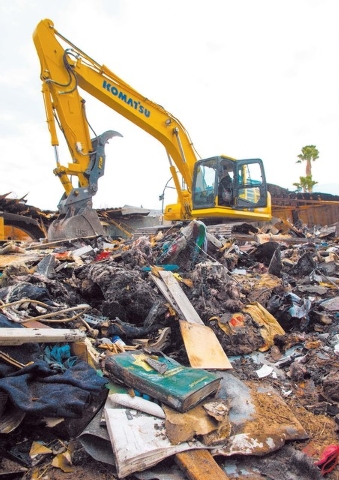 BOULDER CITY — The home at 1313 Esther Drive where off-duty Las Vegas Police Lt. Hans Walters shot and killed his wife and 5-year-old son before setting the house on fire and shooting himself last year has been demolished.
Demolition of the four-bedroom house, left vacant with a collapsing roof for the past year, was completed Monday.
Next-door neighbor Sally Gray said she was "excited" to see an excavator parked on the property when she arrived home from work earlier this month. In the months after the Jan. 21, 2013 murder-suicide the house had a "nasty, burnt smell" and it would shed debris onto her property, she said.
"Every time the wind would blow I'd end up with burnt debris on my driveway," she said.
But even after the smell went away, she said it was difficult seeing the ruin, which still had personal items visible in the front entryway and backyard, she said.
"It's just hard to live here and look at this every day," Gray said. "When you see it, you're reminded of what took place here."
Despite neighborhood complaints to the city, the house couldn't act because ownership was disputed by family members in probate court, said Brok Armantrout, the city's community development director.
"We didn't have the legal right to demo the house," Armantrout said, because the city is required to notify the owner of record prior to demolition.
The city council planned to discuss declaring the house a public nuisance but a court-appointed administrator for the Walters' estate acted first, hiring a contractor to do the work, Armantrout said.
The city issued a demolition permit to the company, Top Notch Services, on Jan. 21, coincidentally the one-year anniversary of the murder-suicide. Walters shot and killed his wife, Kathryn Michelle Walters, and son, Maximilian Walters, the morning of Jan. 21, 2013. After calling 911, he set the house on fire and shot himself in the head.
Walters told the 911 dispatcher he killed his wife "because she's in such chronic pain from her neck and back, and on more medicine that she's not going to survive."
The investigation, led by the Henderson Police Department, also revealed that Hans Walters was under increasing financial and emotional stress.