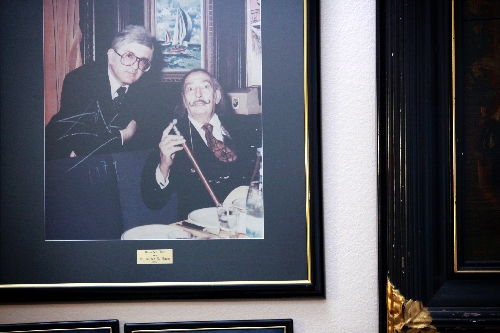 Federal prosecutors paint a picture of 85-year-old Alfred Sapse solely as a fraud.
Yet documents show that this frail, stooped individual who speaks with a thick Eastern European accent does have a background in medicine and science.
His apartment off Maryland Parkway is strewn with documents and books.
"I am always very busy having to defend myself," he said during an interview at his apartment.
In the indictment brought against Sapse, prosecutors say he "purports to be a retired physician, has never been licensed by the state of Nevada, or any other state, to practice medicine."
But Sapse, whose work history shows him employed as a researcher, is a member in good standing with the American Medical Association. The only way that is possible is if an individual possesses a U.S. degree either as a doctor of medicine (MD) or a doctor of osteopathic medicine (DO), or a recognized international equivalent.
AMA officials say they carefully check every member's credentials.
Sapse pointed to his medical diploma from the University of Bucharest in Romania that was featured prominently on one wall.
He stressed that he didn't need a medical license, because he didn't see patients.
"I only do research. I am a scientist," he said. "I did not implant any of the stem cells. Dr (Ralph) Conti and Dr. (Omar) Gonzalez did."
The indictment states that Sapse told people he studied at a prestigious clinic in the Ukraine. Sapse says he made it known that he observed placental implants done there.
He showed off a 1997 article from Science News that discusses his study of the stress hormone cortisol, which he believes plays a role in the development of AIDS, cancer, multiple sclerosis and other devastating diseases.
On another wall was a photo of Sapse with the painter Salvador Dali.
"I was at a party in Europe with him," Sapse said.
As he remembers his earlier years in the United States, Sapse said he enjoyed his time as a researcher in bacteriology at UCLA.
UCLA officials confirmed he was a researcher there from 1969 to 1971.
Government documents show he has four patents, ranging from medication for depression to a medication decreasing the side effects of anti-HIV drugs.
Sapse said the charge in the indictment that alleges he spent $700,000 gambling or made more than $1 million on stem cell therapy is a "fairy tale."
"I may spend $200 or $300 gambling at Bally's every so often," he said.
Sapse has frequently been in court, sometimes losing to people who have invested millions in companies he has owned. In court filings they have called him a "predator," living a "life without remorse or conscience, consisting of one fraudulent scheme after another."
The fights with investors have driven him to bankruptcy court.
Sapse, who often acts as his own attorney, calls angry investors "pests who don't care about science."
Two of four lawsuits relating to Samaritan Pharmaceuticals that were sealed by Clark County District Court judges involved Sapse.
Samaritan referred questions to attorney Terry Coffing, who said the lawsuits involving Sapse were sealed at the drug company's request. Coffing characterized Sapse as a disgruntled former executive who departed in the late 1990s and then filed lawsuits intended to embarrass former colleagues and hurt the company.
Sapse "is the type of guy who takes anything that comes out of his mouth and puts it on a piece of paper … and then tells you it must be true because it is on a piece of paper. It's all B.S., and we wanted to stop the B.S. The judge understood our position and sealed it (the cases)."
In 1977, Sapse helped persuade Nevada lawmakers, against the wishes of the FDA, to legalize Gerovital, a drug touted as an anti-aging agent. Still legal in Nevada, studies have shown it not to have any therapeutic value, and it is not allowed in any other state by the FDA.
A 1970s case in California over the payment of attorney's fees saw Sapse accuse an attorney's process server of acting so belligerently toward his wife that she died from shock.
Later, Sapse revealed that his wife hadn't died.
Last year, when Sapse's wife did die, he wrote a letter to the FDA, accusing an FDA agent and his team of scaring his wife into ill health and subsequent death.
"She was fine until they came to my apartment," Sapse said, tears welling in his eyes.
He said his wife survived the Holocaust and was afraid of anyone in uniform. A uniformed, female police officer was accompanying the FDA agent, Sapse said.
In 2010, Dara Corrigan, of the FDA, wrote Sapse, telling him the agency would look into the death of his wife. At this point, there has been no determination as to whether the agency caused the death.
Sapse thinks the fraud and conspiracy case against him and Conti is ridiculous and should be dropped.
"Why does the government want to go after those who just want to help people?" he said.
Contact reporter Paul Harasim at pharasim@reviewjournal.com or 702-387-2908.