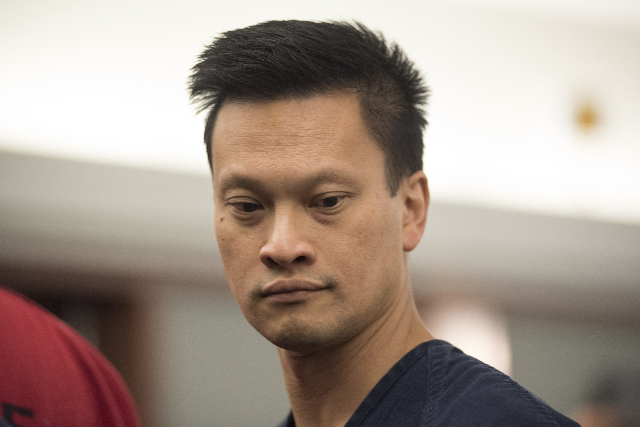 Patients of a jailed Las Vegas doctor accused of drugging and sexually assaulting women in his care say they are being told they must pay excessive amounts of money to retrieve their own medical records.
Several say they have been told they must pay $20 for the paperwork kept in Dr. Binh Chung's office.
But that may not be in line with Nevada law.
Health care providers must furnish a copy of records to each patient who makes a request and pays postage and the costs of making the copy, not to exceed 60 cents a page for photocopies, the state law says. For copies of X-ray photographs and other records produced by similar processes, a "reasonable" cost is allowed.
"No administrative fee or additional service fee of any kind may be charged for furnishing such a copy," Nevada Revised Statute 629.061 says.
Whether any action would be taken against Chung or his office about the fees was unclear Tuesday. The Nevada Board of Medical Examiners, which suspended his doctor's license, did not respond to requests for comment.
Patty Cafferata, spokeswoman for Attorney General Adam Laxalt, said lawyers for her office could not explain what was being done regarding Chung's medical records because they only offer advice to the medical board. Cafferata said any patient of Chung's could make a complaint to the attorney general's office, and the matter would be addressed.
One of Chung's patients, a 30-year-old Las Vegas man who said Chung treated him for years for post-traumatic stress disorder, said the $20 fee he was asked to pay felt like a shakedown. The Army veteran, who asked that his name not be used, said he served 18 months in Iraq from 2004-2005.
This year, he was diagnosed with lymphoma, cancer of the lymph system. He is receiving care, including chemotherapy, from an oncologist but needs to find a primary care physician.
"I'm really struggling. I have depression with the PTSD," he said. "It's not good to have to deal with all that stress when you're going through something so difficult."
The response from Chung's office doesn't fit the care the doctor gave, the veteran said. He understands the seriousness of Chung's criminal charges, but he was an excellent doctor, listening to him and thoroughly assessing his health problems.
"I had a great rapport with him," the vet said. "He was the best doctor I've ever had."
Chung is being held in the Clark County Detention Center on $1 million bail. Chung faces a total of 28 counts. Eleven counts involve the production and possession of child pornography, and he faces three counts of sexual assault, a crime that carries a potential life sentence. Thirteen counts involve the administration of a drug to aid in the commission of a felony, and he faces one count of open or gross lewdness. Police and prosecutors say the 12 victims all were Chung's patients.
In June, medical board Executive Director Edward Counsineau gave Chung's patients an email address to use to get their medical records. Patients who have sent messages to that address, anchung@hotmail.com, have gotten the request for $20, including the cost for "time & materials." They are told they eventually will be given a time and place where they may pick up their records.
The email response to patients says cashier's checks should be made payable to An Chung, 11700 W. Charleston Blvd. #170-408, Las Vegas, NV 89135. That corresponds to a box at Postal Pros, a Summerlin shipping, copying and business solutions company. The email does not identify An Chung or designate any relation to Dr. Chung.
The message also says accommodations will be considered for patients on a fixed income or facing some other financial hardship.
Contact Steven Moore at smoore@reviewjournal.com or 702-380-4563.