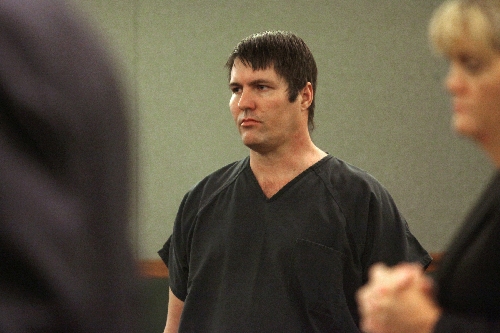 District Judge Michelle Leavitt on Tuesday reduced bail to $150,000 for a former police officer charged in an arson-suicide scheme involving construction defects lawyer Nancy Quon.
William Ronald Webb, 43, Quon's live-in boyfriend, has been behind bars on $400,000 bail since his Nov. 9 drug arrest.
Last week, Leavitt reduced Quon's $400,000 bail to $50,000 at a hearing in which a prosecutor alleged Quon burned down her home Oct. 28 in a botched suicide to escape the pressure of a federal investigation into homeowners associations. Quon later was released from the Clark County Detention Center.
Defense attorney John Momot sought the lower bail for Webb, arguing that the case against him is weak and that his actions were the result of alcohol abuse over the stress of the federal investigation that targeted Quon.
Momot said Webb, an 18-year Las Vegas police veteran with strong family ties in Las Vegas, has been receiving psychiatric medication at the detention center.
"I just want some fairness," Momot told Leavitt. "I just want to even the playing field a little."
Leavitt also ordered Webb to surrender his passport.
Afterward, Momot would not say whether Webb would be able to post the new bail.
Both Quon, 51, and Webb were charged in a nine-count indictment last week stemming from the suspicious fire at Quon's Rhodes Ranch home and another alleged suicide plot to obtain an illegal drug the couple thought was undetectable.
Contact reporter Jeff German at jgerman@reviewjournal.com or 702-380-8135.