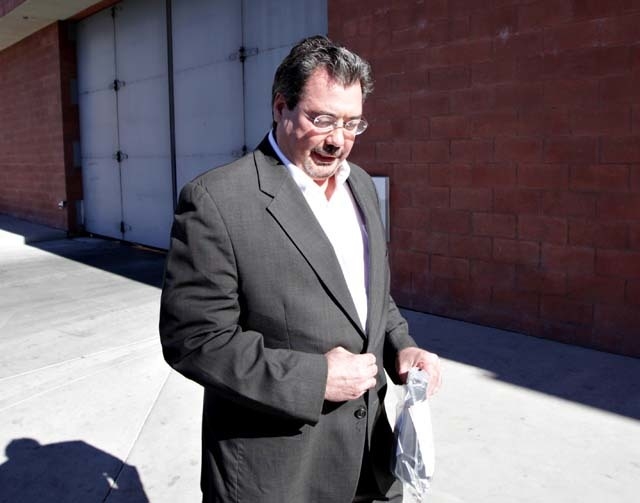 The cadets who attended the law enforcement academy of Las Vegas Township Constable John Bonaventura aren't having much luck finding an alternative route to finishing their training.
Instead they probably will have to start over entirely somewhere else.
One path — picking up where they left off with the College of Southern Nevada-affiliated program at Southern Desert Regional Police Academy — won't be a solution for the cadets, who paid as much as $4,500 in tuition for the 21-week program at the constable's shuttered academy.
When Bonaventura abruptly ended his office's ties to the Las Vegas Law Enforcement Academy in August, it was no longer state-certified through the Nevada Commission on Peace Officers' Standards and Training.
As a result, cadets who had started their training program in June were left without a path to finish and become certified. The program had 13 cadets, and two have since signed on with another school.
Clark County Commission Chairman Steve Sisolak had hoped the cadets could transfer to the College of Southern Nevada's academy and finish training there. Sisolak, a former member of the Board of Regents, had called college President Michael Richards last week and said he received assurances that the college could work out something with the cadets.
Commissioners planned to talk about it at Tuesday's meeting but didn't after Sisolak got another call from Richards backing out.
"I said, 'Mike, you gave your word,' " Sisolak said, recounting the conversation. "He said, 'I'm sorry.' "
Sisolak said he was disappointed and will look for other options.
Two cadets have since signed up for training through Silver State Law Enforcement Academy, said Richard Henry, the academy sergeant. Those cadets will need to restart their training.
In a statement, CSN spokeswoman K.C. Brekken said the college consulted the Nevada Commission on Peace Officers' Standards and Training and found the cadets would need to start their training over entirely with a Nevada POST-certified academy.
"That means that no institution or agency can take these students and finish up their training, as that would violate Nevada POST regulations," she said in the statement.
"However, CSN understands the situation these cadets have been forced into and are extremely appreciative of Commissioner Sisolak's efforts on their behalf. With the county's assistance, we would like to reach out to help each of them apply to our academy, if interested," Brekken said.
Contact reporter Ben Botkin at bbotkin@reviewjournal.com or 702-405-9781. Follow him on Twitter @BenBotkin1.