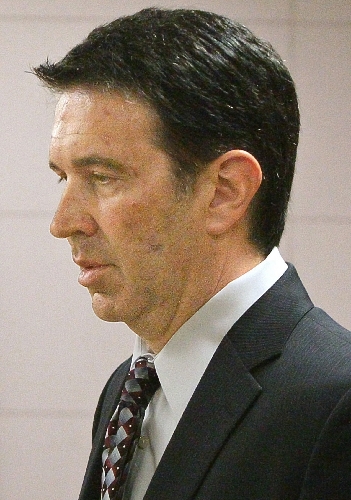 A Las Vegas police detective has been charged with drunken driving and criminal endanger­ment after a high-speed, two-vehicle roll-over collision in Montana that left two others injured, the Review-Journal learned Thursday.
According to a Montana Highway Patrol report, Timothy Nicothodes, 46, was going about 98 mph the night of May 26 when his 2002 Chevrolet Silverado pickup crashed into the back of a 2009 Ford Focus on a two-lane roadway in Yellow­stone County.
Both vehicles rolled. Nicothodes, who was not wearing a seat belt and was thrown from the truck, was in critical condition at the time. He since has recovered, sources said.
Nicothodes is a detective in the Metropolitan Police Department's Professional Standards Division. He investigates the background of potential new hires.
He is married to Deputy Chief Kathy O'Connor, chief of staff to Sheriff Douglas Gillespie, according to multiple sources.
Nicothodes was charged June 29 in Yellowstone County with two counts of felony criminal endangerment and driving under the influence, a mis­demeanor.
Because he was charged with a felony, Nicothodes will be suspended without pay pending the outcome of his case in Montana, Las Vegas police said.
"We take every allegation of misconduct that involves a Metro officer seriously and we will conduct a thorough investigation," Internal Affairs Bureau Captain Chris Darcy said.
If Nicothodes is convicted of a felony, he will be terminated, per department policy, Darcy said.
According to the report, the detective had a blood-alcohol content between 0.192 percent and 0.219 percent. The legal limit in Montana is 0.08 percent.
Police said Nicothodes was driving almost twice the speed limit when his truck collided with the Focus. Evidence indicated he did not brake, police said.
Two people in the Focus were diagnosed with soft-tissue damage and had cuts and bruises, but their injuries were nonlife-threatening, the report said.
Police later contacted the parents of a woman in the Focus who said they knew Nicothodes and had been with him in a bar that night, the report said.
They told police they saw him drinking "significant" amounts of alcohol as they had dinner together, including many shots and mixed drinks.
Nicothodes later asked them whether they would go to a strip club with him, but they declined, police said. One parent saw him urinating in the parking lot before he left the bar, the report said.
According to The Billings Gazette, Nicothodes pleaded not guilty to the charges Thursday and was released on his own recognizance.
Nicothodes was hired by the Metropolitan Police Department in 1999.
In 2007, Nicothodes made headlines when, as a patrol officer, he shot and killed burglary suspect Joseph M. Justin after Justin pointed a gun at the officer's partner. A county coroner's jury ruled the shooting justified.
Contact reporter Mike Blasky at mblasky @reviewjournal.com or 702-383-0283.